Sixty-seven years ago on October 13, 1948, a beautiful and healthy baby boy was born in Faisalabad in a respectable family of qawwals with lineage going back to six centuries. The proud father, Fateh Ali Khan, named the boy ' Nusrat Fateh Ali Khan'. No one at that time had the slightest inkling that the boy would one day be regarded as the world's greatest qawwali singer - earning the coveted title of ' Shahenshah-e-Qawwali' - and bring unbounded fame to Pakistan.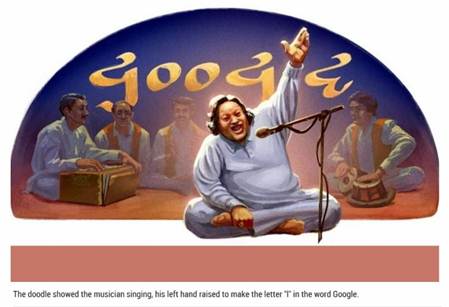 Google has paid a special tribute to the legendary Nusrat Fateh Ali Khan on his 67th Birthday Anniversary with its own personal ' Google Doodle' to commemorate the special day of Nusrat Fateh Ali Khan.
Nusrat's father, Fateh Ali Khan was also a well-known and respected qawwal. Unfortunately, he died young when Nusrat was only ten years old. His last wish for Nusrat was to continue the family traditions and become a great qawwal. At a very young ad tender age Nusrat committed to fulfill his father's last wish.
After acquiring the initial technical and professional training from Ustad Mubarak Ali, Nusrat Fateh Ali shot into prominence in 1971 with his first very popular and hit qawwali 'Haq Ali Ali'. In 1991, legendary Imran Khan was instrumental in introducing Nusrat Fateh Ali Khan to North America. In 1995, famous Canadian guitarist, Michael Brooke teamed up with Nusrat Fateh Ali and remixed his popular qawwalis with Western beat causing a great sensation in Europe and North America. All of a sudden, a new super star Nusrat Fateh Ali Khan was born earning unprecedented success and popularity worldwide and especially in the West. White people went crazy with 'Musth Musth' everywhere. Hollywood opened its doors to Nusrat Fateh Ali who provided music, soundtracks and songs for several successful Hollywood movies, including Deadman Walking, Bandit Queen, The Last Temptation of Christ, and Natural Born Colors .
Nusrat Fateh Ali produced and released 125 albums creating a world record by a single artist that was duly recorded by the Guinnes Book of World Records. The Government of Pakistan recognized his outstanding international contributions and honored Nusrat Fateh Ali with the Award for Pride of Performance. In 1995, he won the UNESCO Music Award. Nusrat Fateh Ali was also nominated for a Grammy Award in 1997.
As he became one of the greatest singers and musicians of our time, Nusrat Fateh Ali Khan started developing serious health problems emanating from kidney and lever ailments which soon became life-threatening and ultimately became the cause of his death. He died in London, England on August 16, 1997 at the young age of only 48 leaving millions of his loving fans worldwide in a state of shock, disbelief and sorrow. It was indeed, a great loss not only to his family, friends and Pakistan, but also to humanity at large. May Allah bless him with Jannah.
My Apology to Nusrat Fateh Ali Khan
It was the first week of October in 1991 when I received a frantic call from my good friend Rafi Khan telling me that he just got a call from the captain of Pakistan cricket team and his class fellow from England, Imran Khan, who would be in Los Angeles in three weeks to raise funds from the local Pakistani community to build the first cancer hospital in Pakistan. Since Rafi Khan did not have any prior experience of organizing such functions, he very passionately requested me to help him out. I had worked with Imran Khan previously on two occasions when he brought the Pakistan cricket team to play one-day international matches against India and Australia in Los Angeles. I became excited for the opportunity to work with Imran Khan again and assured Rafi not to worry too much since building the first cancer hospital in Pakistan was a great humanitarian cause and the Pakistani community would be forthcoming and generous in supporting this cause. I also advised him to form an organizing committee delegating responsibilities to good and sincere people. I volunteered to assume the responsibility for the publication of a magazine in only three weeks. Rafi Khan also informed me that Imran Khan would be bringing a group of qawwals from Lahore along with Mussarrat Nazir, popular singer and former film actress from Toronto to provide entertainment at the fundraiser.
Since we were left with only three weeks at our disposal, I decided to issue a press release immediately to create awareness of the upcoming fundraiser and to kick start the sale of the tickets. Until 1991 Nusrat Fateh Ali was not well known in America. Personally I had not heard about him at all. I was under the impression that just like the Sabri Brothers, there were probably two qawwals, Nusrat Ali and Fateh Ali. Accordingly, I mentioned in my first press release that two famous qawwals from Pakistan, Nusrat Ali and Fateh Ali would entertain the audience along with Mussarrat Nazir at the fundraiser. All the wire services carried my press release without questioning anything and disseminated the information worldwide. Apparently they also did not know about Nusrat Fateh Ali that well at that time.
After a week when I received the official flyers from Imran Khan, I was astonished to discover that Nusrat Ali and Fateh Ali did not exist. There was only one qawwal - Nusrat Fateh Ali Khan. Mentioning Nusrat Ali and Fateh Ali as two separate qawwals in my press release was a big mistake. I greatly regretted my ignorance. Since no one noticed it, apparently no damage was done. However, I felt real bad and guilty of injustice to Nusrat Fateh Ali Khan. When I met Nusrat Fateh Ali at the concert and presented to him the Imran Vs Cancer magazine, edited and published by me, I told him about my stupid mistake and apologized to him from the bottom of my heart. I was extremely surprised when Nusrat Fateh Ali kept smiling and told me not to feel bad about the mistake. He also said that Fateh Ali was his father's name who was also a great qawwal. He was happy for his father's name being promoted in America.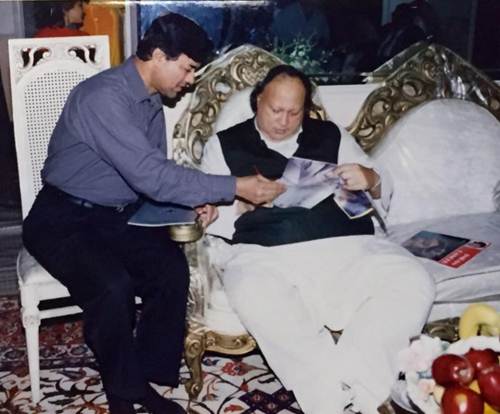 Building the first cancer hospital in Pakistan for free treatment to needy and deserving people was absolutely great news for the entire Pakistani community in Southern California. The very first fundraiser to build Shaukat Khanum Memorial Hospital in Lahore was held at the Los Angeles Airport Hilton and was sold out in a few days due to the overwhelming and enthusiastic support of the community. We had to add more tables to accommodate people who showed up at the gate. The fundraiser was a great success. We collected a huge amount of donations for the hospital. I was also able to generate a big amount of additional funds from the advertisements in Imran vs Cancer magazine thanks to a great majority of Pakistani businesses for their outpouring patriotic support. Imran Khan was surprised to see a beautiful message from the then Prime Minister of Pakistan, Nawaz Sharif in such a short time of less than three weeks. Imran Khan also told me that Nawaz Sharif is the one who has given him 20 acres of land absolutely free to build the cancer hospital in Pakistan. Imran Khan liked my magazine so much that he took one box full of Imran vs Cancer magazines along with him to Pakistan.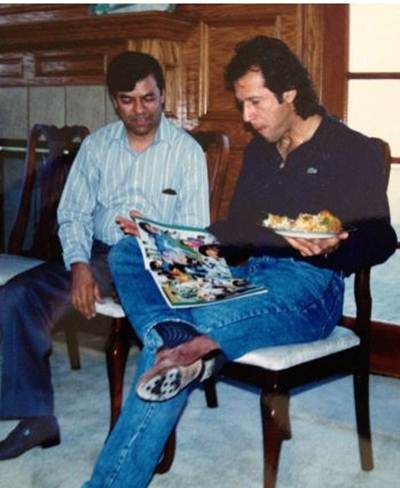 "I am a peddler, wandering and roaming from one village to another, in the lanes of cities, in the countries of the world, offering the message of peace, wishing to continue to do so all my life. And after a lifelong wandering when I reach my destination, may the slavery of Allah (SWT), His Prophet (PBUH) and Ali (RA) be the tiara of my head, shining like a star." - Nusrat Fateh Ali Khan