Colorful Eid Mela in Stockton
By Talat Sattar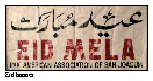 Eid banner
In keeping with its tradition the Pakistani American Association of San Joaquin County held their annual Eid Mela in Stockton, California. Theevent was attended by over two hundred Pakistanis and Americans.

The evening started with a recitation from the holy Qur'an by Mr. Tariq Din, who was also the main sponsor of the event. Din was followed by Gary Podesto, Mayor of Stockton, the chief guest. Mayor Gary Podesto who just ran an unsuccessful bid for State Senate against Senator Michael Machado, thanked the Stockton area Pakistani community for inviting him to attend the happy event.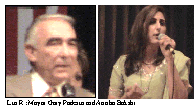 L to R :Mayor Gary Podesto and Anisha Bakshi
Gary Allen Podesto was elected as Mayor of the City of Stockton in 1996, and re-elected to a second four-year term in 2000. Born and raised in Stockton, Mayor Podesto has brought a wealth of business experience and community leadership to the office.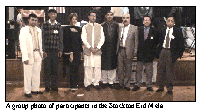 A group photo of participants in the Stockton Eid Melai
Mr. Shabbir Khan. San Joaquin County Tax Collector and also one of the organizers of the event, presented a beautiful gold ring to Mayor Gary Podesto which wasdonated by Khaddim Hussain jewelers.
The main artist of the evening Anisha Bakshi mesmerized the crowed with her melodious songs. Anisha sang several oldies of Lata and Noor Jehan, modern songs of Shazia Manzoor and Hadiqa Kiani and Sufi music of Abida Parveen. Anisha ended this beautiful evening with Madam Noor Jehan famous and everlasting "DAMA DAM MAST QALADAR". The program was organized by Pakistani-American Association of San Joaquin County while the dinner was hosted by Chandni Restaurant.


-------------------------------------------------------------------------------------