Sura Ar-Rahman Mesmerizes Thanksgiving Audience at St. John's Church

By Abdus Sattar Ghazali

As part of interfaith effort, Khalid Saeed, American Muslim Voice Director for Northern California, was invited by the St. John's United Church of Christ, Woodland, to speak at a Thanksgiving Service, on November 21. The service was organized by eight local church leaders. Mr Saeed was accompanied by Imam Tasawar Iqbal of the Woodland Mosque who gave a recitation of Sura Ar-Rahman that mesmerized the audience. There was pin drop silence when Imam Tasawwar recited the sura.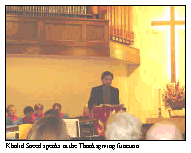 Khalid Saeed speaks at the Thanksgiving function
After the recitation of Sura Ar-Rahman, Khalid Saeed took the opportunity to give a brief introduction of the Qur'an. He said: "As most people present here are not very familiar with the Holy Qur'an, I will briefly put it in proper perspective and context before the translation of the verses of the Qur'an just read. The Qur'an has 30 parts and 114 chapters. It is not a book of history but a book of guidance, though it talks about some historical facts and incidences for us to draw lesson."

Explaining the Ar-Rahman he said that this title deeply relates to the subject matter of the Surah, because from the beginning to the end, the manifestations and fruits of Allah's Attribute of mercy and grace have been mentioned. This Surah or chapter addresses the human beings and reminds them that among all the creations they are the vicegerent of God on the earth. They are reminded of His countless Blessings on them and their own helplessness and accountability before Him and have been warned of the evil consequences of His disobedience and made aware of the best results of His obedience.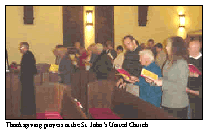 Thanksgiving prayers at the St.John 's United Church
Another important truth that has been expressed is that Allah has established the entire system of the universe precisely and equitably on justice, and the nature of this system requires that those who dwell in it should also adhere to justice within the bounds of their authority and should not disturb the balance, he added.
"Helping a fellow human is a true service to God. while we are thanking the Lord Almighty for His Blessings on us on this Thanksgiving Day and when we are helping the less fortunate here in USA, please pray for an end of the sufferings of humanity in the world, especially in Palestine, Afghanistan an Iraq," Khalid Saeed concluded.

Earlier, psalms and passages from the Old Testament were read to the congregation. The former Yolo County Supervisor, Tom Stallard, was introduced as "the man of the community" who read a Thanksgiving proclamation first read by President Abraham Lincoln on Oct. 3, 1863. Lincoln declared last Thursday of November the day of Thanks during the civil war, making Thanksgiving a national holiday in America.
The local Muslim community joined the congregational members in bringing canned food and offerings to support the local Food Closet and Yolo Wayfarer Center. Khalid Saeed spelled out the sprit of the day: "Giving thanks to God Almighty for all blessings and sharing those blessings with our fellow humans who are less fortunate."


-------------------------------------------------------------------------------------