PML President Attends Ceremony Honoring Pakistan Academic

Washington, DC: American University honored Akbar Ahmed, the University's Ibn Khaldun Chair of Islamic Studies and professor of international relations, as The Carnegie Foundation for the Advancement of Teaching and the Council for Advancement and Support of Education 2004 District of Columbia Professor of the Year at a reception on Tuesday, Dec. 7. Ahmed is the former High Commissioner of Pakistan to Great Britain, and a distinguished anthropologist, writer, and filmmaker.
The 2004 teaching award is the latest of many achievements for the professor of international relations, who has been described by the BBC as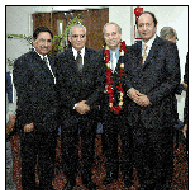 Ashraf Abbasi (President Pakistan American Congress),Ambassador
Jehangir Karmat ,Hussain, Prof. Akbar and and Ex-PM Ch Shujaat Hussain
"the world's leading authority on contemporary Islam" and by Britain's Archbishop of Canterbury as "one of the most important scholars of Islam today."
A diverse group of guests, which included several ambassadors and students, many traveling from outside of Washington, D.C. had gathered for the reception hosted by American University Provost Cornelius Kerwin.
Chaudhry Shujat Hussain, President of the Pakistan Muslim League and former Prime Minister of Pakistan, attended the reception. Saying in his speech of Dr. Ahmed, "I congratulate him and we are very proud of him in this crowning achievement of a distinguished educator…we all appreciate his efforts in building bridges between cultures, religions, and students….and appreciate Dr. Ahmed's role in dialogue of Civilizations."
Provost Kerwin commented in his talk that "School of International Service Dean Louis Goodman said, 'we needed the perfect candidate for the Ibn Khaldun chair.' I didn't think it was possible. The Dean proved me wrong."
Senior Rabbi Bruce Lustig, of the Washington Hebrew Congregation, spoke warmly of Dr. Ahmed saying that he was blessed to have found a teacher and a friend in him.
Newly arrived Pakistan Ambassador, General Jehangir Karamat, in his talk, expressed his admiration for Dr. Ahmed, his books and films. Ashraf Abbasi, President of the Pakistan American Congress, who flew from Houston for the event, said, "Dr. Ahmed is the pride of Pakistan."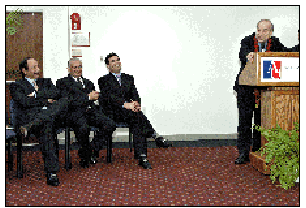 Ex-PM Ch Shujaat Hussain,Ambassador Jehangir Karamat,Dr.Mubashar Choudry and Prof Akbar Ahmed at podium.Photos courtesy American University by Jeff Watts
Dr. Ahmed's daughter, Nafees, spoke of the gift of her father having dedicated his book, Postmodernism and Islam to her and said, "For me you will always be the Professor of the Year." She added, "I also hope my hard work will take me to the best universities my father has been associated with such as Harvard, Princeton, Cambridge and of course my father's favorite – American University."
As Ibn Khaldun Chair of Islamic Studies at AU, Ahmed teaches such courses as The World of Islam to packed rooms of students curious to learn about his timely and controversial subject. A student of Professor Ahmed, Laura Zeender said "I have seen Professor Ahmed embody the principle of ilm [knowledge] in his teaching and his life. I agree with Chief Rabbi, Dr. Jonathan Sacks, who was quoted as saying, 'In you, classic Islam has a spokesman and role model of supreme grace and dignity.'"
Ahmed has engaged in public dialogues across the United States and in Britain with Judea Pearl, father of slain Wall Street Journal reporter Daniel Pearl, as part of his commitment to interfaith dialogue. Such dialogues are necessary, he says, to dispel misconceptions about Islam and to counter the notion that Western society and Islam are on an inevitable collision course.
Located in Washington, DC, American University (www.american.edu) is a leader in global education, enrolling a diverse student body from throughout the US and more than 150 countries and providing opportunities for academic excellence, public service, and internships in the nation's capital and around the world.

-------------------------------------------------------------------------------------