PSA Program Rocks Chico State
By Talat Sattar
Chico: Behind every successful man there is a woman and behind every successful show there is a group of dedicated people. Pakistani Student Association CSU Chico had a glamorous 2004 night full of excitement, entertainment and food. It will be remembered for years to come in Chico's history because of the quality and content of the program. A beautifully decorated Bell Memorial Union Auditorium with glittering lights, elegant setting, spot lights, well decorated stage, best sound system are a few of the scintillating features that come to mind while writing this report.
Mehndi dance

Mohammad Irfan addresses the gathering

Fashion show

Over two hundred guest from all walks of life attended the event and they thoroughly enjoyed the show. More than fifty percent of the attendees were non-Pakistanis. California State University, Chico, sponsored the event and wholeheartedly participated in the program. The University faculty was visible in the audience and
so were the general student population. Amazingly, not only the student watched the show but more remarkably they also participated in the skits and fashion show.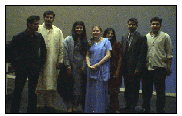 Organizers and fans with Janice Miller
It was exhilarating to see beautiful young Caucasian girls dressed in kameez-shalwar and waiving their dopatta and walk past the cheering and appreciative audience. Words cannot describe the excitement of African Americans dancing to the beats of desi music.
The program started with a typical Pakistani wedding ceremony. A beautiful bride in an attractive wedding outfit and covering her face and head with a star spangled chadar was the center of attraction. Samra Ahmad and her companion performed a beautiful dance to the accompaniment of wedding songs. The show was the brainchild of Samra who has just moved from Atlanta.
The next item was a fashion in which beautiful Pakistani and American girls dressed in Pakistani dresses walked in front of the entranced audience.
After dinner, Mohammad Irfan took the stage and entertained the crowed with his melodious songs.
The final item was the introduction of the one and only Janice Miller. Janice sang all the hot songs of Noor Jehan, Shazia Manzoor, Hadiqa Kiani, Nusrat Fateh Ali Khan, Ibrar ul Haq and several more.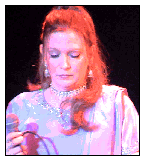 Janice Miller
The crowed was excited and exuberantly danced as Janice sang. Janice does not need an introduction as she has created her own place in desi music and conquered the heart of every Pakistani living anywhere in this country or abroad. She has a unique talent that people can only dream of. I will have a separate report on Janice Miler legend in the near future.

Pakistani Student Association and all their associates deserve a big compliment for their efforts and strivings in arranging the show. They have set an admirable example for other Pakistani associations and organizations to follow. I personally thank Usman, Nayla, Abbas, Samra and Rahat, the organizers of this event and wish them good luck in the their future programs.

-------------------------------------------------------------------------------------