Another Blockbuster Literary Evening in Milpitas
By Ali Hasan Cemendtaur
A literary evening dubbed "Mushaira", celebrating the works of contemporary poets, was held in Milpitas, on Saturday, December 4, 2004. About two hundred people attended the entertaining program.

The event was organized by Hamida Bano Chopra, a connoisseur of Urdu literature and a regular sponsor of literary evenings that pay homage to the masters of Urdu literature. Raziah Hasan presided over the evening.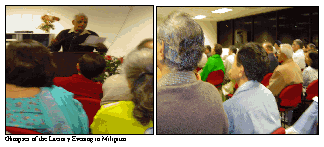 Glimpses of the Literary Evening in Milipitas
The following people read works of prominent poets: Ahmed Mirza (sang poems of Abdul Hameed Adam); Prem Joshi (read a poem of Shakil Badayuni); Parvez Sahib (read Akhtar Shirani's poetry); Ram Prakash Sharma; Sheela Sharma (sang Jigar Muradabadi's ghazal); Subhash Jauhar (read Sahir Ludhianvi); Harbind Singh Sachdev (started with Amjad Hyderabadi's poetry and then read assorted couplets on 'Muhabbat' -- love); Anshuman Chandra (sang Bashir Badar's poetry); Minoo Puri (sang Shakil Badayouni's ghazals); Zafar Hasan (read Shakil Badayuni's poetry); and Hitan Barma (read Faiz Ahmad Faiz's poetry).

Hamida Bano Chopra has a knack for reading powerful Urdu poetry. She used that gifted talent to touchingly read Sahir Ludhianvi's 'Teri Awaz' and Faiz Ahmad Faiz's "Sheeshon ka saudagar." At the end of the program, Anil Chopra, one of the organizers, made a few announcements.

He also explained why the program was advertised as a 'mushaira' even when no poets were reading their original work. He said that the evening was dubbed 'Mushaira' because there was no alternate word for such a program where people read other's poetry they like. This writer thought differently. Biaz (meaning a personal collection of pieces by various poets) is a prevalent Urdu word. A program where people read the poetry from their Biaz can be very easily called Biaz Khwani.


-------------------------------------------------------------------------------------