Town Hall Meeting Seeks Balance between Security and Liberty

Los Angeles, CA: Some 500 people attended an emergency town hall meeting hosted by the Southern California Civil Rights Coalition (CRC) at the Holiday Inn in La Mirada, California on Monday last to discuss what they say is the selective application of the laws and unfair targeting of Muslims by the Department of Homeland Security (DHS). Several religious leaders of various faiths, representatives of a host of civil rights organizations, members of media, government officials (including a representative from the Federal Bureau of Investigation), and other concerned citizens spoke in support of the American Muslim community in their struggle to preserve civil rights. Local attorneys and family members of immigration detainees also shared their cases.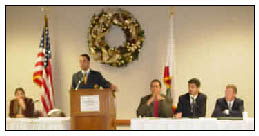 Panel members address the Town Hall meeting
However, many community members exhibited frustration that the Department of Homeland Security (DHS), Immigration and Customs Enforcement (ICE) and the Transportation and Safety Authority (TSA) declined the invitation to attend the town hall meeting. They were the very people from whom the community wanted answers about their concerns.

Over the last few months, several Muslim religious leaders in California have been detained on minor immigration infractions and have been denied bail. Recent cases include the detentions of Imam Wagdy Ghoneim (Islamic Institute of Orange County in Anaheim) and Abdul Jabbar Hamdan (West Coast Islamic Society in Anaheim). According to their attorneys, these individuals have been in the country legally and have filed all necessary documents to maintain their status.

Dozens of complaints of harassment have also been filed by American Muslim travelers. The incidents include being unable to remove their names from the 'No Fly List,' repeated stops and interrogations at airports, exclusion from entry to the United States, and revocation of visas for no stated reason. Islamic leaders and activists prevented from entering this country include Yusuf Islam (formerly known as Cat Stevens) and Swiss professor Dr. Tariq Ramadan.

Omar Zaki, Director of Governmental Relations for the Council on American-Islamic Relations-Southern California (CAIR-LA), moderated the program and stated the need "to show unification and solidarity." He praised the FBI for attending the town hall and maintaining a dialogue with the Muslim community.
Hussam Ayloush, Executive Director for CAIR-LA, expressed the need to strike "a balance between security and liberty." Ayloush stated, "We hold the DHS (Department of Homeland Security) accountable but that is not to say that we don't appreciate the great work of DHS." He also added that as taxpayers, American Muslims have a right to question how their money is being used. Further, Ayloush mentioned that many Muslims are placed on the "No Fly List" and face interrogations after arrival.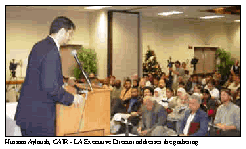 Hussam Ayloush,CAIR -LA Executive Director addresses the gathering
He criticized the government for coming down too hard on people with immigration infractions that are extremely minor and do not fit the punishment. Dr. Muzammil Siddiqi, Chair of Islamic Shura Council of Southern California and Religious Director of the Islamic Society of Orange County, asserted that standing up for justice is a way of showing ones care and concern for this country. Dr. Maher Hathout, Senior Advisor for the Muslim Public Affairs Council (MPAC), urged the audience to "exercise the right of holding our agencies accountable.
" Rabbi Haim Beliak, Temple Beth Shalom and The Coalition for Justice in Hawaiian Gardens & Jerusalem, stated that hospitality is a core value in the Abrahamic religions. Apparently, at a time when American Muslims seem to be unwelcome strangers in this land, the value of hospitality seems to have diminished. He called for a "re-evaluation of what it means to hold fast to hospitality."

Richard Chavez, council member for the city of Anaheim, called detainment of the innocent American Muslims "neither patriotic nor just."
Matt McLaughlin, special projects coordinator for the FBI, expressed the need for more dialogue. He emphasized the importance of Muslims knowing how and why the FBI operates the way they do. Urging Muslims to voice their grievances in order to produce change, he stated, "If you see something you don't like, you should express that."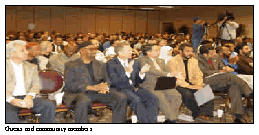 Guests and community members
Karen Torjesen, Dean of Claremont Graduate University School of Religion, stated that the root problem is that the "[government] agencies don't understand Islam." She called their misunderstanding of Islam "religious illiteracy," which she defined as "the inability to distinguish mainstream Islam from extremism."
Imam Saadiq Saafir, Vice Chair of Islamic Shura Council of Southern California and resident Imam of Masjid Ibaadillah, was also involved in the African-Americans' struggle for civil rights. He said the situation faced by American Muslims should concern all citizens of America.

Preaching unity and tolerance, Saafir stated, "The most important thing is to recognize that all religions are sacred."
Attempting to encourage those Muslims hesitant to speak out for fear of being placed on a list, Imam Sayed Moustafa Al-Qazwini, Director of Islamic Educational Center of Orange County and member of Islamic Council of Southern California, said, "God is on your side."

Shakeel Syed, community activist and Majlis Member of the Shura Council, urged the audience to take a more proactive role with regard to the detention of Ghoneim and Hamdan. Syed asked the audience "to make a commitment and point to visit the San Pedro Detention Center [to give moral support and comfort]," where both Ghoneim and Hamdan are held.

Shaikh Sadullah Khan, Director of the Islamic Center of Irvine, who himself was imprisoned during Apartheid in South Africa, asked the audience whether to consider "we progressed to [a society implementing equality] or we retrogressed from it."
Stephen F. Rohde, Esq., civil liberties lawyer, reminded the audience that the ordeal American Muslims are facing is not a new one. He stated that 120,000 Japanese Americans were placed in internment camps during World War II. He blamed this oppression on "war hysteria and failure of leadership" among other things. Further, like many other speakers, he urged American Muslims to take a more proactive role in this struggle to preserve their civil rights, asserting, "Dialogue is good, but not enough. We need policy changes."
James Lafferty, Executive Director of the National Lawyers Guild (NLG), had strong words to say against the government.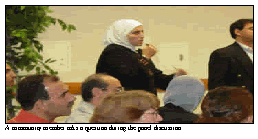 A community member asks a question during the panel discussion
Zeke Hernandez, Chairman of the League of United Latin American Citizens (LULAC)-Orange County Chapter, called for the Latin American and American Muslim community to unite. He also invited CAIR to meet with its national officials to strengthen their relations.
Amin David, Chairman of Los Amigos of Orange County, gave his support to the Muslim community saying, "We will not stand by and have you trampled upon." Creating a sense of understanding and empathy between the Mexican-American community and the American Muslim community, he mentioned that in 1930 thousands of citizens were deported to Mexico because of the economic instability of the US at that time.

Family members and attorneys for Hamdan and Ghoneim spoke about their ordeal.
Yaman Hamdan, the eldest of Hamdan's six children, told the audience that her young siblings have difficulty in sleeping because of the psychological trauma they endured when FBI agents stormed their home at four in the morning to arrest their father.

Tasnim Ghoneim, daughter of Ghoneim, stated that the accusations of her father are based on Internet articles, which are inadmissible in the court. She thanked the audience for their concern and support. Further, suggesting that any American Muslim may be targeted, she stated, "I'm sorry to say this, but your dad may be second."

Arif Shaikh and Ahmed Ahmed talked about the interrogation and inconveniences they faced when they were harassed and prevented from traveling because their names appeared on the 'No Fly' list.
The final segment of the town hall meeting consisted of a panel session. Panel members included Ahmed Younes, National Director of the Muslim Public Affairs Council (MPAC), Ban Al-Wardi, President of American-Arab Anti-Discrimination Committee-Los Angeles/Orange County Chapter (ADC-LA/OC), Matt McLaughlin, and Hussam Ayloush.

-------------------------------------------------------------------------------------