Janice Miller's Love for Pakistan
By Talat Sattar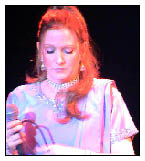 Ten years ago when one of my friends invited me to a musical concert where a white American female was the main artist, I flatly refused. Upon his insistence, I agreed to give him company for a favor that he owes me now. In spite of my prayer for the cancellation of that show all the way up to the music hall, it started just about on time. The concert was completely sold out and there was only standing room in the hall.

As the proceedings began the white American singer stepped up to the microphone and began to sing her first Punjabi song. I was astounded. She played several Punjabi, Hindi and Urdu songs. All this time I was not believing my eyes and ears and comforting myself that this is just lip sinking. Her phrasing and intonation had a precise certainty, whether she was singing in Urdu, Punjabi or Hindi. There was no accent in her pronunciation and punctuation of difficult Urdu and Punjabi words.

Ironically, she can speak none of the languages conversationally. She is an American. Her name is Janice Miller. Her repertoire, which she has steadily built up over the last twelve years, amounts to more than several hundred songs, a majority of them from popular films. Her greatest influence has been famed playback singer Asha Bhosle, whom she has met on three separate occasions.

Born in San Francisco Bay Area, Janice Miller grew up around music, her father a pianist and her mother a percussionist. Eager to explore exotic drumming techniques, moved the entire family to Ghana, West Africa. At age seven, Janice discovered Desi music and movies in local theaters in Ghana.

All her life Janice knew she wanted to sing and after watching "Alibaba and forty thieves," she knew this was exactly what she wanted to do. Her desire for Desi music was so overwhelming that she would watch the same movie again and again. Some of her favorite movies are "Rama Hari Krishna", "Sangam" and "Yadoon ki barat" and the songs of that movies are her favorite. Asha Bhosle was her inspiration. The combination of R. D. Barman music and Asha Bhosle songs absolutely drove Janice crazy and her friends could not keep up with Janice's obsession with Desi music and every body left her and vice versa. Janice Miller always constantly fantasized singing Desi music to the audience.

The beauty, fashion, culture, love and family values of Desi people had a profound sentimental connection to her spirit which up to this day cannot be explained. Janice Miller would stop at nothing to get to the theater. Hema Malini, Amitabh Bachan, Neetu Sing and Vinod Khanna were her favorites. Janice did not know any single Desi and she could not speak a single word of that language but her motivation was strictly from movies.

New year eve. 1989, finally she got an opportunity to sing with a local band in Oklahoma City, where she was residing after coming from Ghana at age 17. Janice Miller cannot forget her first experience on the stage and her first few songs on the stage were, "Chura liya hay dil" and "Aay Mere Humsafar". Ever since that ground-breaking performance in 1989, Janice Miller achieved international fame. She has performed all over the United States and Canada. Janice has received several offers to perform overseas but she has not done that yet.

She started singing Punjabi songs in 1992 when few Pakistani friends convinced Janice to sing Noor Jehan songs. This language seemed difficult at first but with her dedication and determination to please her audience, she discovered Punjabi folk was her specialty. Janice never imagined in her wildest dreams that she would launch a career singing Desi songs without speaking the language.

Janice Miller has never visited Pakistan but her love for Pakistan is so great that she dreams of Pakistan day and night. She wants to be buried in Pakistan, she just disclosed that to me on her recent visit to Sacramento.
Nusrat Fateh Ali Khan was the world known artist but Pakistan never took advantage of his International fame. Nusrat Fateh Ali Khan died and was buried very quietly (THE END OF STORY) but India televised Madam Theresa's funeral in the whole world.

Pakistan has lost several opportunities in the past for not taking advantage of the nation's heroes. Janice is Pakistan's pride. I hope Pakistan get smarter this time and fully abridges the relationship between America and Pakistan. Pakistan can fully exploit Janice Miller's talent and position in the USA and benefit from them.

-------------------------------------------------------------------------------------