Sacramento Celebrates Eid
By Ras H. Siddiqui

Sacramento: Eid-ul-Fitr was celebrated with great enthusiasm once again at the oldest continuous Muslim place of worship in this part of the American continent, as more than two thousand people gathered at the Downtown "V Street" Mosque on Sunday, November 14, 2004 to celebrate the end of Ramadan.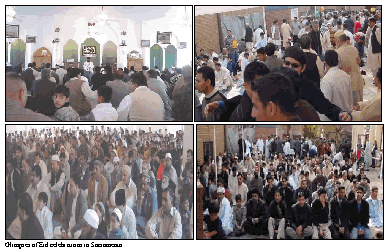 Glimpses of Eid celebrations in Sacramento
Also nicknamed "The Pakistani Mosque" due to the origins of its founders, this center of Islamic religious activity also appeared on the scene in the California State Capital of Sacramento at around the same time as the creation of Pakistan in 1947. And although most of its original builders are no longer with us, their descendents along with more recent arrivals continue to add a unique cultural flavor to the local scene.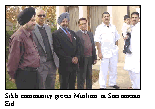 The languages heard here besides English are Punjabi, Pashto and Urdu. Imam Mumtaz Qasmi delivered the "Khutbah" (sermon) in both Urdu and English once again as he stressed on the virtues of Ramadan fasting and prayers. He also advised his congregation to follow in the footsteps of the first Muslims or "Sahaba" and added that one should not wait till late in life to become a more observant Muslim.

Keeping what is now established tradition a group of Sikhs came to the Mosque to greet area Muslims on this festive day. Much food was consumed with jalebi dessert and pizza amongst other items making a big hit. Islamic literature was also available for sale as the curious looked into the calligraphic works on display.
Much color and ethnic flavor via women and children dressing up in their Eid best was very much apparent. No pictures could be taken and sent to Pakistan Link this time because some "defenders of the faith" appeared out of the blue after 12 years of this reporters covering of Eid-ul-Fitr at the "V Street Mosque" and said "no pictures" this time.



Anyway "Eid Mubarak" once again from Sacramento, California and let us hope for the best for our community and the world.

(Ras H. Siddiqui will not be available to report on community activity between now and the New Year. Please call Pakistan Link Editor Akhtar Faruqui at 949-477-0100 to find someone to cover your event or send your reports directly to afaruqui@pakistanlink.com. Along with suitable pictures)