NCM Awards Ceremony in Sacramento
A Pakistan Link Report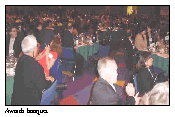 Awards banquet
Sacramento: The New California Media (NCM) held "The 6th Annual NCM Awards 2004" at the Sacramento Convention Center on Wednesday, November 17 with a gathering of over 500 people from the ethnic media and its many sponsors. The dinner and entertainment awards program lasted well over two-and-a- half hours as Mistress of Ceremonies: Xochitl Arellano of Univision conducted the proceedings over dinner and much more.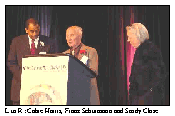 L to R : Cobie Harris, Franz Schurmann and Sandy Close

Once every year the hard working journalists within the California ethnic media get together to recognize those that do not get into the limelight in the mainstream media.
These are not the highly paid reporters who work for major publications in the area. Many write in their native languages and are not well known or have their television shows that represent their own community viewpoint. NCM, the brainchild of a few and led by its Executive Director Sandy Close, has changed a number of things for the better for this very large media resource (if combined, the ethnic readership and viewer ship could parallel if not exceed the major media outlets in California).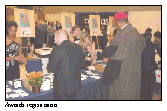 Awards registration

This year awards were given out to many well-deserving reporters, writers and media personalities. The most touching moment for many of us was the Founders Award given to Franz Shurmann of the Pacific News Service for his work as a historian, sociologist, sinologist and intellectual with a great grasp of international affairs. Franz is also the life partner of Sandy Close and has helped many ethnic writers over the years. Award Presenter Cobie Kwasi Harris did well to present Franz with a world atlas because his contribution to the local world view is immense.

Pakistan Link was represented by Ras H. Siddiqui at this event. The Link congratulates all the award winners and NCM for helping to spread the word about our Pakistani-American publication.