Acclaimed Pakistani Artist Honored in Washington
By Jonathan Hayden
American University
Washington, DC
The gorgeous Embassy of Pakistan in Washington, DC provided the appropriate backdrop for a dinner and commemoration in honor of acclaimed Pakistani artist and social activist Jimmy Engineer on the evening of March 22. His Excellency Ambassador Jehangir Karamat welcomed a distinguished list of guests to the Embassy to witness speeches by Ambassador Akbar Ahmed PhD and Mr. Engineer and a question and answer session following dinner.
After the discourse, the guests were treated to a viewing of the works of Mr. Engineer. The Master of Ceremonies for the event, entitled 'Life and Works of Jimmy Engineer', was DCM Mohammad Sadiq. Among the notable attendees were Colonel Chris Allen, Professor Newton Howard of George Washington University, and many dignified diplomats.
(L to R): Dr Akbar Ahmed, Jimmy Engineer and Ambassador Karamat
Ambassador Karamat began the speaking session by welcoming the enthusiastic crowd, subsequently thanking the two speakers. "I am grateful for Jimmy to be here. He is an outstanding artist and has had astounding achievements on the social side", said Karamat. He went on to speak of some of the achievements of Engineer adding, "He has shared his good fortune without reservations with a large number of Pakistanis and people from all walks of life."
Mr. Sadiq then introduced Dr. Ahmed, Ibn Khaldun Chair of Islamic Studies at American University, to the considerable crowd. Sadiq was short with his introduction but did label Dr. Ahmed as "the most well-know Pakistani living in the United States".
Dr. Ahmed began by thanking the Ambassador and the guests and took the opportunity to "throw light on Jimmy the person". He spoke of the creation of Pakistan in 1947 changing the world. Over two million people sacrificed their lives and fifteen million were displaced. "Jimmy's works remind us of this," Dr. Ahmed said, referring to the artwork of Engineer that depicts the violence and bloodshed that came along with the creation of Pakistan in 1947. Ahmed explained what they were fighting for: Jinnah's vision of a modern Muslim state, a "balance of Islam and modernity." He added, "Jimmy's challenge to us is being renewed through his work."
Continuing his address, Dr. Ahmed told the crowd about who Mr. Engineer is as a human being and about his contribution to not only Pakistanis but also people from all over the world. "Jimmy represents the finest of Pakistan. "He does not believe in violence. He reaches out to the people through his art", said Ahmed.
Dr. Ahmed spoke of some of the initiatives that Mr. Engineer has taken to spread peace and compassion. Engineer has been a peaceful activist for handicapped children, oppressed peoples, and impoverished throughout Pakistan. He has spread almost all of his wealth to charitable work. "Jimmy challenges us to look deep into our culture. Compassion, acceptance, reaching out; this is the Islam that spread throughout South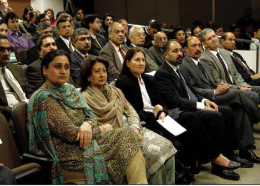 A section of the audience
Asia. Jimmy challenges us to get back to this", explained Ahmed.
Dr. Ahmed gave way to Mr. Engineer, a charming and fascinating man, who shared some of the advances that have been made through his desire to reach out to the underprivileged. Accepting of all religions, he has been able to bridge gaps through his artwork, explaining that God inspires him. "When people call me a great Muslim, I say 'Thank you'. When someone says that I am a Hindu, I say 'Thank you'. Same with Buddhism", said Mr. Engineer. He asserts that the inspiration for 'The Partition', perhaps the most famous of the over 3,000 works of art that he has composed, came from God through dreams. The immaculate 8' x 13' detailed piece depicts the struggle for the conception of Pakistan.
Engineer commented on the endeavors that he has taken to connect with the oppressed people of Pakistan. He spoke of some of the infamous 'walks' that he has taken to bring awareness to an issue. In 1994, he walked from Karachi to the border of Afghanistan visiting villages along the way to reach out to the poor. "We cannot expect the poor people to come to us," said Engineer. In 2001, he initiated a 'Peace Walk' from Pakistan to India in which he walked for twelve days to the Indian border where he was denied entry. The walk received media attention and "woke up a nation that was sleeping" said Engineer. "Relations started improving." He has been able to get the attention of politicians through his peaceful actions and makes a difference.
One of the nobler of his acts has been his effort to help the handicapped. He has been engaged with disadvantaged people face to face. "All of this talk will not change a life. We call these people special but never give them anything special", he said. Being a man of action, he has taken hundreds of handicapped children to five-star hotels and restaurants.
Following Mr. Engineer's inspiring speech, the jovial attendees were given the opportunity to ask questions of the panelists. One of the highlights included Mr. Engineer being asked what message he would have for people of Pakistan and America. To this he replied, "Pakistanis should be proud to be Pakistanis." He added in jest, "America should be nice to Pakistan." Dr. Ahmed then jokingly exclaimed "He's talking to you" to Col. Allen who is on his way to Pakistan.
After the interactive session, Mr. Engineer most graciously treated the attendees to an exhibition showcasing many of his magnificent works of art. The congregation was delighted to mingle with the guests of honor and have their prints signed by Mr. Engineer.
For everyone is attendance, the night was a privilege to be witness to. The three Pakistanis that took the stage at the Embassy reminded everyone in attendance of all that Pakistan has given to the world and will continue to give.



-------------------------------------------------------------------------------------