Play of Ikhwan al Safa's Debate between Man and Animals Draws Large Audience
A Pakistan Link Report
Court scene with the animals and humans debating before the King of the Djinn-© Andrea Carrillo

Arif Gheewala as the Peacock with Asma Alibhai as the Messenger
(center) and Afroz Sajan as the Nightingale-© Andrea Carrillo

Another scene from the play-© Andrea Carrillo

Fourteen hundred people gathered at the Redondo Beach Performing Arts Center on April 2nd.. to view thisoriginal play, entitled, "Island of the Animals," performed by 50 young actors. Based on a fable written by Muslims from Iraq, it dealt with the rights and responsibilities entrusted to Man by God through the scriptures, and the value and contributions of each of the created species.
Incredibly, this fable was written in the tenth century! The Ikhwan al Safa (Brethren of Purity) were a group of intellectuals who are famous for what was, probably, the first encyclopedic work by Muslims, known as the Rasail Ikhwan al Safa.. It was a scholarly compendium of scientific, philosophical and metaphysical information, including mathematics, astronomy, music, geography and logic. The script was adapted with some contemporary scenes and references, making it highly relevant, as we grapple with issues of environmental pollution, global warming, depletion of the earth's finite resources…and how our actions affect other creatures.
Welcoming the guests, who were from many faith communities, Mr. Anwar Mohammed, President of the His Highness Prince Aga Khan Shia Imami Ismaili Council for Western United States, which hosted the event, began by acknowledging the passing of Pope John Paul 11 earlier that day, and the audience showed their respect for the Pontiff by standing for a moment of silence. "Music, drama, literature, and dance can be more than mere entertainment, " said. Mr. Mohammed, continuing, " They are the repositories of myths, values and traditions of a culture… they link us to the past, while allowing us to recast them into a contemporary vernacular. Or to use our creativity for new forms of expression. The arts must be encouraged and celebrated…..for that, in the end, is a reflection of our humanity."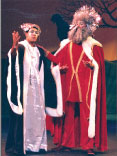 Atif Bhanjee as the King of the Djinn and
Shaffiq Poonja as the Chief Justice -© Andrea Carrillo
The performance was preceded by a specially prepared documentary on the environment that included images of the $30 million and 74 acre Al Azhar Park in Cairo, recently inaugurated by Madame Suzanne Mubarak and the Aga Khan. Built under the auspices of the Aga Khan Trust for Culture, it was a gift to a city with one of the densest urban populations and least amount of green space, underscoring the message of the play,
With a cast as large as any Broadway show, made more difficult given the age of the actors (some as young as five), Directors Zeena Dhalla and Mahmood Hussain, were to be complimented on the professional production. With magnificent animal costumes, stunning backdrops, lighting and sets, the fast-paced, humorous and colorful spectacle was a feast for the senses. But it was the bees, children under ten, dressed in striped yellow and black costumes with wings, who stole the show, as they danced and as the portly Queen Bee threatened to "tell the men to buzz off," if they came to steal their honey. There were moments of tension and serious reflection also, as the raven accused the audience of being sinners, too consumed with "building castles of splendor" and being "heedless of the march of time," reminding all of their obligations to God and ethical responsibilities to their fellow men.
Rt, Rev. Father Alexei of the Archdiocese of Los Angeles delivered some closing remarks, noting Pope John Paul's visits to Casablanca and Damascus and that he would have approved of this performance, because of its theme and message and because he had been an actor himself.
The play was being performed that weekend by local actors from the community, in several cities and was organized as part of the Ismaili Muslim community's annual Navruz celebration. Audience guests included Mr. Shahidul Islam, Consul for Bangladesh, Mr. Ahmed Farooq and Mr. Shahid Tarar, Vice Consuls of Pakistan, Mr. Zulfie Sadeque, Consul and Trade Commissioner for the Canadian Consulate, Dr. Namazikah, President of the Iranian Muslim Association of North America and its Board of Trustees, Dr. Nazir Khaja of the Islamic Information Service, and Mr. Shabbir Mansuri, Director of the Council on Islamic Education.
Reading about Muslim intellectuals of the past is a pleasure usually availed of by few. A play, however, allows the heroes of yesteryear, and their ideas, to come to life and can be appreciated by young and old. The dramatic arts are an expressive medium that educate and entertain…and as this presentation demonstrated, succeeded, to the delight of the audience.
Link's columnist, Arif Hussaini, was present at the function. We asked him for his views and this is what he had to say: "By any measure, it was a splendid play with a subtle message. Writers throughout history have used animals to convey their own thoughts. In Eastern literature Kalila and Damna, Anwar-e- Suhaili in Farsi, several tales in Rumi's Mathnavi and in Saadi's Gulistan, have used this technique. In the West, Aesop and Christian Andersen have made a mark by their superb tales.

-------------------------------------------------------------------------------------