A Literary Evening Brings Left-Leaning Writers Together
By A. H. Cemendtaur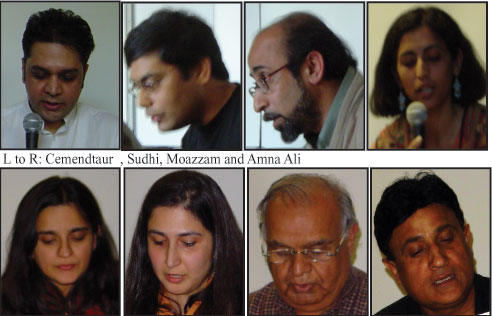 L to R: Abira, Rajika, Ved Vatuk and Farooq Taraz
The Friends of South Asia (FOSA--www.friendsofsouthasia.org) organized its second annual literary evening at the Stanford University on Saturday, April 16. The theme of the evening was 'War and Terrorism, The South Asian perspectives.' The program was sponsored by Dr. Khawaja Ashraf, Editor of the online PakistanWeekly.com, an online magazine.
The marathon reading session featured writers of South Asian descent reading in English (a clear majority), and in Punjabi, Hindi, Urdu, and Kannada. Ijaz Syed, a Bay Area activist and a literary figure in his own right, emceed the program.
The event started with the emcee reading Punjabi poems and their English translations submitted by Irfan Malik, a poet based in Boston. Malik's poetry was a sensitive mind's reaction to the Indian and Pakistani nuclear explosions in 1998.
Shikha Malaviya, a local artiste, then presented a poem she wrote on being emotionally overwhelmed by the tragic assassination of Mrs. Indira Gandhi.
Maya Khosla who has several poetry books to her credit read three of her poems.
This writer read an Urdu short story.
Sudhi Bangalore, who writes in Kannada, read a poetic reflection on an Independence Day celebrations (July 4) at a time when war raged in Afghanistan and Iraq was talked about being next in line.
Moazzam Sheikh, editor of an anthology recently published by Penguin India, read the opening passage of his story, "A fountain in the desert." The part Sheikh read had interesting imagery and was complete with his signature inclusion of sexually explicit material.
Writer-actor Saqib Mausoof, with the assistance of two volunteers, then presented excerpts from his play titled "Shock and Awe." Abira Ashfaq, an attorney and an activist, read excerpts from an essay "Reflections of an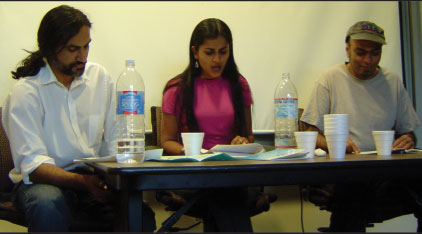 Saqib with Nidhi Singh and Usman Qazi
Immigration Attorney." It was an account of her interactions with a Palestinian detained by the US following the September 11 attacks.
Work submitted by Sarah Husain, a poetess based in Florida, was read by Vidhu Singh. Mahmud Rahman, a Bangladeshi-American writer, read passages from a story "Interrogations."
Writer-activist Sabahat Ashraf presented a reflection triggered by the media coverage of a person described by the US authorities as "the Al-Qaida computer whiz" and who went to the same High School and College in Karachi as Ashraf did. Ashraf drew a parallel between this person and someone of the same background from an earlier generation of leftist revolutionaries.
The last scheduled item was the presentation by the troupe led by local playwright Wajahat Ali —the actors did an animated reading of segments from Ali's play titled "Domestic Crusaders."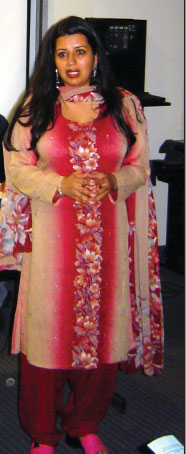 Vidhu Singh
Being affiliated with the host organization, this scribe is aware of the meticulous planning that went into organizing the event. A call for submissions was floated on various mailing lists of writers and activists two months in advance. A subcommittee comprising of Ijaz Syed, Anu Mandavilli, and Abira Ashfaq reviewed each submission and selected the ones to be read at the evening. An attractive handbill created and produced by Yasmeen Fatimah and Ramkumar Sridharan provided short bios of all the writers reading, or being read, in the evening, and the order in which they were supposed to read. But then, creative artists are not known for being too organized and being deadline-oriented.

Three writers showed up at the venue with work they could not submit to FOSA in time. The program organizers magnanimously granted them permission to read. Beneficiaries of this amnesty were Rajika Bhandari, who read a memoir; Ved Vatuk, who presented his Hindi poetry; and Farooq Taraz, who read Urdu and Punjabi poetry. With this anomaly, a program that after the initial 4-5 readings looked progressing at the desired pace and was expected to end on time, went on a little longer than might have been enjoyable.
One aspect that clearly undermined the effectiveness of FOSA's literary evening - despite the excellent literature that was read - was its low attendance. The program that was not ticketed and had free snacks and drinks served (thanks to Abira Ashfaq for that arrangement) was attended by only 40 people, and that count included the writers and their friends and family members.
Was the theme 'War and Terrorism' too intimidating and dissuaded a common cautious Desi from attending the program? We will not know.
-------------------------------------------------------------------------------------