Memorable Performances by Lollywood Stars in Fullerton and Santa Clara
Memorable evenings to remember. This is how one could sum up the performances of Lollywood stars in Fullerton and Santa Clara on July 22 and 23 respectively.. People from far away places came to see the Pakistani celebrities perform on one of the hottest days of the year in the San Francisco Bay Area. The weather in Fullerton a day earlier was quite pleasant.

Waris Baig, Shabnam Majeed, Mazhar Rahi, Rafia Bano, Lavina Benjamin, Sheen
The musical event, which lasted proved highly entertaining and the audience sat spellbound andenraptured by the impressive performances both in Fullerton and Santa Clara. Shabnam Majeed, Waris Baig, Sheen, Rafia Bano Mazhar Rahi won the hearts of the crowd and seemed to cast a spell. Dr Tariq Mirza was equally impressive and cracked several hilarious jokes as MC on both the show venues. It is a pity that this laudable venture of Sarfraz Khan was not fully enjoyed by the local communities in the Los Angeles and Bay Area. The crowd should have been much larger and those who kept away from the program were the obvious losers.
According to Talat Sattar, our representative who covered the event in Santa Clara and filed this report, the set design was of unmatched quality. Artistically decorated with colorful lights, the Mayer Theater in the Santa Clara University, appeared to present a cheerful look as if happy to host the galaxy of stars from every corner of Pakistan.
Rafia Bano took the stage and entertained the crowed with Pushto, Hindco, Punjabi and Urdu songs. The audience was very pleased with her performance and was not inclined to let her leave the stage. Everyone requested her to sing more songs. Rafia Bano is a talented artist and can sing all types of songs. She can sing ghazal and film songs with equal ease.
The second performer who is a model and an actress was Ms. Sheen. Sheen performed beautiful dances on several songs from "Pakeeza" and "Umrao Jan Ada". When she took the stage the audience was mesmerized, stunned and went dead silent. People were glued to their seats as if entranced by her movements, beauty, and performance. Sheen goes by only one name as many Pakistani do. She is a bright star, a beautiful young actress and has a full career and future in front of her. She dropped out of college to perform in TV serials and took a modeling career.
Waris Baig is an established singer and every song that he sings becomes a hit. His songs were very much enjoyed by the audience and with every song that he sang; he took the audience with him too. "My parents wanted me to concentrate on my studies and then join the family business," he said. His family did not approve of Waris' music career. "I went along with their wishes but continued with my music as well, and one fine day it took control of me." With no training in music but a mind full of melody and a heart full with euphonious strains, the guitar-playing Waris Baig of the 80s became the most sought-after film playback singer of the 90s. The song, Saathi Merey, which was my first attempt at playback singing, won me the prestigious National Film Award and this song was recorded in one go." Waris has sung many hit film songs in the last four years: Aa Pyaar Dil Mein Jagaa (Sangam), Raat Nashilee Baat Banalei (Chief Saab) and Nazara Dekh (Yes Boss) to name just a few. He attributes his success to a number of things: "I am very careful about the selection of poetry. It has to be romantic and soul stirring. And when it's time to sing, I put my heart and soul in it."-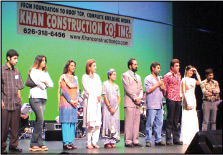 A group photo of the Santa Clara event shows the Lollywood artists
Shabnam Majeed is one of the most popular singers in Pakistan today Her songs "Agar Teri Aankn Main", "Dil ueh Tujh Pe Sanam", and "Kabhi Palkhon Ko Uthana", have won her recognition in the Pakistan music industry. She started her career as a child star on Pakistan Television. She was also the singer for the movies, "Babu", "Shararat" and "Anar Kali". She has a very nice pitch and voice quality for love songs
Mazhar Rahi entertained the crowd with songs from his own album.
At the end Mr. Sarfaraz Khan thanked the audience for their participation, the sponsors and volunteers. Mr. Khan reiterated, "I am a patriot Pakistani and will bring Pakistani stars if the Bay area audience will come to the shows and encourage Pakistani stars." Sarfaraz Khan thanked Pakwan Restaurant, Shahnawaz Restaurant and Zafran Restaurant for their hospitality and the delicious food served to the artists.
This beautiful evening was organized by Sarfaraz Khan of Khan Construction who is a very successful businessman in the Los Angeles Area. Sarfaraz is known for staging high caliber entertainment shows not only in California but in the entire United States of America. Local arrangements were made by Samina and Faisal Khan of Samina Fabrics and they did a superb job of advertising and spreading the word about the show. Asma Hamdani was part of the team too. Raana Faiz was also active in reaching out to the community to make the show a success. Every one deserves credit for a job well done and those who missed this show missed not only once in a life time opportunity to listen to top musical stars from Pakistan but missed a great show.
Sarfraz Khan was extended a helping hand in arranging the show in Fullerton by Rehana Qamar, Jameeel Bhatti, Zafar Abbas, Dara Khan and Munawwar Khan. All of them deserve the wholehearted gratitude of the community.

-------------------------------------------------------------------------------------