San Francisco's Show of Love for Pakistan
By Ras H. Siddiqui
Consul General Jadmani at the celebration PASF Board members

Anwer Siddiqu Javaid Sayed Zaki Syed
Fourteenth August is a special day. Not just for Pakistan but for the millions worldwide who claim direct or indirect connection to the green and white. Huge gatherings were held in major cities around the world during this past week or so to commemorate the 58th Independence Day celebrations of Pakistan. And San Francisco, being a major city was not left behind, becoming the focal point of Pakistani heritage in Northern California on Sunday, August 14, 2005, as over five thousand people gathered in front of the City's historic Civic Center. They congregated in patriotic fervor to celebrate the birth of their homeland, listen to speeches, taste fine cuisine and take in South Asian entertainment and fashions as the youth and even us older folk swayed to rap, geets, devotional and Western infused Bhangra music.
Sir Punj
Adeeb Khan and Azeem Khan
Hip Hop Group
Pehchaan Group

To begin with, this reporter found Dr. Khawaja Ashraf setting a somewhat somber yet realistic tone for the program, calling on the local Pakistani-American community to police itself. Dr. Ashraf called on Pakistanis to rise to the defense of their American homeland as this is very much our home now.
"The United States and Pakistan are both our homelands," he said. "This is our country," he added. He ended his speech with a call to everyone to remember to visit San Francisco around the 14th of August and to attend this gathering (which is now a tradition for our community from all over Northern California). "God Bless Pakistan and God Bless the United States of America," he said.
Singing of the National Anthem
Glimpses of the Fashion Show

Emcee Akhtar Shah echoed the same sentiments in his follow-up by calling on Pakistani-Americans to make sure that America remains protected.
Maulana Bashir Sialvi in a short speech next expressed the sentiments of many as he said that this was a day of great joy for all of us.
Food stalls
Eleven-year-old twins Adeeb and Azeem Khan next took the opportunity to stir up many patriotic sentiments as they sang "Sohni Dharti" to not only the delight of their proud parents but all of us in attendance. Their performance was followed by a delightful Pashtu language song (pre-recorded). Zaki Syed next presented his sentiments in rap form on the topic of ABCD's (American Born Confused Desis).
Western Union booth
PPP Group
Sultan Riazul Hassan and Salim Mastan struck a more religious note when the former called for a prayer of thanks for the achievement of Pakistan which is our identity while the latter made a call for fundraising for an Islamic center in nearby Livermore, California which could use community help.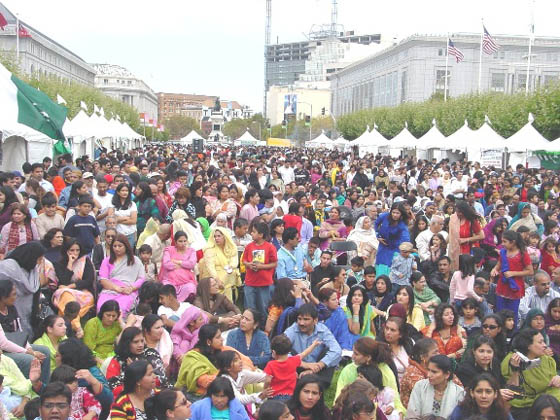 A Section of the thousands
The entertainment segment got off to a big start with Alka Bhatnagar accompanied by Raj Sohal. Alka starting off with "Allah hi Allah Kiya Karo" and proceeded to sing a number of Pakistani as well as Indian songs. Madam Noor Jehan's "Nehr Waley Pul Tey Bula Kay" and Dama Dum Mast Qalandar were greatly appreciated by the now fast growing crowd.
| | | | | |
| --- | --- | --- | --- | --- |
| | | | | |
| Akhtar Shah & PASF President Anwer Siddiqui. | Alka Bhatnagar. | Dr. Khawaja Ashraf | Civic Center | General Jadmani. |
Fashion Show
The Fashion Show that followed drew a positive response as "Girl Power" appeared to be in charge all the way. Colorful dresses, Pakistani colors and the background music gave this presentation a certain level of appeal that made it a commendable effort. It certainly gave "Pakistan Zindabad" a new twist. Sophia Ahmed, Sundas Yaqoob and Sholah Ramish and all the participants deserve to be recognized for brightening up the Civic Center Plaza and the Independence Day celebration.
San Francisco's (and Lahore's) own Urdu poet and passionate orator Javaid Sayed next made his speech to touch many hearts. Starting off on an appeal for peace between India and Pakistan, Sayed called for a resolution of the Kashmir problem and condemned extremism and those that hurt Islam and Pakistan's image.
Consul General of Pakistan in Los Angeles Noor Mohammad Jadmani who came to San Francisco especially to grace this event presented the messages of General Pervez Musharraf and Prime Minister Shaukat Aziz congratulating all of us on Pakistan's Independence Day. He said that the people of Pakistan were dynamic, intelligent and hard working. "Have pride in yourselves as Pakistanis," was the message from General Musharraf. "Pakistan is a frontline state in the war on terrorism," said Jadmani. He added that the community here made Pakistanis all proud and thanked everyone for coming to this gathering and remembering their homeland.
| | |
| --- | --- |
| | |
| | |
| Glimpses | |
A prize drawing from Western Union, a grand sponsor of this event (along with Zebra Rice and Farmers Insurance plus Pakistan Link and a host of others) was followed by a very passionate presentation once again by Zaki Syed. His "Humara Pakistan, Tumhara Pakistan" has to receive a wider audience. Whether the emcee understood it or not, it moved some locals in attendance to tears. Great presentation Zaki! And the same goes to the Hip Hop Group "Aman" which made a short but impressive appearance.
| | | |
| --- | --- | --- |
| | | |
| Kids | National Anthem Finale. | Salim Mastan hangs Medal on Anwer Siddiqui |
Alka Bhatnagar and Raj Sohal came back with some popular Bollywood songs and Mr. Sandhu sang "Kurti Mal Mal Di." And right after them a local who is making a name for himself, "Sir Punj" (the artist formerly known as T.J. Cool) really made a big impact. His three songs sure got some youngsters in the audience going, starting with "Sadda Dil hai Pakistani" (Our heart is Pakistani) and "Aa Ja Goriyay" plus "Kurti." Sir Punj's new album "Kehra Pind Tera?" (Where is your home?) is about to be released soon.
Imran and the Pehchan Entertainment group closed the Entertainment segment with several crowd favorites. Starting off with a devotional number originally by the late Nusrat Fateh Ali Khan, the group presented several Punjabi songs from Ibrar Ul Haq
including the now legendary "Billo Dey Ghar." Pehchan is quite a high-energy act and only the diehard youngsters could keep up with them this late in the day.
| | | |
| --- | --- | --- |
| | | |
| Celebrate | Celebrates Pak Independence. | Punj |
A couple married on August 14 assisted in drawing a number of Raffle tickets from Tri City Travel (Emirates Airlines and PIA). Western Union was not far behind along with Zebra Rice with their own drawings.
Current Pakistan Association of San Francisco President Anwer Siddiqui made the closing speech. He thanked everyone for making the occasion a success once again.
"Unity, Faith and Disciple are basic principles for everybody," he said. He added that we should all be grateful to Quaid-i-Azam Mohammad Ali Jinnah and quoted from his famous "We are a Nation"…speech. "We are proud Pakistanis," said Mr. Siddiqui.

The singing of the National Anthem of Pakistan led by the guitar sound of Anwar Ali of the "Dream Sound" Band closed the program as the evening made its appearance outside San Francisco City Hall. Unfortunately only a fifth of the people who had gathered earlier were there to participate in the singing of the closing anthem.

In closing, the Pakistani community in Northern California once again needs to be congratulated for continuing the tradition of participating in this annual event in beautiful San Francisco. And Pakistan Link is proud to have been among the sponsors of this event.

(Dear Editor:. It has been our annual tradition to dedicate this event and report to Pakistanis who have made a significant difference in our lives. This year the choice is easy because it goes to the man that started it all, Quaid-i-Azam Mohammad Ali Jinnah, the founder of Pakistan. His vision is what we need to revisit today to achieve - "Enlightened Moderation." ).

-------------------------------------------------------------------------------------