Imran's San Jose Fundraiser Nets 300K
By Ras H. Siddiqui
Amir Khan

Dave Cortese

Omar Khan

Amra Tareen

Umair Khan

Dr. Judy Wong
The Pakistani-American, Muslim and South Asian community in Northern California has held numerous fundraising events for earthquake relief since October 8th when the massive 7.6 Richter scale quake hit mainly Kashmir and Pakistan causing colossal losses of life and property. Other groups have also been somewhat active in this effort but mainstream America has as yet shown a certain reluctance to accept the magnitude and gravity of the situation in Pakistan or is still too overwhelmed with hurricane Katrina.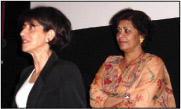 Dr. Zohre Elahian and Dr. Tehmina Khan
So when cricket playing legend Imran Khan came to San Jose on November 18th to a fundraiser sponsored by the Silicon Valley chapters of the Organization of Pakistani Entrepreneurs of North America (OPEN), The Human Development Foundation (HDFNA), The Citizen's Foundation (TCF) and last but not least The Indus Entrepreneurs (TiE), one just had to attend. An event for a great cause where the "Who's Who" of both the Pakistani and the Indian community are present is indeed newsworthy. And with Pakistan's version of "King Khan" present, the enthusiasm level was certainly bound to be high at the San Jose Athletic Club on North Third Street.
A fine buffet dinner from Shalimar Restaurant kicked off the evening as Mistress of Ceremonies Amra Tareen went through the tragic circumstances that over three million people find themselves in Pakistan today. It was a completely different but very welcome role that we saw Amra play here at this event, since she is usually advising Venture Capitalists (VC's) on funding companies as Partner at Sevin Rosen Funds in real life.
Dr. Judy Wong was invited to speak first. Dr. Wong is from Oakland Hospital and has had an opportunity to see first hand (along with Dr. James Hardy) the situation on the ground in Pakistan, being sent there through the doctors4help initiative. Judy mentioned the various medical challenges present and the resilience of the people. "Being in a tent at 9,000 feet is quite extreme," she said. "There is a very short window of opportunity right now before winter sets in," she added.
Photographer/cinematographer Kelley Green who also visited Pakistan and the disaster area through doctors4help spoke next praised www.doctorsforhelp.com the website put together by Zain Jeewanjee and friends and said that such efforts can make a huge positive impact. Amidst the tragic backdrop he still had good things to say about his visit. "If you are Pakistani, you have an incredibly beautiful country. Not like any that I've seen before," he said. Pakistanis know quite well that this earthquake-affected area is one where beauty and tragedy have lived together for too long.

Imran Khan with Dr. Afzal Arain
Ali Zaidi of the Imran Khan Foundation and past candidate for the Tehreek-e-Insaaf or Justice Party in Pakistan (that Imran Khan leads) made his leader's introduction. But as eloquent as Ali could be, in a country where few icons survive, Imran stands out and needs little introduction. Cricket hero, social worker, and politician, even somewhat of a playboy, Imran Khan makes Pakistanis proud no matter where they may be. And here he was once again, in person, at his third appearance in the San Francisco Bay area this year, for a cause that is close to many hearts.
Describing the delayed response to the magnitude of this earthquake tragedy, Imran said that he was taken aback when he visited some of the affected areas on the third day after October 8th. "It is beyond description," he said. "It is too tragic to describe. This is beyond the Government of Pakistan," he added. He said that even the houses that have not collapsed are unlivable. He added that there were many people coming down from the mountains and that the hospitals were already filled. He added that when the diehards that have stayed up there get hit by the coming winter, they too will come down and the situation will get much worse. "We have on the outside, four weeks," he said (before the rest of the people have to start coming down or face freezing). "It is a race against time."
Imran continued speaking with his resolve as a past team captain. "All of us have to join together and go through this winter," he said. And on a positive note or the silver lining in these dark clouds he had words of encouragement: "Never before have I been so proud of the efforts of people in the country (Pakistan)," he said. Speaking of this new spirit of helping he added, "It was one of the most inspiring things to see. Had it not been for the civilian effort, this tragedy would have been much greater." Although Imran gave the Pakistani Army full marks or praise for search and rescue and road clearing efforts he said that this kind of relief effort was not what they are equipped to handle and they need help from everyone else out there. "Help in any way," he said. "There is so much to do."
TiE Table

Sacramento Table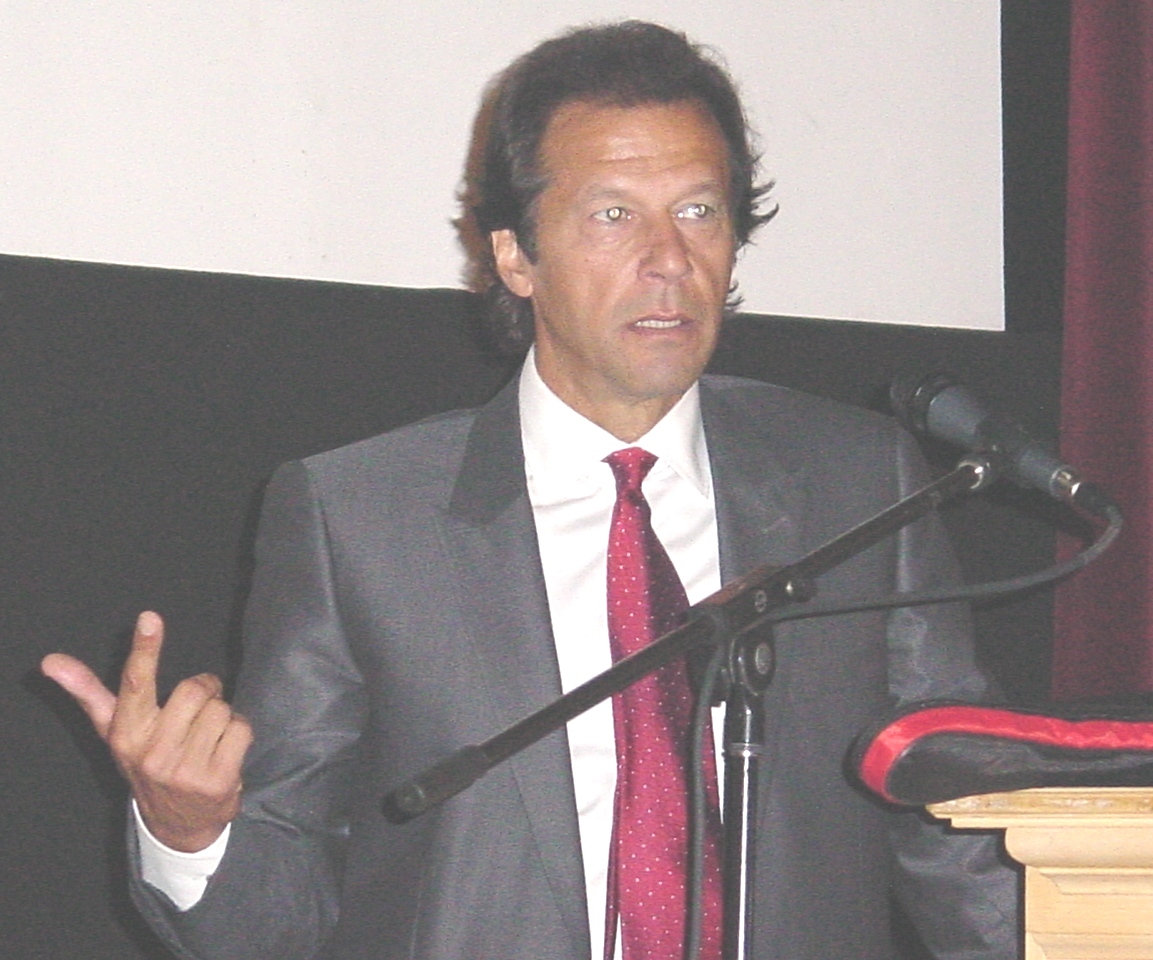 Imran is not recommending tents (cost $100) for people in the high mountains but "shelters" (cost $350) so that the homeless can survive this winter and start rebuilding their damaged dwellings in spring.
The fundraiser started as Amra Tareen invited Omar Khan for assistance. Omar is a well-known television personality amongst Pakistanis through the Jaiza Program on Geo TV Channel broadcast via satellite. He was recently a part of an Earthquake Fundraising Telethon on Geo and was more than ready to add some inspiration at this event. "I want you to feel. No, I really want you to feel," said Omar. "What took 50 years to build was destroyed in 50 seconds," he said. What drew the most attention was when Omar Khan said that Imran Khan's greatest triumph was not playing and winning the Cricket World Cup in 1992. He said that Imran playing cricket with the homeless children of Balakot was much more significant.
Speaking to help out at this event was Iranian-American Mrs. Zohre Elahian and Dr. Tehmina Khan who had seen the situation for themselves. Their descriptions of parents burying their children and children burying their parents moved many in the audience. "There is still some hope in the people's eyes," said Dr. Khan. "Please open your hearts and donate."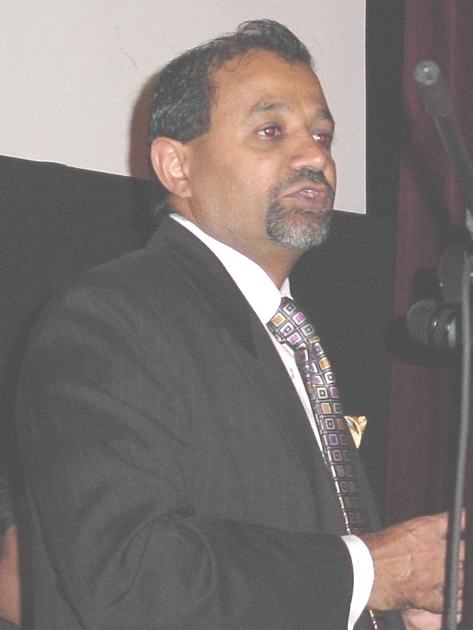 Zain Jeewanjee
Zain Jeewanjee, one of the main people who helped put together this effort brought in his cricket bat for auction (signed by Imran it fetched $3500 along with tickets to the next World Cup). San Jose City Council Member District 8, Dave Cortese who is going to be running for City Mayor in 2006, was also on hand and presented words of encouragement. "Right now we are their hope," he said (for the earthquake victims). He also praised the community present for being a part of making this area the greatest international and truly global community in the world. Amir Khan from Cisco Systems also said a few words. Pakistanis need to recognize all employees of hi-tech companies including those at Intel and Cisco amongst many others for their efforts towards this cause.

At the time of this writing the final amount raised at this dinner was just under $300,000. Judging from the fact that this amount was raised at the tail end of the current fundraising season for the victims of this earthquake, it was still the largest amount raised at a single event that this reporter is aware of in Northern California.
This report would not be complete without recognizing not only the Pakistani Americans - OPEN (Umair Khan & Zain), TCF (Amjad Noorani) and HDF (Javed Khan), and Shahid Khan but also the Indian-American community (ICC & TiE) present. Mrs. Talat Hassan, Kenwal Rekhi, Kailash Joshi and Suhas Patel (just to name a few) with their presence and contributions crossed the Kashmiri Line of Control (LoC) armed only with their humanity. Let us hope that this trend is both duplicated and reciprocated on both sides of this 58 plus year old divide not only when disaster strikes but during happier times.
Ali Zaidi
In conclusion let us end with Imran Khan, the man who continues to inspire Pakistanis long after his playing career. Many of us admired his roles as cricket player, social worker and member of Europe's jet set. But his recent stint in Pakistani politics evokes a mixed response. In speaking to him about my affiliation with this newspaper and the long time sympathies that I have had with the Pakistan Peoples Party (PPP) he said that the PPP and him were together in the Pakistani opposition today. And since Imran is the only Member of Parliament from his own Justice Party in Pakistan today (that we hear about) and if he has aspirations of being Prime Minister of the country, he has three choices: 1) His party wins the majority in the next elections. 2) He is supported by the Army and 3) If he can get Benazir Bhutto's PPP and the Pakistan Muslim League (Nawaz) to support him since they have large vote banks. From these three choices one can only speculate how Imran Khan Niazi will navigate his political future. And for those of us who continue to appreciate his non-political accomplishments, we are just glad that he is there and that he is helping out.
-------------------------------------------------------------------------------------