Humayaun Akhtar Khan Visits Los Angeles
By Naushad Sarwar
Humayun Akhtar Khan

Hamid Malik

N.M. Jadmani

Leroy Baca

Tanvir Khan

Rubina Merchant
Los Angeles, CA: Humayaun Akhtar Khan, Pakistan's Federal Minister for Commerce and Trade, was in Los Angeles last week to apprise the community of measures taken by Islamabad to boost bilateral trade. He also informed the Pakistani-American businessmen of the attractive opportunities that prospective investors can now avail of in Pakistan to boost their respective businesses.
He was addressing the leading community businessmen at a dinner reception hosted in his honor by the Council of Pakistan American Affairs at the LAX Hilton on November 30, 2005.
Mr. Tanvir Khan of COPAA welcomed the guests and played the role of the emcee.
Ms. Rubina Merchant recited verses from the Holy Qur'an before Mr Khan made his welcome remarks.
Sheriff Leroy Baca warmly greeted Minister Humayun. Khan and recalled his pleasant stay in Lahore. The Sheriff was all praise for the radiant beauty of Islamabad. "I see a courageous and optimistic person in President Musharaf who took bold steps in fighting terrorism within and outside the country," he stated. Sheriff Baca also complimented the local Pakistani community, mentioning in particular the efforts of COPAA and CPACC.
Arif Mansuri and Leroy Baca

Pictures above: Minister Humayaun Akhtar

Khan with prominent Pakistani Americans who attended the COPAA dinner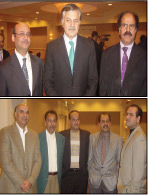 Guests at the COPAA reception
Consul General Noor Muhammed Jadmani thanked the audience who were able to attend the dinner on a working day and who have been wholeheartedly supporting the consulate in the earthquake relief effort. The "community of Los Angeles is the one I am really proud of, be it COPAA, be it CPACC, be it a Fundraising Mushaira, their unconditional patronage is unmatchable," the Consul General stated.
Hamid Malik, President of COPAA, acknowledged the efforts and hard work of the Council's Board members who have been in the forefront of efforts aimed at mitigating the sufferings of the earthquake victims. "I really appreciate Sheriff Leroy Baca for mobilizing his 14,000 employees to the tragedy Pakistan is facing today," Mr Malik stated.

The Pakistani community of Los Angeles "has come a long way to prove themselves as root of their society and uphold their identity as basic fabric where they dwell in," said Minister Humayun A. Khan in his speech. The task ahead for us is huge as roads have been destroyed, weather has been against us, many lives have been saved but a large number of people are still missing. Our next step is the rehabilitation of the survivors and no doubt our government has done a great job in undertaking this massive task with the help of foreign aid and local support. "We have the second highest growth rate in Asia due to our macro economics indicators, investment policies and increase in exports," he claimed.
Answering a question during the QA session, Mr. Humayun Khan told the audience to bring investment in Pakistan as the country offered great opportunities.


-------------------------------------------------------------------------------------