AMV Interfaith Eid Dinner in Woodland
By Abdus Sattar Ghazali
Samina Faheem

Khalid Saeed
The American Muslim Voice hosted an interfaith Eid dinner in Woodland, California on Saturday Nov.19, 2005. People from different religious and cultural backgrounds attended the dinner at the Leake Room of Woodland Library.
The program started on time at 6:30 pm with a recitation from the Holy Qur'an by Imam Tasawar Iqbal of Woodland Mosque.
In the true spirit of an interfaith outreach, Christian, Jewish, and Muslim prayers were offered before the serving of the dinner. Joe & Steve Cohan of Davis Synagogue offered a Jewish blessing, Rev. Larry Love Joy said traditional Christian prayer and AMV President Khaled Saeed offered Muslim prayer. Halal Italian dinner was served with special arrangements with "Strings Italian Restaurant" in Natomas, California. For desert Pakistani sweets – jaleebees, gulab jamins and maysoo - were served.
Mr. Khalid Saeed, national president of American Muslim Voice, welcomed the guests and spoke about the significance of the two Eids and the purpose of Eid dinners. He also recognized the notables among the guests. They included: Superior Court Judge Honorable Harry Ackley; California Sate Assembly member from the 12th district Ms. Lois Wolk; Mayor of Woodland Mr. Matt Rexroad; Vice Mayor Mr. David Flory; Member City Council Mr. Jeff Monroe; Chief of Police Mr. Carey Sullivan; Chief of Fire Department Mr. Karl Diekman; Mr. Jim Smith Chief Editor of "The Daily Democrat" of Woodland; County Supervisor Tom Stallard and Commader Larry Schapiro of the American Legions.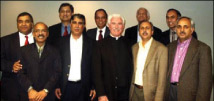 Woodland community leaders
The clergy included Bishop Russel Spring; Father John Bole of the Holy Rosary Catholic Church; Rev. Larry Love; Rev. Brad Van Saint; Rev. Eileen Lindsey and Rev. Dr. William Marble.
Among the prominent Pakistanis in attendance were: Pakistan American Chamber of Commerce president Mr. Arshad Whala; businessman Mr. Tasawwar Ali Khan, engineer State of California Mr. Nasir Chaudhry; Mian Muhammad Anwar of Allstate Insurance; Imam Qari Muhammad Amin of Live Oak; Imam Tasawar Iqbal of Woodland; Qari Bashir Ahmad Sialvi of Woodland; Professor Zakia Isad from Bay area and Mr. Riaz Ahmad President Islamic Center Woodland.
After the dinner, AMV Executive Director, Ms. Samina Faheem Sundas, gave a presentation about the American Muslim Voice. She talked about its mission and its accomplishments. She said the AMV is a grassroots, nonviolent, inclusive, civil, immigrant and human rights organization building alliances and genuine partnership with like-minded groups and individuals to protect and preserve civil liberties and constitutional rights of all. "Our goal is to bridge the gap between all communities and unite us all under the umbrella of our common humanity."
Ms. Samina Faheem Sundas also spoke about the recent earthquake in Pakistan that caused havoc for millions of people. Ms. Samina urged the audience to join in interfaith vigils and fundraisers for the benefit of the survivors of the earthquake. "It wasn't in God's plan for us to save the 90,000 lives this devastating earthquake claimed. But there is strength in numbers and together we can raise hope for the 3.5 million survivors who are all in desperate need of insulated tents and clothing to shield them from the harsh, cold winter ahead. We will not be able to fully comprehend their pain and helplessness by spending one night in mild winter weather but we can certainly create a better understanding of their plight."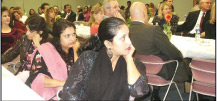 A section of the audience
After Ms. Samina's presentation, Mr. Tasawwar Ali Khan introduced the main speaker Dr. Michael Parenti, one of the nation's leading progressive thinkers and an uncompromising advocate for political and social justice.
Dr. Parenti, who has written sixteen books, including Democracy for the Few, Dirty Truths, and The Sword and the Dollar, gave an enlightening speech with historical references and termed the US to be the current empire of the world. He talked about his research on world empires and how they transitioned into monarchies. He gave the example of the Roman Empire and expressed his fear of the US treading the same path. He cited an example from his book about Julius Caesar and how the great Roman Empire transitioned into an autocratic monarchy.
There was a brief question answer session after his speech followed by two electrifying rap performances. "Growing up as Muslim Youth in America" and "Pakistan earthquake" was rapped by Mr. Zaki Syed and Hannan Chaudhry rapped about the Eid and Ramadan.
The program ended with a vote of thanks by Mr. Shahid Chaudhry, Northern California Director of AMV.
Superior Court Judge, Honorable Harry Ackley described the event as a goodwill gathering while Fire Chief Karl Diekman found the event helpful in knowing about the Muslim community.

-------------------------------------------------------------------------------------