Iftikhar Arif Honored
By Link Staff Reporter
Iftikhar Arif

Dr. Asim Wasti

Rehana Qamar

Majeed Akhtar

Nadir Durrani

Ashfaq Hussain

Abbas Tabish
If a proof was needed of the intellectual and cultural richness of the local Pakistan-American community it was furnished at a memorable mushaira held at the Shahnawaz Restaurant on November 26 to honor well-known poet Iftikhar Arif. He was given a lifetime achievement award.
Iftikhar Arif receives lifetime achievement award from Consul General Jadmani

Consul General Jadmani receives award from Iftikhar Arif

Abu Bakr Vakil recevies award from Consul General Jadmani

Zafar Abbas receives award from Consul General Jadmani

Dara Shah Khan receives award from Consul General Jadmanilooking
Held under the auspices of the Anjuman Taraqqiae Urdu North America, Jashnae Iftikhar Arif brought together local as well as leading poets who have made the USA, the UK and Canada their new home. They included Nadir Durrani, Dr Asim Wasti, Ashfaq Hussain, Abbas Tabish, Zafar Abbas and many more.
Mr Majeed Akhtar was the emcee and admirably conducted the mushaira's proceedings.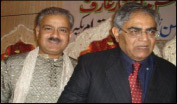 Arif Mansuri with Iftikhar Arif
In her welcome address, Ms Rehana Qamar, Chairperson of the Anjuman, recounted the activities of her organization which has played an important role in promoting cultural and literary activities and honoring outstanding literati and academics. The Anjuman enjoys the patronage of prominent social activists like Mr Abu Bakr Vakil, Mr Arif Mansuri, Mr Sarfraz Khan and Mr Mohammad Jameel Chaudhry.
Consul General Noor Mohammad Jadmani and MNA Farooq Sattar addressed the gathering and felicitated the office bearers of the Anjum, especially Chairperson Rehana Qamar, for organizing the well-attended mushaira.
Mr Iftikhar Arif was presented a lifetime award and $1000 in recognition of his services to Urdu literature. Awards were also given to Mr Abu Bakr Vakil, Mr Zafar Abbas, Mr Dara Shah Khan, Alam Wasti, Ashfaq Husain, Nadir Durrani, Abbas Tasbish and Consul General Jadmani.


-------------------------------------------------------------------------------------