Sacramento Fundraiser Features Pakistani Entertainers
By Ras H. Siddiqui
Jawad Ahmad

Dr Amer Khan

Dr Arif Seyal

Dr Asghar
Hussain

Dr Garzon

Laiba Ali

Zubair Qureshi

Sohail Shahzad

Sumera Shehzad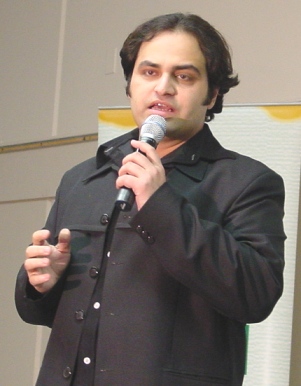 Arif Butt
The October 8th earthquake in Kashmir and Northern Pakistan has generated many serious fundraising efforts here in California. One such gathering, albeit with a musical twist, was held in Sacramento, California at the La Sierra Community Center (Carmichael) on Sunday, November 27, 2005 as Pakistani entertainers Jawad Ahmad, Laiba Ali, Arif Butt, and Sumaira Shehzad entertained over 600 people and succeeded in raising over $50,000 for earthquake relief.

The local Pakistani-American of Sacramento assisted in this effort as Sohail Shahzad, several Nadeems including Nadeem Nasir, "the Khalifa's" were instrumental here, along with Asad Siddiqui, help from regional tire shops (a big contribution) and last but not least local doctors who had recently returned from a visit to Pakistan. This program was unusual in the fact that it started off on a serious note with doctors addressing the audience and ended with the same as Jawad Ahmad asked people to be generous.
Jawad with organizers of the event

National anthem is sung by a group of kids

A section of the audience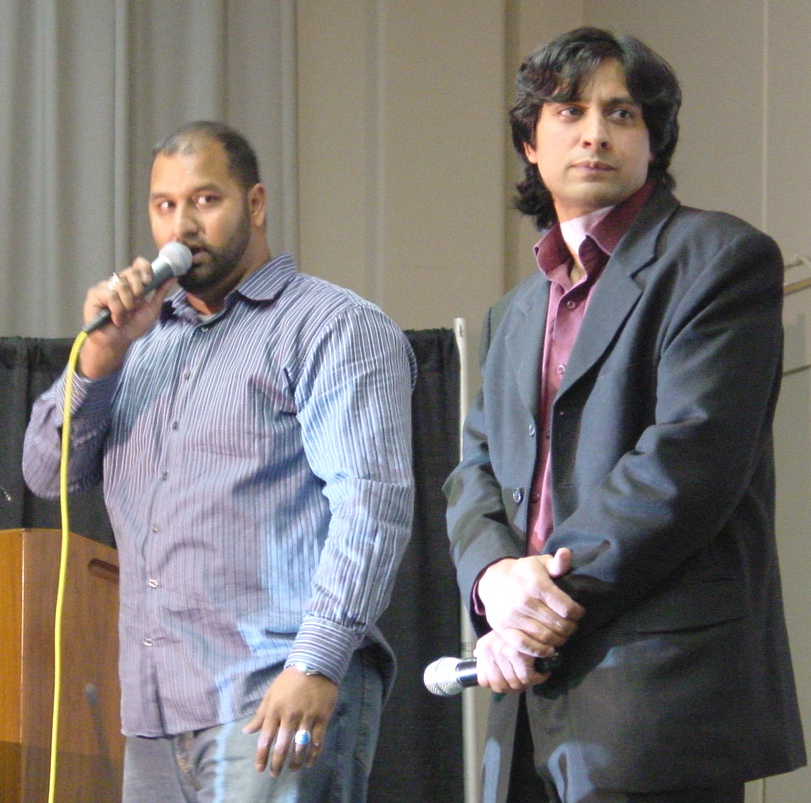 Sohail and Jawad.
The event started off with a recitation from the Holy Qur'an. Master of ceremonies Sohail Shahzad (former D.J. Mo) next invited Dr. Amer Khan to share his disaster site experiences with everyone.
Dr. Khan started off by saying we had already proved that we care just by our presence here. "Once you arrive in the earthquake zone you realize how huge this disaster is," he said. Sharing survival stories with us he added that the newly poor and homeless need all kins of help. He said that this disaster reminds us how blessed we are here, and that our people need help and last but not least that our work has just begun.

Dr. Arif Seyal followed him by sharing his experiences of the disaster area with us. He had the opportunity to go to Manshera a month after the quake and was moved by the hospitality that the victims still retain. He shared a story of a woman who had lost her husband and all her children except for a one year old. He also explained how moved he was when he heard a group of children singing Allama Iqbal's "Lab Pay Aati Hai Dua " in the midst of the disaster area. "I wish that I could make their prayers come true," said Dr. Seyal.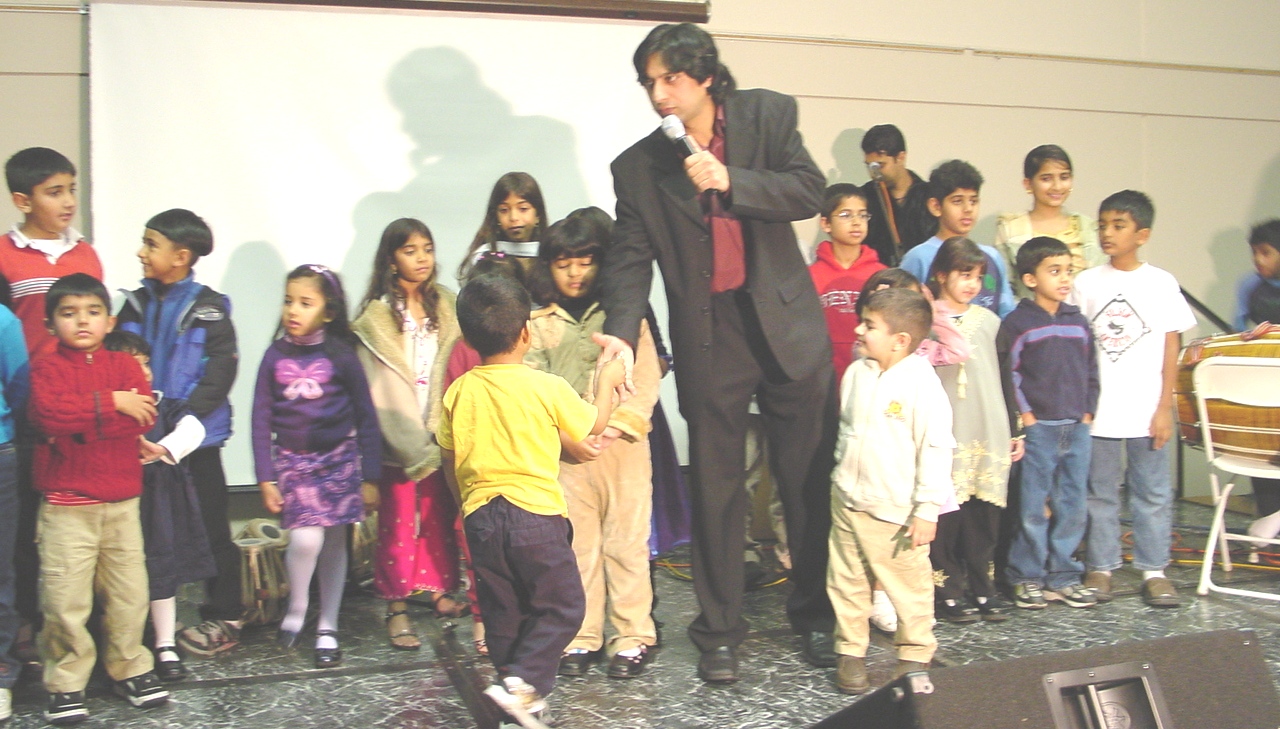 Kids Donating Money.
One fact that cannot be overlooked is that not all heroes here were locals. Dr. Hernando Garzon, an emergency medicine specialist at the local Sacramento Kaiser Permanente (along with Dr. Khan and Dr. Seyal), also went to Pakistan to assist. "I was humbled to be able to help," he said. Dr. Garzon has had the opportunity to be of help in Oklahoma City, the Tsunami disaster and now in this earthquake area. Dr. Garzon, a New Yorker went to Pakistan via Relief International in Los Angeles. "I would urge everyone to continue to contribute," he said.
Last but not least Dr. Sayed Asghar Hussain, a Kashmiri/Pakistani-American who has been practicing in Roseville, California for almost 30 years, spoke to the audience. Dr. Hussain grew up in Muzaffarabad in Kashmir. "I just had to go back," he said. He said that instead of making lists of who died, people there were making lists of who survived.
Jawad with Dr. and Mrs. Asghar Hussain and others

A group of volunteers

Jawad with local journalists
Dr. Hussain said that hospitals and schools were hard hit. At one hospital he mentioned that most of the doctors and nurses were killed when the roof fell on them. He added that people were still looking for bodies. Many of his relatives were dead. The body of his nephew was found days after the quake with a broken nose and back. Dr. Hussain said that there was an immediate shortage of tents and blankets since in some areas 95% of the houses had been flattened. "We will have to help them for a long period of time," he said. "Please donate generously. Thank you for coming for this good cause."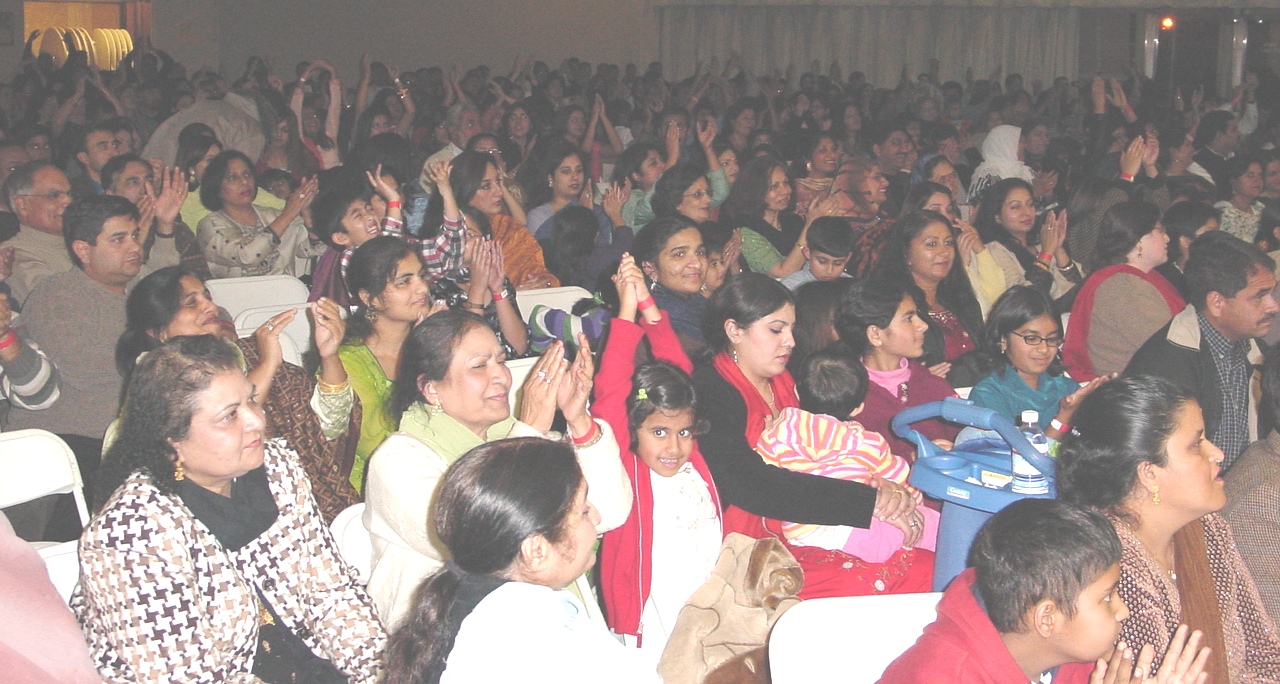 Audience
The fundraising started with "Helping Hands" as the primary charity targeted. Young Zaki Syed really got things moving with his Rap presentation "Let's put our hands together and pray, for the victims that passed away…."
The entertainment session began with Sumaira Shehzad singing "Balle Balle" and Yeh Pagal Jo Dil Hai" plus another number to the delight of the audience. And it was soon after that Jawad Ahmad came on to the stage and made a strong plea for help. He explained the technical details of shelter construction (he is also a Mechanical Engineer) and presented a model to be constructed out of fiberglass to keep homeless people warm for around $500. Pakistani-American Association Secretary Zubair Qureshi presented Jawad a check for Helping Hands of around $7000 to get things really started off. This collection was the product of a lot of work by Zubair Sahib, Amin and Bashir Choudhry which this reporter had witnessed earlier. Jawad also took the opportunity to sing two of his famous songs "Bin Teray" and "Oh Kaindi Hai" and then left the stage as a documentary on the earthquake calamity was presented.
Singer Laiba Ali was a new act for us here in California but she comes from a very prominent Pakistani family. The granddaughter of Poet Josh Malihabadi, Laiba started off with a very beautiful "Agar Tum Mil Jao" and then followed up with some Punjabi numbers including "Mein Kuri Punjabban."
The extremely high-energy act of Arif Butt followed the sophisticated performance by Laiba. Arif asked everyone not to forget the reason why we are all here as we enjoy the music. His Punjabi songs "Oh Aa Ja Nach Laye" and "Mast Qalandar" were very well received.
By now $32,000 had been raised as Jawad came back on to the stage. His "Dholna" and his famous Punjabi number that this Karachi-born reporter is yet to decipher really shook up the audience as many children came to the stage to present their cash contributions (It was a really moving sight). Javad himself sang the Pakistani national anthem with the children on the stage and proceeded with "Dosti" and "Gori" and was still going strong till we met him backstage. The fundraising number had crossed $50,000 by then.
Fun for a great cause is what this gathering turned out to be. The entertainment was great, people left happy, and earthquake victims benefited. Thanks are in order once again to all who helped organize this event and Pakistan Link was glad to assist in this noble cause. But in the final analysis it was the Pakistanis in Sacramento and their friends who showed everyone once again that they care for the people "back home" and that they still intensely love their country of origin.

-------------------------------------------------------------------------------------