Dr Shahid Athar Attends 3rd Qatar International
Medical Congress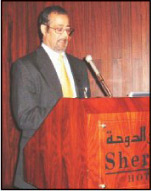 Dr Shahid Athar delivers his address
Dr Shahid Athar of Indianapolis was invited to present papers at the Third Qatar International Medical Congress held in Doha, Qatar, from November 8-13,2005. The conference was organized by Hamad Medical Corporation and the state of Qatar. About 1000 physicians, including about 50 from the USA, Europe and other parts of the world, attended the conference.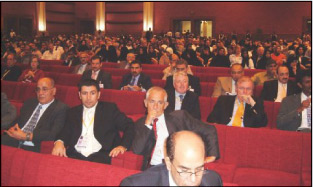 A view of the Third Qatar Medical Congress
A total of 200 abstracts were presented. Dr Athar made four full presentations, including his keynote address on the opening day. The topics he addressed were: Advances in management of NIDDM, Spirituality and Medicine, End of life issues - an interfaith perspective, and The conduct of a physician (t keynote address). He also moderated two sessions, one on diabetes and the other on endocrinology. Dr Athar's presentations were well received and he was interviewed by four local news papers (The Peninsula, Gulf Times, Al Watan and Al-Sharaq).
"I was impressed by the quality of medical papers and the hospitality of the Qatari people. Doha is a beautiful city and Qatar is a moderate Arab State. The food is great and Qatar Airways is one of the best airlines in the region," Dr Athar observed.


-------------------------------------------------------------------------------------