GCC Contributes to Quake Relief Fund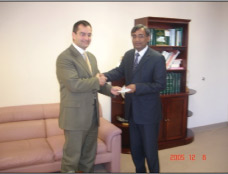 Ensar Demirkan, President and Board Member of Global Cultural Connections (GCC) hands over the check to Consul General Jadmani
Los Angeles, CA: On December 6, 2005, Mr. Ensar Demirkan, President and Board Member of Global Cultural Connections (GCC), a Turkish non-profit organization based in Los Angeles, handed over a check for $40423.64 as GCC donation to the President's Earthquake Relief Fund.
Founded in 2003 by a group of San Fernando Valley residents, mostly of Turkish background, GCC was created to help establish a better society where individuals love, respect and accept one another as they are regardless of religion, race, or culture. To this effect, GCC has been arranging various activities, including dinners, exhibitions, and picnics.
Volunteers from GCC have gathered to visit local organizations including religious establishments and interfaith organizations. Readers can visit the organization's website www.gccfoundation.com and have an update on its activities.
Earlier, the Los Angeles-based Malaysian community had also contributed to the President's Relief Fund and handed over a check to the Consulate.


-------------------------------------------------------------------------------------