Congressman Jim Moran Joins Pakistan Caucus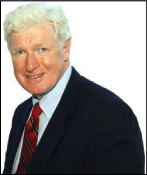 The Pakistani American Leadership Center (PAL-C) has welcomed Congressman Jim Moran to the Congressional Pakistan Caucus. Congressman Moran was elected to his eighth term in the U.S. House of Representatives in November 2004. He is a member of the Appropriations Committee, where he serves on the Defense Subcommittee and Interior Subcommittee.
Throughout his career, Congressman Moran has demonstrated vigorous leadership in support of regional transportation solutions, the environment, women's issues, technology, fair and open trade, and fiscal discipline. He is also well known for his efforts to protect federal employees and military retirees.
The Congressman has left his mark on the region by boosting investments in federal research and development, steering federal dollars to generate defense and technology jobs in Northern Virginia. In his district alone the Congressman represents over 10,000 Pakistani American constituents.
PAL-C Director Mr. Rehman Jinnah said, "Our aim is to build a Caucus that is powerful and influential, representing the true character of the Pakistani American community. I am proud to be involved so closely with the organization that links the community with the US Congress".
The Pakistani American Leadership Center is committed to educating and building awareness on the US political system within the Pakistani-American community. It works also to inform Members of Congress on issues of concern to Pakistani Americans and Pakistan. Please contact PAL-C at info@palc.us or visit www.palc.us.


-------------------------------------------------------------------------------------