Bhutto's Birthday Celebrated in San Francisco
By Saleem Soomro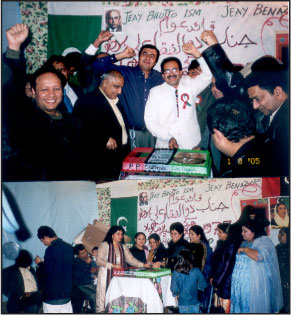 PPP enthusiasts celebrate the late Z.A.Bhutto 's birthday in San Francisco
PPP California and PPP Los Angeles City celebrated the 77th birthday of the late PPP Chairman Mr. ZA Bhutto at San Pablo, near San Francisco, California. Mr. Saleem Soomro, Information Secretary PPP California Chapter, thanked all participants who had come from far off places like Los Angeles, Sacramento, San Jose, Concord, Walnut Creek, and Yuba City etc.

Zahid Saif began the proceedings with a recitation from the Holy Qur'an. He was followed by Mrs. Najma Bhutto, President PPP California Chapter Ladies Wing, who urged that the celebration be held on a modest scale in view of the devastation caused in several Asian and African countries by the tsunami catastrophe. Prayers for the deceased and their families were offered on the occasion.. Advocate Chaudhry Akram, General Secretary PPP California Chapter, spoke with great enthusiasm while extolling the qualities of the late Z. A. Bhutto and his services to the country.
Hashim Jaffery, president PPP Los Angeles, started his address with the traditional slogan of "Jeeay Bhutto." Mr. Bhutto was a leader of unique qualities and our nation owes a lot to him, he said. Zahid Saif, vice president PPP California, said Mr. ZA Bhutto was the first Prime Minister of Pakistan who used to be saluted by chief of Army staff. The practice stopped "after his judicial killing: we want to make sure that in future this will happen again," he said. Dr. Khwaja Ashraf described the late ZA Bhutto as a shining political star of Pakistan. Pakistan needed him and will always need a leader like him. His biggest achievement was a unified constitution which was signed and adopted by the combined parliament.

The constitution was instrumental in unifying Pakistan - like an anchor to a ship. Mrs. Sabra Farooq recited poetry to pay tributes to the PPP founder. Finally, Mr. Mr. K.B. Bhutto, President PPP California, thanked all who had traveled long distances in inclement weather to pay tribute to their departed leader. He especially mentioned Mr. Hashim Jaffery of PPP Los Angeles and his family members and Mr. Zahid Hussain Tirmzi and his family for their high spirits. They were not ruffled even when their car caught fire on way to San Francisco. He paid his tributes to "our leader Chairman ZA Bhutto" by reciting a popular verse " Jab tak sooraj chand rahega, Bhutto tera naam rahega."

"It is not possible to sum up the countless good deeds of ZA Bhutto in any time period. We all have gathered to salute ZA Bhutto on his 77th birthday, for his guidance and enlightenment, for the party and people of Pakistan. I am proud to have been embraced by ZA Bhutto when I was a student. I have also met with Begum Nusrat Bhutto who treated me like her third son. Mohtarma Benazir Bhutto has the same leadership qualities like her father - she never forgets her party workers." At the end K.B. Bhutto urged all participants to be united and "never to forget your mission." He concluded his speech with the slogan "Jeeay Bhutto, jeeay prime minister Benazir Bhutto, Jeeay Asif Ali Zardari" After the cake cutting ceremony, a delicious dinner was served.

-------------------------------------------------------------------------------------