Cohen & Talbott Spotlight Security Issues in S. Asia

Los Angeles-The Asia Society and the World Affairs Council jointly hosted a luncheon in Los Angeles recently to focus on security issues in South Asia. It was attended by 250 guests. Shezad Rokerya, Chairman of Interlink Equity Capital, a private equity merchant bank and an active investor in both Pakistan and India, chaired the discussion. Rokerya spoke about his experience in both India and Pakistan and the overarching need for the development of human capital through bilateral co-operation. He also introduced both speakers Stephen P. Cohen and Strobe Talbott.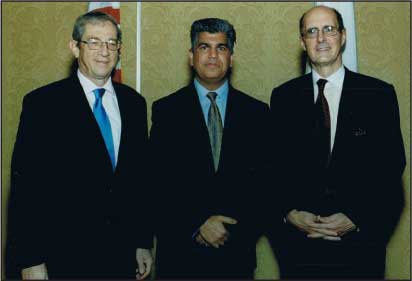 (L to R):Stephen Cohen,Shezad Rokerya and Strobe Talbott
Cohen is a senior fellow at the Brookings Institution. He is the author of several books on India and Pakistan. He has written extensively on Pakistan and India. He was a member of the Policy Planning Staff of the US Department of State and before joining Brookings was a faculty member at the University of Illinois. Talbott is president of the Brookings Institution. He served as deputy secretary of state from 1994 to 2001. For twenty-one years prior to his service in government, he was correspondent and columnist for Time magazine. He has written nine books, including The Russia Hand: A Memoir of Presidential Diplomacy (Random House, 2002), a personal account of US diplomacy toward Russia during the Clinton administration. In his talk Cohen stated that in recent years Pakistan has emerged as a strategic player on the world stage — both as a potential rogue state armed with nuclear weapons and as an American ally in the war against terrorism. But our understanding of this country is superficial.
To probe beyond the headlines, Stephen Cohen in his latest book offers a panoramic portrait of this complex country—from its origins as a homeland for Indian Muslims to a military-dominated state that has experienced uneven economic growth, political chaos, sectarian violence, and several nuclear crises with its much larger neighbor, India. Pakistan's future is uncertain. Can it fulfill its promise of joining the comity of nations as a moderate Islamic state, at peace with its neighbors, or could it dissolve completely into a failed state, spewing out terrorists and nuclear weapons in several directions? 'The Idea of Pakistan', Cohen's latest book, will be an essential tool for understanding this critically important country. On May 11, 1998 , three nuclear devices exploded under the Thar, or Great Indian Desert, shaking the surrounding villages and the rest of the world. The immediate effect was to plunge US-India relations, already vexed by decades of tension and estrangement, into a new acrimonious standoff. The situation deteriorated further when Pakistan responded with a test of its own two weeks later.
Cohen indicated that Pakistan was very similar to Israel in that it was created as a homeland for India's religious minority - the Muslims. In response to several questions he stated that the current Corps Commanders in the Pakistan military were very moderate. That radical Islamists do not exist in the Pakistan army and the likelihood of the hijacking of nuclear installations was improbable. He stated the US policy agenda on Pakistan and India cannot isolate Pakistan and that the US must work with the Europeans to develop a continuous aid package of tough love and of rebuilding schools. Engaging India is Talbott's revealing, authoritative account of the intensive talks that the United States conducted on parallel tracks with the South Asian nuclear powers over the next two and a half years.
Bill Clinton's point man for that high-stakes diplomacy takes us behind the scenes of one of the most intriguing and consequential political dramas of our time, reconstructing what happened — and why — with narrative verve, rich human detail, and penetrating analysis. From June 1998 through September 2000, in the most extensive engagement ever between the United States and India, Deputy Secretary of State Strobe Talbott and Minister of External Affairs Jaswant Singh met fourteen times in seven countries on three continents. They grappled with the urgent issue of arms control and nonproliferation, but they also discussed their visions for the US-Indian relationship, the potential for economic and strategic cooperation between the two countries, and the implications of Hindu nationalism for the evolution of Indian society, politics, and security. Their personal rapport helped raise the level of trust between the two governments.
As a result, the United States was able to play a crucial role in defusing the crisis between India and Pakistan over the contested territory of Kashmir in the summer of 1999 — thus, perhaps, averting a war that could have escalated to nuclear conflagration. The Talbott-Singh dialogue laid the ground for Clinton's transformational visit to South Asia in March 2000. That presidential journey opened a new chapter in relations between the United States and India. It also set the scene for US cooperation with both India and Pakistan in the war against terror after September 11, 2001. Talbott suggested that the LoC should be converted to a boundary and higher autonomy be given to the Kashmiris. The debate in India on Kashmir had gone further than in Pakistan and he felt that outside assistance was needed to help both countries' relations. Pakistani business was very pro-India as was shown by the successful exchange and visits by the Young President's Organization (YPO) in Karachi and Goa. The issue of the Indian quest for a UN Security Council would require India to do certain things that would make the US more supportive, which he did not feel would happen anytime soon.
-------------------------------------------------------------------------------------