Colorful South Asian Musical Show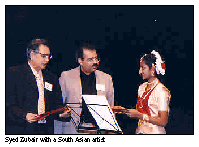 Syed Zubair with a South Asian artist
A colorful cultural show was presented by members of the Asian Canadian Support Centre (ACSC) on December 4, 2004 at Yorkwood Library Theater, North York. Artists from various cultural groups participated in the program and entertained the audience with their songs and dances.

The event was well attended by members of different South Asian communities as well as mainstream Canadians. The scenes from old movies were played on a giant screen on the stage. Although it was a rather cold evening, people from as far as Ajex, Markham, Mississauga and Brampton had come to the festive and friendly mood at the rmusic show.

The theatre was filled to capacity. There were Pakistanis, Indians, Sri Lankans, Bangladashes, Nepalese, Burmese, Italians, Middle Easterners and members of many other communities. It was a spectacle of multiculturalism at its best. During the interval, people enjoyed mouthwatering snacks and hot chutney prepared by Azhar Shaikh.

The event started with the national anthem. Zafar Warsi, master of ceremony of the evening, then introduced the dignitaries present. He mentioned that the spirit of tolerance demonstrated by the attendees should lead to a better understanding of one another. He then called upon Syed Ashar Warsi, a prominent activist and president of the Asian Canadian Support Centre, to address the gathering. Mr Warsi welcomed the guests and shed light on the services of the ACSC. He was followed by Dr. Peter Li preti, Councilor, City of Toronto, who lauded the contribution of the Asian Canadian Support Centre and the services of Syed Warsi in serving as a bridge between S. Asians and mainstream Canadians. The M.C. invited Ms. Mary Cicogna, School Trustee, Toronto Catholic District School Board to address the gathering.

Greetings from Hon. Roy Cullem, M.P., Dr. Shafiq Qaddri, M.D., M.P.P Hon. Mario Sergio, M.P.P., Eve Adams, Councilor City of Mississauga were then read. Mr. Joes Carraro, one of the proud sponsors and president of Symphony Orchestra then made a few edifying remarks.

The Tamil group presented colorful solo and classical group dances. Yasmin presented a beautiful film dance. Jagdev Singh Nijjar did a great job as producer and sound engineer. Appreciation awards by Hon. Roy Cullen, M.P., Hon. Dr. Shafiq Qaddri, M.D., M.P.P., Hon. Mario Sergio and Dr. Peter Li Preti, Councillor City of Toronto were presented to Syed A. Warsi, Jagdev Singh Nijjar, Zubair Choudhry, Sumita Chatterjee, Saleem Janjua, Mumtaz Khan, Karan Thura, Tamil Dance group, Zafar Warsi, Azrab M. Khan, Maria R. Aruilkumar.
On the whole the event was well planned for which Syed A Warsi, Jagdev Singh Nijjar and Zubair Choudhry need to be duly lauded.