Dr Amir Liaquat's Message for Pakistani Americans
Interview By Shabbir Ghori
Alim On Line is a television program that is watched in the United States and all over the world. Karachi the capital city of Sindh is full of life.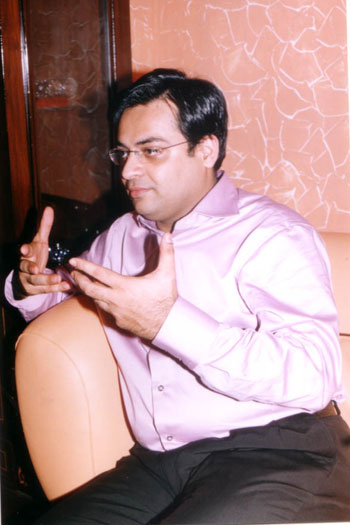 Emphasizing a point
During the previous general election Karachiites voted for the Muttahida Qaumi Movement as a result of which Muttahida's elected members reached the assemblies and the party also got the governorship of the province.

Dr Amir Liaquat Hussain while being politically associated with the Muttahida Qaumi Movement and a director of Geo TV, is also the Minister of the State for Religious Affairs.

It was a cool and pleasant evening when Dr Amir Liaquat was being interviewed by the Pakistan Link. Talking of his educational background, Dr Amir said, "Besides doing MBBS, I have also done PhD in Islamic Studies." He said, "Islam is a wide and comprehensive topic; however, having very little knowledge of the subject I try to inform general masses what exactly Islam is."
Discussing the most popular program "Alim On Line" Dr Amir said, "I always talk on the issue of Islam while keeping the feelings and belief of people in view. I talk about modern Islam with open mind. I myself have done no creation but always discussed what Islam says. Making any amendment to the most comprehensive and complete religion of Islam is out of question. No one can do this." Perhaps Dr Amir Liaquat said this as he has been targeted for criticism with different references.

He said, "Such a concept (criticism) developed among people who thought as if I was going to present a new Islam. God forbid, I am a small creature of Almighty Allah, how can I dare make any amendment to the Islam that has been completed and implemented by the Holy Prophet Mohammad Sallallaho Alaihe Wasallum. I only wanted to present some aspects of the religion under some topic or caption as you know that every picture without caption is incomplete and so that leaves incomplete information. Those who do not have the guts to see the other side of the picture cannot enjoy the right picture of Islam. I tried to tell people about Islam. I had said that Islam is a religion that is a complete guidance of life for human beings. My intention was to present Islam in the simplest way to attract the attention of people as against the religious scholars who present the religion in the hardest form while remaining in a set perimeter."
Throwing light on his political career and background, Dr Amir said, he entered politics in 1988 by joining the All Pakistan Mohajir Students Organisation (APMSO). However, he said he was not so active in the organization. But at the same time he was the editor of an Urdu newspaper 'Parcham' which was a strong spokesman for the MQM. "I always had my own reservations about politics. But, I did not happen to come into politics by chance. President Pervez Musharraf invited me to extend my help in various national affairs. So, for this purpose, I found it necessary to make myself active in my own party before coming into the mainstream of politics. I am proud of being associated with MQM, which is the party of downtrodden masses. I admire the leadership of Altaf Hussain and say openly that whatever I am today is all because of my party. If I am a minister then that is surely because of the party. I have no personal identity but my identity is MQM."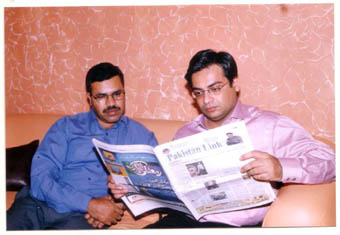 Dr. Amir Liaquat with Mr. Shabbir Ghori

It may be mentioned here that Dr Amir Liaquat Hussain is currently facing strong criticism from various circles. In this regard he said, "I had said a bitter truth. However, it is a fact that Pakistan will need some more years to listen to truth. I came up with a truth and immediately realized that I should have taken time to say that. For this reason I extended my apologies feeling that my comments might hurt the feelings of some circles.
In response to a question that there are hundreds of thousands Pakistanis settled in the United States and if he would like to give any message to them, he said, "I have been receiving invitations from the United States to visit there. I am however, waiting for an invitation from Canada, so that I could visit both the countries in one trip. I think if people love me, they want to listen to me, then I must go there to present my point of view.
"My message for American Muslims and Pakistanis is to understand what exactly Islam is. They must understand that prayers, fasting, Hajj, Zakat, are the pillars of Islam and following the path of Islam is the duty of every Muslim. Allah Almighty does not like prayers, which are offered for show-off. There is much more than the prayers, as the poet of the East, Allama Iqbal has said: 'There are more worlds beyond stars and the humanity has to take a number of tests to qualify for making a place in the world hereafter.'

"If you find someone in distress, embrace him and encourage him. Maintain polite attitude with others. Allah likes people who love other human beings. Allah loves them who think of the rights of others. While under the prevailing circumstances, it is pity that we never think of others rights. Rights of Allah are actually the Rights of Human Beings. A Muslim offers sacrifice in Hajj while by paying Zakat the Muslim does away with his burden. Fasting promotes patience and prayers five times a day keep the Muslim away from wrongdoings. So, this proves that the Rights of Allah are actually the Rights of Human Beings. In my opinion, Rights of Allah is half of Islam while the remaining 50 per cent of Islam is Rights of Human Beings. It is said in the Holy Qur'an, 'O people, you will have no Mercy of Allah as long as you don't do good to the other human beings on the earth.' This gives us lesson that we should maintain an atmosphere of love and brotherhood in our societies."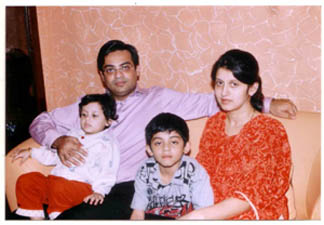 Dr. Amir Liaquat with Family
Discussing the statement of Muttahida leader, Altaf Hussain about the two-nation theory, Dr Amir Liaquat said that Altaf Hussain has said nothing wrong. This is actually a debatable issue and it should not be made a matter of ego or personal liking and disliking. Those who are coming up with negative opinion on this issue should think that what exactly is behind this statement of Muttahida leader. They should try to find out what are the realities hidden in this point of Altaf Hussain. We should instead of criticizing, debate on the issue.

On the of the All Parties Conference called by the Muttahida Qaumi Movement and later postponed for obvious reasons, Dr Amir Liaquat said that other parties had chalked out their own schedules so there was no way out but to postpone it for the time being. Most parties and assembly members were busy in their rallies and other engagements so we put this conference off temporarily, but it is on our agenda.

Discussing about his family, Dr Amir said he is married and the name of his wife is Bushra. He has a son Ahmed who is six-year-old. His daughter Dua is two-and-a-half-year old.

Dr Amir's wife got fame through a television program 'Chhoti si Naiki'. This program was liked all over the world. This programme while becoming the identity of my wife, made people perform good in their lives. This program will now be telecast every week through Geo network under the sponsorship of big concerns. This 30-minute program will also be seen in the United States and Canada.

During the interview Bushra Amir, Ahmed and Dua also joined the discussion and it took a new and interesting turn. Both, husband and wife praised each other from the depth of their hearts. Their views showed that they are close aides of each other. About Bushra, Dr Amir said that she is not a demanding lady like other women, but she is a loving wife, a caring mother and the best daughter-in-law.
Bushra said Dr Amir very rarely shows his anger and is a loving husband.

Dr Amir said that a woman is behind every successful man and "my success is my wife Bushra. But, I cannot forget the prays of my mother." Bushra Amir did her Masters after marriage and is now studying law.
"After marriage we spent seven years in a rented house and now we are living in a house which we have taken on installments," Dr Amir said, adding, "being a federal minister I could have indulged into corruption to earn money and make assets but I did not do that because this is not the manifesto of our party. I am happy with what I am getting as remunerations from Geo and as a federal minister. My resources are limited but I am able to keep my family happy."


-------------------------------------------------------------------------------------