Special Interfaith Service for Tsunami Victims
By Abdus Sattar Ghazali
An interfaith prayer vigil for victims and survivors of the South Asian tsunami and earthquake victims was held on January 6 at the St. Julie Billiart Parish in San Jose, CA. Muslim, Christians, Jews, Catholic, Hindu, Sikh and other groups joined together in mutual concern and prayer for victims and survivors. Prayers, chants and readings were offered in a spirit of solidarity and concern for the victims and survivors. American Muslim Voice Executive Director Samina Faheem Sundas and an Islamic scholar Dr. Khalid Siddiqi represented the Muslim community at the multi-religious and multi-ethnic special Inter-faith service.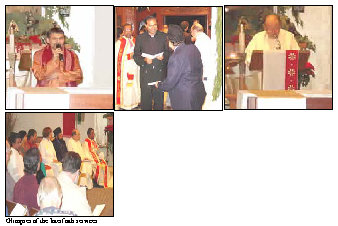 Glimpses of the Interfaith services
The AMV Executive Director was honored to be co-mc of the service. Dr. Khalid Siddiqi, who is also President of the Islamic Education & Information Center, Newark CA, offered prayers with the recitation of Holy Qur'an. He later translated the verses in English. The Council on American-Islamic Relations (CAIR) was one of the co-sponsors of the special service that was telecast on local TV networks. Samina Faheem Sundas told the NBC Channel 11 News that she was very proud that all the religious and ethnic groups are coming together to help the tsunami victims.

"But we do not need to wait for a natural disaster of this magnitude to unite us in the spirit that we are seeing today, I hope we can remember these feelings of compassion, concern, kindness and unity everyday," she added. She went on to say that "we are all human beings and we need to care about only one race, the human race. That is the goal of the American Muslim Voice to make the most beautiful diverse human wall of support and strength for each other, one that cannot be shaken."

The AMV's goal is to bridge the gap between all communities, she concluded. The special interfaith service was hosted by St. Julie Billiart Parish and sponsored by members of various religious communities. Others who participated in the prayers were: Fr. Saju Joseph from South India whose hometown and neighboring areas were also affected by tsunami.

Babaji Mohinder Singh Bajwa, head of the Gurdwara Sahib, Evergreen valley, San Jose. Fr. Dominic Joseph, Pastor for the Syro-Malabar Christians of the SF Bay Area. Padit Balu Shastri, a religious leader and teacher in the Bay Area. Msgr. Eugene Boyle, a founding member of the Interfaith Council of Santa Clara County. Ms. Diane Fisher, the director of Jewish Relations Community Council and a member of Congregation Shir Hadash, in Los Gatos. Rev. Carol Been of the Interfaith Council of Santa Clara County. The service was followed by a fundraiser to support rescue efforts in the tsunami-hit areas.

-------------------------------------------------------------------------------------