Certainly, an Evening to Remember
By Ras H. Siddiqui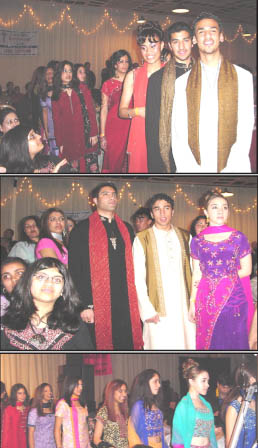 Glimpses of the fashion show
The event at the Chandni Restaurant in Newark, California wasbilled as "Yeh Shaam Yaad Rahegee" or "An Evening that You Will Remember" presented by the Bemisaal Boutique in Fremont. And in more ways than one, it certainly lived up to its description. One can easily blame the organizers for a troublesome start, but it appears that it might not all have been their fault. It was after all the night of Eid and not just any other. There may have been some fiscal targets to meet but it appears that "takalluf" or plain politeness came into play as the people at the door just did not have the heart to say "no more" to the multitudes that continued coming to this program.

To describe the place initially being akin to "10 pounds of potatoes in a 5 pond bag" would not be inaccurate, a very chaotic start as some people waited for over an hour to get done with dinner. It was difficult to envision Chandni Restaurant being any more populated or its culinary limits taxed beyond this evening's huge attendance. Quality did suffer, but all was not lost. By some miracle things somehow fell into place and the evening turned around to produce a gala event for all those diehards that refused to accept the initial problems as permanent. The VIPs not having a place to sit clouded many moods initially. Early birds had already taken over their seats, but things finally began to settle down. A very large number of Hindus and Sikhs in attendance got a chance to enjoy the evening with South Asian Muslims who came from as far away as Stockton and Sacramento to enjoy the Eid festivities.

The only problem was that this also appeared to be the only Eid party in the region or at least this was the one that Indians and Pakistanis had decided to attend. It was the fine entertainment that succeeded in clutching a victory for the organizers from the jaws of what at one point appeared to be certain defeat. The emcee, Farah Khawaja, had been trying to get everyone to sit down for quite some time and finally decided to let Javed Raza take over the job of soothing the audience. And from then on, a certain positive chemistry set in. Javed's "Kal Ho Na Ho" song got things off to a great start. "Zara Paas Aao" did not hurt either and by the time he sang "Mein Yahaan Hoo" from the recent Bollywood movie "Veer-Zaara" the crowd was well under the spell of this talented crooner.

| | | |
| --- | --- | --- |
| Alka Bhatnagar,Javed Raza and Anisha Bakshi | Yasmeen Ali with sponsors | A group of participants at Chandni |
The youngsters in the audience responded very well to his rendition of "Lajja Lajja' - even those that had pointed out Javed's resemblance to recent American Presidential candidate John Kerry. And for us older folks Javed's cooperative efforts with Alka Bhatnagar and Anisha Bakshi and a duet with a guest singer (Mini. Shukla) were very much appreciated. "Abhi Na Jao Chor Kar" was wonderful. Alka Bhatnagar started off with "Piyar Kia to Darna Kia?" from the half century old film (now a legend) "Mughal-e-Azam" which has just recently been reincarnated in color, thanks to a digital miracle. On a side note this song was filmed at the "Sheesh Mahal" or Mirror Palace at the Amber Fort in India's Pink City of Jaipur which I happened to visit last month, a beautiful site which I would recommend to any tourist.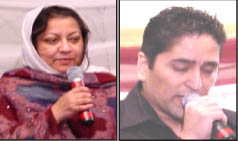 Yasmeen Ali and Qader Esphari
The song from the movie "Devdas" was also well received. Anisha Bakshi's popularity is certainly worthy of her talents. She made her solo start here with Lata Mangeshkar's "Kaanton se cheen kay aachal/ Aaj phir jeenay ki tamanna hai" and Asha Bhosle's "Raaz ki baat hai." Her voice has a great deal of range and her vocalizing of hits from both sides of the India-Pakistan border is very much appreciated by the respective communities here in Northern California. The Fashion Show held was also a high point in this program even though it was somewhat impacted by parent and media over-enthusiasm. The models were our own community kids and they looked great. But since so many people stood up to appreciate their kid's participation and the clothes from Bemisaal Boutique, the view of many in the audience behind them was blocked. Both parents and the media were too busy taking photographs to listen to complaints but as it was an oversold event such problems were to be encountered.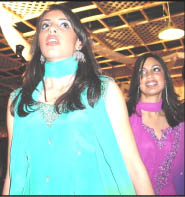 Fashion show
In any event both our community kids and Bemisaal Boutique need to be congratulated for a fine presentation. The other great discovery for us this evening was guest singer Qader Eshpari who is a big fan of the late-great Indian crooner Kishore Kumar. The first couple of songs that he sang, which included "Hum na karain gey piyaar," have now increased the possibility of this Afghan origin singer being included in the ranks of Desi entertainment in Northern California. Mr. Subhash Verma also put in a guest performance. And on a last note, Pakistani fans were not ignored either. Songs of Abrar, Madam Noor Jahan and a host of others were sung during the second half.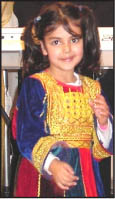 A child celebrating Eid at the function
And with Anisha Bakshi singing "Mujh say pehli si mohabbat meray mehboob na maang," a song that I consider as one of the greatest ever sung in the Urdu language (by Madam Noor Jahan), I can only add a word of thanks. Yasmeen Ali of Bemisaal Boutique needs to be congratulated for organizing one of the most successful shows in the area for quite a while. The event sponsors that included Dr. Khalid Baig, Dr. Bhandari, California Homeopathic Clinic, REMAX Executive Sherri Stoneberger, Jeevanjee Insurance, Fremont Printing and Healthy Nutrition/ Homeopathy Guru (my apologies if I missed anybody) deserve our kudos for assisting this effort. Yasmeen has been organizing programs here in California for the past 18 years. And in spite of some logistical problems encountered at the beginning, "Yeh Shaam Yaad Rahegee" still turned out to be quite a winner.
-------------------------------------------------------------------------------------