Shahnawaz Eid Mela 2005
By Hina Qureshey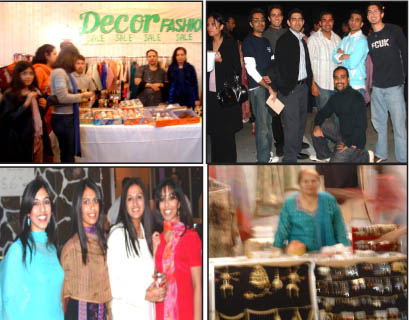 Eid Mela at Shahnawaz
Lakewood: On Thursday night when the vast majority of Southern California Muslims celebrated Eid, Shanawaz held its popular Eid Mela a.k.a. Chaand Raat, which in fact is supposed to be held the night before Eid but the confusion over the date delayed the event.

The event had food, music, mendhi artists and lots of stalls displaying the trendiest Pakistani clothes for men and women. This year the crowd was manageable and there was actually space to roam around freely in the parking lot without bumping into people.

The music was setup that played bhangra and popular Indian party music and there was a short period of time when the crowd tried to dance but it died off after a while. The food and music was set up outside and the mehndi and clothes booths were inside the banquet hall. Parking was not an issue either and the weather was beautiful! The crowd was socializing, eating, getting henna done, buying clothes or just simply staring at other people.

So if you had nothing better to do on a Thursday night this chaand raat was worth checking out. The best part of the event was that no fights broke out (woo hoo!) and that made it a fun and 'safe' chaand raat this time. Eid Mubarak!

-------------------------------------------------------------------------------------