PALC Breakfast with PM Shaukat Aziz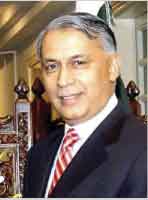 Washington, DC: Prime Minister Shaukat Aziz will start his historic first visit to the US as prime minister with a breakfast on Capitol Hill on July 28.
The breakfast briefing is being organized by the Pakistani American Liaison Center (PALC), the group which founded the Pakistan Caucus in the US Congress.
In addition to members of the caucus, PALC (www.PALC.us) is inviting senators and other members of Congress to the breakfast.
The Congressional Pakistan Caucus was founded by PALC and formally launched by President Pervez Musharraf at a Capitol Hill ceremony in September last. The caucus now has 68 members with Rep. Dan Burton (R-IND) and Rep. Sheila Jackson Lee as the founding co-chairs. It has been termed as one of the "fastest growing caucuses in US Congress" by its co-chair Congresswoman Sheila Jackson Lee.
The PALC has held briefings with Ambassador Jehangir Karamat, US Ambassador Ryan Crocker, and Foreign Minister Khursheed Mahmood Kasuri. It has also organized other events on the Hill.

-------------------------------------------------------------------------------------