Muslim Delegation Meets US Ambassador to UNESCO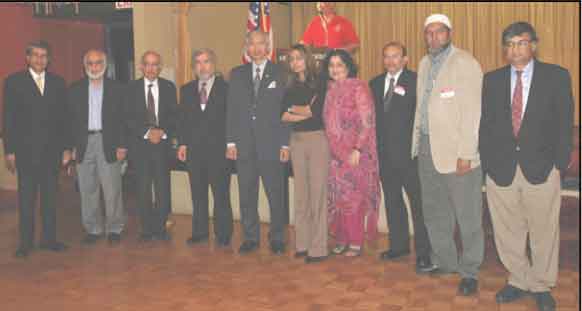 Picture shows the Muslim-American delegation with US ambassador to UNESCO Sichan Siv
United Nations celebrated its 60th birthday by at its birth place, San Francisco, by holding a World Environmental Day Conference on June 2-5, 2005. There were many foreign dignitaries who attended the conference. The USA was represented by its Ambassador to the UN Mission on Economic and Social Council and Human Rights Commission, Sichan Siv.
United Muslims of America (UMA) initiated a meeting of the Muslims with Ambassador Siv to talk about issues of their concern. A group of 30 San Francisco Bay Area Muslims representing 12 Muslim organizations met with the Ambassador on June 3 and gave him a memo describing their concerns.
The delegation included among others: Syed Mahmood, President, American Institute of International Studies; Shafi Refai, President, United Muslims of America (UMA); Dr. Waheed Siddiqee, Chairman, Interfaith Committee, United Muslims of America; Ms. Samina Faheem Sundas, Executive Director, American Muslim Voice (AMV); Ms. Amina Ansari, Program Manager, Council on American-Islamic Relations (CAIR) and Dr. Hatem Bazian, Professor, University of California, Berkeley.


-------------------------------------------------------------------------------------