Janice Miller Rocks Islamabad
By Talat Sattar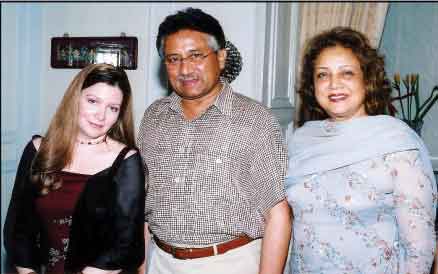 Janice Miller with President Musharraf and Begum Sehba Musharraf
Islamabad: For the first time in the fifty-eight year history of Pakistan, the Government seems to be catching up with the reality of globalization and the need for cashing on the right opportunity when it comes. The body of Mother Teresa was paraded through the streets of India to get the whole world's sympathy that India is so caring and for the "war on terrorism" every single country jumped on the band wagon to show support to the United States. President Musharaf deserves great credit for this realization and insight on this count.





In the December 31, 2004 issue of the Pakistan Link, my article "Janice Miller's Love for Pakistan" appeared,http://www.pakistanlink.com/Community/2004/Dec04/31/07.htm stressing that "Pakistan has lost several opportunities in the past for not taking advantage of the nation's heroes. Janice is Pakistan's pride. I hope Pakistan gets smarter this time and fully abridges the relationship between America and Pakistan. Pakistan can fully exploit Janice Miller's talent and position in the USA and benefit from them".
Soon after the publication of this article, Janice Miller got a call to perform in front of President Musharaf . Janice is an artist extraordinaire – she does not speak Urdu or any regional languages, but she sure can pronounce Punjabi and Urdu words better than an average desi in the US. She has enthralled the desi community with her mellifluous voice and songs. "I was thrilled with this opportunity and accepted this offer right away", said Janice Miller.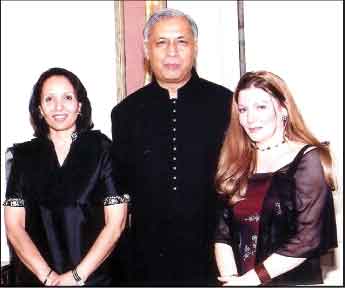 Janice Miller with PM Shaukat Aziz and Mrs. Azizing
The climax of her trip came when she received the call to fly to Islamabad from Karachi where she had arrived few days earlier for a lifetime opportunity to perform in front of the President, the first lady, their colleagues and family. PIA took her all the way to the peaceful city of Islamabad. She stayed at the Army Barracks Hotel Suites. "Before the show, I must have had the best KFC imaginable, but started to blow up very quickly since the food was so delicious", Janice Miller says.

The team enjoyed one pleasant surprise after another, and finally made its way to the Pakistani White House; of course she is talking about the heart taking Army Palace. "The landscaping was immaculate with the lawn and plants all let up so beautifully. I glanced around me in serenity and total disbelief and feeling like I had stepped into a dream while I was being escorted to the hall. It was an elegant setting at the 'Army House' and about sixty guests were invited. A few of the Palace's employees were curious about my inspiration to sing Punjabi songs being American, and they were so kind and polite," Janice miller said.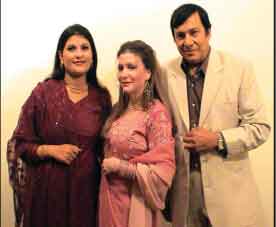 Janice Miller with Mr. and Mrs. Talat Sattarrecited
She added, "I was a bit nervous and worried about how everything was going to turn out until the President himself walked into the room, then all of a sudden, all tension disappeared with his friendly smile, welcoming personality and simplicity, everyone became relaxed in his presence and I was deeply honored to meet such a great President. To my surprise I found a gentleman who approached me claiming to have attended my show in New York . He was actually the Prime Minister Shaukat Aziz. It was all so overwhelming for me."
Janice said the musicians were fabulous and "I rocked the Army House with 'Mahi Awai Gaa', 'Aiy Jazba-i-Dil' and 'Kameese Teri Kaali', just to name a few. Mr. President seemed to have some interest in music acknowledging and complimenting a few of my Eastern vocal abilities. The audience was great and I will never forget the elegance and royalty treatment with refreshments being served every minute. To my surprise, the performance went on for three hours, they enjoyed and participated in every moment, it was such an honor and a dream come true for me to be there."
I hope the Government of Pakistan keep their eyes open and avail of an opportunity like this one in the future also. This practice is not only good for the country but also for the citizens living abroad.

-------------------------------------------------------------------------------------