The Silicon Valley Chapter of the Organization of Pakistani Entrepreneurs of North America (OPEN) held its second annual conference at the SAP Headquarters in Palo Alto, California on Saturday, May 21, 2005.
"It's all about leadership," said Zia Yusuf, current President of OPEN, as he kicked off the all-day event with quotes from Dwight Eisenhower, George S. Patton and even Napoleon Bonaparte whose observation "a leaders is a dealer in hope" attracted much attention.


Anthony Mitchell------------------------------------ Naeem Zafar and Zain Jeewanji
But in any case, this year's conference which was based on the theme of "The Art of Leadership" brought together a number of true leaders from the world of business, high-technology and sports to the delight of close to 400 people, mainly of Pakistani origin but with a sprinkling of Indian Americans and prominent locals. The number of women in attendance this year may still have been small but it has finally grown to be significant enough to be mentioned here.
With over five keynote speeches, two panels, a fireside chat and four workshops, plus other sessions, along with tea and lunch, the day gave everyone ample opportunity to network and to learn the ropes about setting up businesses that can attract the attention of Venture Capitalists (VC's) and/or Angel Investors willing to back innovation and ideas which could have a practical and profitable future. And to top it all off, if one added the presence of Pakistani cricket legend, Imran Khan to this mix, the day attracted its share of local, national and even worldwide attention (CNN was there).
The inaugural keynote speech by Alex Vieux (CEO Red Herring, chairman and founder of DASAR) was illuminating. "Being able to show the rest of the world that you can do it," he said, was just one important factor within the "The Art of Leadership" topic. "If the audience is not shaken up at the end of your leadership speech, you have not done your job," he added. "The difference between success and failure is discipline," he said.
The acceptance of diversity was also the hallmark of his shared wisdom. Of Haitian heritage, Alex said that his father was Catholic, his mother Jewish and he married a Muslim woman. "Forget about bigotry. Let's leave religion where its belongs," he added, alluding to the fact that divisive thinking should not be a part of business.
Shah, Chishti, Yunus, Mir Imran and Janjua

Ammar Hanafi and Talat Hasan

Imran Khan with OPEN president Zia Yusuf

Moonis Rahman, Babar Ahmed and Hina Chaudhry

Umair Khan
The second keynote introduced by Waheed Qureshi was much more technical. Forest Baskett, General Partner NEA, gave a presentation on "Top 10 Technology and Business Trends" aided by a great deal of data. After explaining the history of NEA, a Venture Capital (VC) firm founded in 1978, Forest shared with us the past, present and the all-important future of technology today, especially since we have been experiencing quite a slump in this industry for the past four years. "Dollars are available," he said, for the right ideas and business plan. The VC was far from being dead, IPO's were still happening.
"Moore's Law continues to make things possible," he said. He said that VCs look at the management team, the market and the technology that a company seeking investment has, before making a decision to fund it.
As the conference next broke up into panels and workshops, the reporting task became a bit difficult. Panel 1 dealt with the topic of "Taking the Plunge - Lessons from successful Entrepreneurs" as Zia Chishti, Mir Imran, Safwan Shah and Mamoon Yunus shared their views from amongst those who have succeeded in the technology business. "Think about if this is the right thing for you," said panel moderator Arif Janjua, before making the introductions. "The time and serendipity," said Zia, were major factors in why he took the plunge.
Mir Imran who has to be the champion of number of local technology startups originated by a single person, had some words of wisdom too. "Don't get carried away just because it is your own idea," he said. Safwan Shah added his own thoughts. Initially he said that the VCs were not guiding his company. "Customers were guiding us," he explained. "You will follow the money," he added as the trajectory of the customer becomes very important. Mamoon Yunus spoke on the need to maintain a "delicate balance between the message of the market and adapting to customer needs."
Hasan Rizvi and Richard Sarwal were busy in their workshop on "Climbing the Corporate Ladder." Needless to say, much realistic and anecdotal words of wisdom were shared here before all the all-important lunch and networking session arrived. Lunch gave everyone an opportunity to relax and talk business. But it appears that the speech that was to follow lunch was on everyone's mind too.
There is much that any reporter can write about the next keynote speaker Imran Khan Niazi. A cricket player extraordinaire who captained Pakistan's only team to ever win the prestigious World Cup, socialite (and he has had that playboy reputation that never leaves him) with the European paparazzi forever in tow, builder of hospitals, politician and most recently, creator of international incidents. But no matter which Imran Khan steps forward, Pakistanis in the millions adore him, many South Asians envy him and his good looks and the international powers that be worry about him.
Speaking on the "Leading Edge" here and giving this conference a boost, Imran spoke for close to an hour. He said that "vision" was the most important element that defined leadership. Revisiting many a moment in his own life where he succeeded when other people had serious doubts about him, his abilities and his projects, he gave everyone quite a lot to think about. "If you have a vision, you should not compromise," he said. "It is we who limit ourselves. You are never defeated by failures," he said. "Never accept second best. Never compromise on your vision," he added.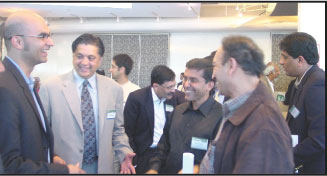 Networking at OPEN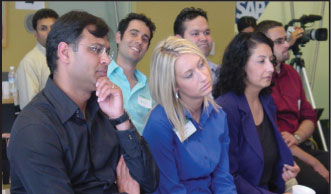 Attentive listeners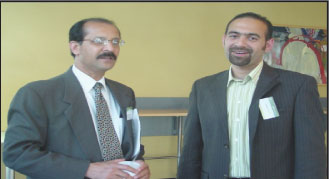 Mahboob Akhter and Dilawar
Sharing a few moments from cricket history, Imran Khan revisited the World Cup victory in 1992 when the Pakistani team won after starting off quite badly. He also shared some moments in Sharjah when India and Pakistan played against each other and Pakistan won on the last ball (where Javed Miandad hit that six on the last ball) as examples of overcoming the odds by believing that you can win. And last but not least, the Shaukat Khanum Memorial Cancer Hospital that he built in Pakistan while reacting to the loss of his mother to the disease asking "What happens to the poor man?" who is faced with such an ordeal, moved all who were listening to him. He credited the poor people of Pakistan for giving him the encouragement to build the hospital with their small contributions in spite of their poverty. He wants to build a cancer hospital in Karachi next and a university in Mianwali. We will revisit Imran once again at the end of this report.
The "Fireside Chat" on "Breaking the Glass Ceiling" spotlighting entrepreneur, business leader and philanthropist Talat Hasan, was quite absorbing and dwelled on the lighter side of women in general and South Asian women in particular making it in the technology business. Mrs. Hasan who is a graduate of the Aligarh Muslim University in India and active in the TiE organization (whose delegation this conference was delighted to receive) shared some of her own experiences while breaking that glass ceiling. On a business visit to Japan she said that at one gathering she realized that she was the only woman there amongst 2000 people. Being the first woman to give a technical presentation in Japan and on being given the nickname "Technolady San" by the Japanese Press are just some of her achievements. "But that was not all". "Being married, having a baby, you have to make sure your house is in order," she said.
In contrast Amra Tareen (partner in the VC Sevin Rosen) hardly ever veered away from the business approach to the technology industry during a workshop titled "The ABC of Fundraising" as she along with Waheed Qureshi went into the details of how venture capital evaluates companies to fund and what the founders of startups seeking funding can expect to encounter during that process.
The conference spotlight on "Rational Exuberance: The New Business Landscape in Pakistan" was well worth the wait as it included presentations by Pakistani Minister of Information Technology Awais Leghari and a companion presentation by Anthony Mitchell. The workshop going on at the same time on "Bootstraps and Shoestrings: (Inexpensive) Alternative Paths to Successful Entrepreneurship" featured Zain Jeewanjee (g1g.com) and Naeem Zafar.
Minister Awais Leghari in his keynote speech made the all-important pitch stating that Pakistan was more "open" for business today than ever before. That he was presenting this fact at an OPEN conference should be noted here. Leghari came armed with much data on Pakistan's recent economic performance. He said that huge infrastructure projects are being targeted by the government. "Improvements are all around," he said. He added that foreign investors were certainly taking a second look at Pakistan these days as a place to do business and to make a profit. "We are overall experiencing a growth in the public and private sector (in Pakistan today) not seen by my generation." He described the dark days of the Zia Regime in Pakistan and compared those to the freedom of expression and openness today under the current (Musharraf-Aziz) government. Market capitalization, deregulation and privatization were the three areas where the current fiscal policies of Pakistan are concentrating. He said that a "level playing field was being provided" by Pakistan. He gave the recent sales of frequencies in the communication sector as an example, and invited overseas Pakistanis and Americans to invest in Pakistan. (Note: Minister Awais Leghari held several meetings with top Silicon Valley executives and members of the TiE Organization during the following week to project the business-friendly environment in Pakistan today).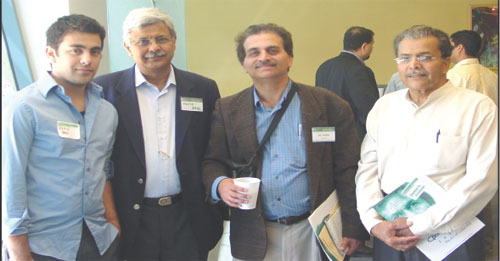 A group of proud Pakistanis
Anthony Mitchell went into some details of call center work and the infrastructure required for their setup in Pakistan. "I don't see Pakistani firms teaming enough," he said. He charted out lessons that can be learned from India. He next presented the lessons that have been learnt from Pakistan and the experience gathered from Expo 2005 there. He stressed the importance of on-site training in all call centers, the necessity of having marketing budgets and the fact the needs of the customer in the US cannot be ignored.
The last panel on "Revenge of the UnNerds" was most interesting. Featuring Monis Rehman (Naseeb Networks), film maker Babar Ahmed and medical practitioner Hina Chaudhry, this panel moderated by Shahid Khan attracted much attention. Monis gave a presentation on Naseeb Networks, its subunits and the great work that it is doing for the
Muslim community worldwide. To our credit we can feel proud that Monis got his start right here in this area and that he is now running his business from Lahore, Pakistan. Babar Ahmed, who received much critical acclaim for his film "Genius," showed a promotional clip of his next movie "Princess" starring Pat Morita. It was a pleasure talking to Babar whose family hails from Swat. "It is very important to have some kind of representations (for Pakistanis) in the media here," he said.
Hina Chaudhry used a personal family and used it to pursue a career in medicine that is bound to save many lives. One can only thank her for sharing her medical expertise at this conference because cardiovascular specialists can have a great deal to do with anyone's life at any time.
The last workshop on "The Nuts and Bolts of Setting up Offshore Operations" featured Umair Khan (Clickmarks), Aamer Amatin (PSEB) and once again Anthony Mitchell.
The last keynote at any conference is usually reserved for a special speaker. It was a delight to have John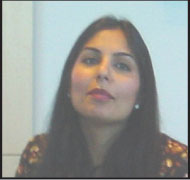 AmraTareen
Morgridge, Chairman of Cisco Systems, present the closing keynote speech at OPEN Forum 2005. Not only is John a respected senior in Silicon Valley, but the success of Cisco Systems is now almost legendary. He started off with how Cisco came into being, finding its incubation at Stanford University and the path that it took to become the giant corporation that it is. "Universities are a great place to start implementing your idea," he said. He said that each corporation has its own culture and that Cisco had selected its own. "Customer success has always been a focal point of the company," he added. He said that the company philosophy was that if you cannot fix the problem during the first two tries, send them a new product. Mr. Morgridge touched on a number of points during his speech on leadership. "Our biggest asset is our human capital. That really is what the competitive advantage is," he said. On Pakistan, he mentioned that Cisco already had 26 academies there.
An interesting Q/A session followed the closing keynote. OPEN (Silicon Valley) President Zia Yusuf gracefully closed the conference by thanking all the volunteers,
the OPEN Executive Committee and the attendees. "Please get involved," he said.
In closing, this long report presents just a glimpse of what OPEN Forum 2005 was all about. There were many new grounds broken here. The fact is that whatever our individual political inclinations may be, Pakistan is quite open for the technology business today and the OPEN organization has shown great leadership at this conference while focusing on "The Art of Leadership." Which brings us back to Imran Khan.
A new batsman in politics but a seasoned captain of a world championship cricket team said something to us that needs our attention (in spite of his apparent differences with the current Pakistani rulers). Leadership is an art, a science and more. But for many Pakistanis in the United States, and certainly those here at this conference, the following words from Imran reflect our concerns. "Your country needs you more now than ever before," he said.

-------------------------------------------------------------------------------------