Two Legends at Atherton Cancer Hospital Fundraiser
By Ras H. Siddiqui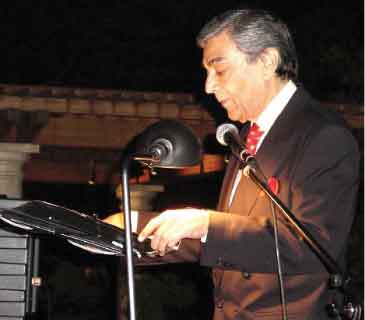 Zia Mohiyeddin
Atherton, California is an area where affluence and influence meet head on but the results are not accidental or dangerous, remaining positive in nature. And if fundraising is a goal for a Pakistani charity, you have to gather together some of the most successful Pakistani-South Asian-Americans around in Silicon Valley to raise money for a cause that you know is worthy. Thus the Abdullah residence was the place to be after the closing of OPEN Forum 2005 held in nearby Stanford during the day on May 21, 2005.
We all know the sports figure behind the cause, cricket legend Imran Khan, and heard him present the afternoon keynote speech at the forum earlier in the day, but this OPEN (Silicon Valley) fundraiser at the beautiful residence of Isha and Asim Abdullah in Atherton for the Shaukat Khanum Memorial Hospital, was certainly what you might term "the icing on the cake" for our local Pakistani community that day. Imran Khan has spearheaded and helped sustain this unique cancer treatment facility in Lahore, Pakistan, a facility that runs on donations so that many of its patients can be treated without facing financial ruin.
One is happy to report on the presence of Imran Khan here at this gathering but another legend, one from the world of entertainment, just cannot be overlooked here. That is Zia Mohyeddin, a household name in Pakistan (but not here in the United States) who delighted this exclusive gathering in his own special way. This king of dual diction (both Urdu and English) and the originator of the "Thayka" was with us for over a wonderful hour or so. And we will return to him shortly.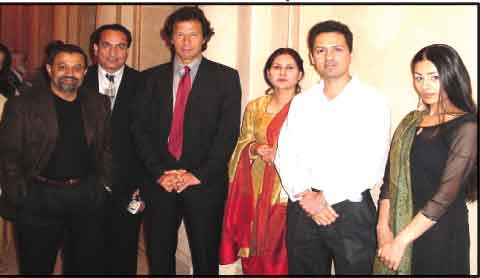 Imran Khan with some of his fans
After the necessary introductory comments by Arif Janjua and an introduction by Umair Khan, Imran Khan Niazi spoke briefly at this elegant poolside setting, educating the small group about the Shaukat Kahnum Memorial Hospital cancer facility and the vision behind the project. He said that 90-95% of Pakistanis just cannot afford cancer treatment. "We estimated that the average cost of treating a cancer patient is Rs. 500,000 (approx. $9000), which is beyond, what you can imagine, most of our people in Pakistan can afford," said Imran. He added that "comprehensive" cancer treatment was given at this facility in spite of the expense of cancer drugs. He admitted that the project was "idealistic" but gave a chronology of its completion and that it had been operating now for over 10 years. "It cost us 22 million dollars to build the hospital," he said. "It was a hospital built by people across the country (from Peshawar down to Karachi). The school children played probably the biggest role in the fundraising," he added. "They created a mini revolution in the country."
Imran described the hospital as a rare place on the planet where without government subsidy the majority of cancer patients get free treatment. "This of course means that there is a huge deficit every year," he said. "The hospital generates only 42% of the budget every year," said Imran. "Fifty-eight per cent of the budget we have to collect every year through Zakat and donations," he added. He also spoke with pride about the hospital winning a World Health Organization award for its performance last year. "It is important that this hospital remains supported," he said. He added that an expansion in Karachi has started, and that next year a major step (Inshallah) in the project is on the cards at a site near the Aga Khan Hospital facility in the city. "Finally, I want to thank Asim and Isha. Thank you very much for organizing this wonderful evening."
Glimpses of the fundraiser


The hosts Asim and Isha Abdullah
Zia Mohyeddin was introduced next as "a true Renaissance Man," an actor, producer and director. And right off the bat, using the Persian core as a benchmark for Urdu, Zia Sahib proceeded to describe the beauty of the surroundings that we all sat in. There was no point in taking notes from then on because he had already crossed the outer periphery of this writer's grasp of the Urdu language in the first two sentences that he presented. And that was not all, because his grasp of English is similarly intimidating. Zia Mohyeddin has spent many years as a Shakespearian actor in Britain. His role in "Lawrence of Arabia" was not accidental. After listening to him on a few occasions, it seems obvious sometimes that he can detect the limitations of his audience and he (thankfully) comes down to our level of understanding every now and then.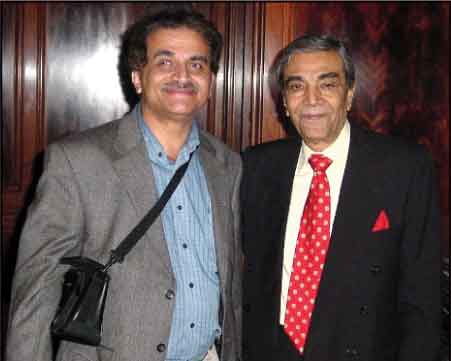 Ras Siddiqui and Zia Mohiyeddin
A true weaver and portrayer of tales, narrating writings from the Urdu and English greats, Zia Sahib did not disappoint us once again here at this small gathering. But this was one time during the evening that I felt the need to have at least a couple of hundred more educated listeners or connoisseurs to appreciate a true artist who paints not in the language of color but in the colors of language on the canvas of two cultures.

Asked if he was going to repeat a favorite segment of mine that I had heard him present two years ago at a local venue, he said that he had brought a "naya guldasta" or "new bouquet" with him this time. And this new bouquet did not disappoint as its fragrance remains with some of us to this day. Zia Sahib, maan gayai hum aap ko.

And now to some closing thoughts: There is no doubt that Pakistan has some very talented individuals that make us proud. The legends that appeared at this gathering in Atherton are two great examples from amongst them. The problem is that people here in America do not know much about our talented folks and the reason for that is our community, which does not do enough to try and change that fact.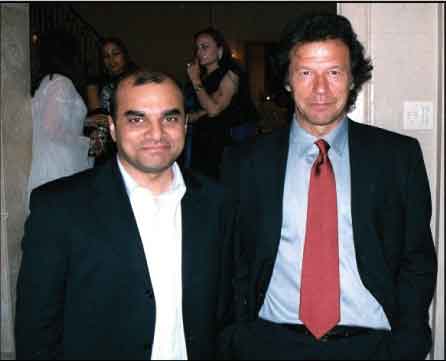 Imran Khan with Junaid Ahmed
Imran Khan Niazi, a cricket player par excel lance, the former king of the reverse swing in bowling who has built a much needed cancer hospital in Pakistan while possibly bringing some much needed integrity to the political landscape of the country needs to be better introduced to America than through Newsweek negatives.


And Zia Mohyeddin, not just a dabbler in numerous art forms but a true master who introduced the thayka to a country who loved it over 30 years ago. "What is this thayka?" Many including our kids here in America will ask? Well Zia Sahib actually introduced Pakistanis to Rap music fifteen years before we had even heard much about this form of expression here in America. He was indulging in Urdu rap (thayka) long before any of us realized what it was.

-------------------------------------------------------------------------------------