Pakistani Girl Among Top 20 American Students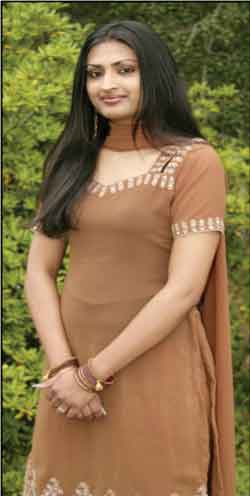 A Napa Valley College student of Pakistan origin has won national honor and is top student in California
Electrical engineering student Nida Qureshi was selected from 1,500 nominations to become a member of the "All USA Academic First Team." She was one of 20 students honored and pictured in USA Today on April 11. Nida was honored at the American Association of Community Colleges convention in Boston and received a $2,500 scholarship and trophy. Dr. Chris McCarthy, NVC president, and her sister attended the ceremony with her.
Nida was also named to the All California Academic First Team. NVC
student Amber Matusek was named to All California Academic Second Team.
They were honored in Sacramento at a luncheon and recognized by the
Assembly and Senate. Assemblywoman Noreen Evans and Senator Wes Chesbro
celebrated their honors by meeting with them in their respective offices and presenting them certificates recognizing their achievements.
As the top community college student in the state of California,
Nida was named the 2005 New Century Scholar, which comes with a $2,000
scholarship by the Coca-Cola Foundation and Coca-Cola Scholars Foundation, and she will be featured in American Association of Community Colleges publication College Times.
Nida was also named a Guistwhite Scholar (only 20 were selected from 700 applications). She was recognized at the 2005 Guistwhite Scholars Ceremony at the Phi Theta Kappa International Convention in Dallas, Texas, April 15, before 4,000 honor students, advisers and college officials. That award includes a $5,000 scholarship.
A member of Phi Theta Kappa, Napa Valley College's honor society, Nida is tutor coordinator for MESA (Mathematics, Engineering, Science Achievement) program helping other students. She has a 3.94 GPA and will transfer to a University of California campus next year. She was born in Karachi, Pakistan.
Says Nida: "Born into a family of seven from Karachi, Pakistan, I always dreamt of being a role model for girls that are forced to stay behind society's curtains. I wanted to demonstrate that women can have their own identity. My fascination with the miracles of science and my passion for math convinced me to go into Electrical Engineering. At the age of eighteen, I migrated to the United States and (found) myself in a different and very challenging world. Napa Valley College is where I first realized that I could turn my dreams into reality. I worked hard to earn a GPA and will soon transfer to a four-year institution. I have many challenges to face before I can achieve my dreams, but my journey has convinced me that where there is a will, there is, indeed, a way.
"At Napa Valley College I embraced all sorts of cultures and devoted myself to promote cultural diversity while creating a friendly environment. I have focused my sincere efforts on building bridges between different cultures and promoting self-awareness among women of underrepresented cultures.
"I have a special talent for coordinating new clubs and societies on campus. I imagined and founded the APNA Club ('our' in Urdu) for the specific purpose of bringing together individuals of different cultural and religious backgrounds to help eliminate discrimination based on ignorance and conditioning. I organized various cultural events where we had displays of cultural stuff such as clothing, food etc. I also introduced SHPE (Society of Hispanic Professional Engineers) on campus and work actively to involve other multicultural students in professional engineering organizations. Last year when I attended the UC Berkeley Engineering Fair, I signed up for SHPE and recruited my best friend, a young Latina, to do so as well. I am proud to say that she is now the SHPE president in our college.
"With Club Latina I participated in activities that were aimed towards helping young Latinas overcome cultural and personal issues. We organized friendly events where Latinas got together, cooked cultural food, played games and talked about their problems. Also, we organized ropes course that helped Latinas develop confidence in their personalities and focus on their goals. I have been providing free tutoring to young Latinas in science-based subjects to encourage them to go for engineering-based majors. I organize volunteer workshops for my young Latina and Pakistani friends where I explain them how college education system works and the benefits of going to community college.
"Through these clubs and organizations I am always looking forward to creating ways for women to contribute. My commitment to support cultural diversity in schools, workplaces and communities is genuine and long lasting. My energy is boundless, and my optimism unstoppable."
-------------------------------------------------------------------------------------