Pakistani Community Stunned at Lodi Arrests
By Abdus Sattar Ghazali
FBI agent Keith Slotter
McGreggor Scott
Usama Ismail, the cousin of Hamid
Hayat speaks at his home in Lodi about his cousin who lives a few houses away

A member of the Lodi Muslim community leaves the Mosque
Pakistani community in the farming city of Lodi, CA, was stunned when FBI last week arrested two Pakistani Americans and three Pakistani nationals for allegedly operating an Al Qaeda cell in the city.
One of the men arrested, 22-year Hamid Hayat, is accused in a FBI criminal complaint of training in an Al Qaeda camp in Pakistan to learn "how to kill Americans" and then lying to FBI agents about it. His father, 47-year Umer Hayat, is charged in the complaint with lying about his son's involvement and his own financing of the Al Qaeda camp.
Meanwhile, two Pakistani nationals, Shabbir Ahmed, imam of the Lodi Mosque, and Mohammad Adil Khan, a former Imam of the mosque, were arrested on June 6 on the charge of immigration violations. Next day Mohammad Hassan Adil, 19, son of Mohammad Khan, was also arrested on immigration violations.
FBI agents searched Shabbir Ahmed's house, next door to the mosque, and another house about four blocks away from the mosque. The family whose residence was searched had just returned from a four-month stay in Pakistan.
The arrest of Pakistanis has caused panic in the Pakistani community in Lodi which has the largest concentration of Pakistanis in any US city. About seven percent of Lodi's 60,000 population is of Pakistani origin, according to some estimates. The FBI also questioned a number other Pakistanis and Muslims in Bail Denied
On June 10, Judge Peter A. Nowinski denied bail to Hamid Hayat, because he is considered both a flight risk and a danger to the community.
Hayat's attorney, Wazhma Mojaddidi, reminded the judge that her client was born in Stockton, California, and has significant ties to the community of the city of Lodi. He lives there, she said, with his father, mother, brothers and sisters. She pointed out that he is charged only with lying to FBI agents, which is normally a bail-ble offense. He has also surrendered his passport.
Assistant U. Attorney R. Steven Lapham, disputed Mojaddidi's statement that Hayat has close ties to the community. The prosecutor said he has traveled to Pakistan a number of times in his 22 years. He said Hayat stopped going to school in this country after the sixth grade, and "has little chance of getting a job that would support him."
Mojaddidi acknowledged that Hayat has a wife and an extended family in (Attock) Pakistan, and that the family recently built a new home there. She said the family traveled to Pakistan on one occasion to seek medical treatment for the mother.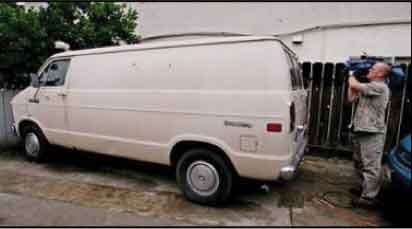 The ice cream truck that Umer Hayat drove for work is parked at his home in Lodi
As a teenager, Hamid Hayat lived in Pakistan and attended a madrassah, or religious training school in Rawalpindi, Pakistan, that was operated by Umer Hayat's father-in-law, according to an FBI affidavit. His father said that's where he was drawn to jihadist training camps, the document said.
"We believe they have been painted, based on the affidavit, as terrorists ... but they have not been charged with that," Umer Hayat's attorney, Johnny Griffin III, told reporters outside court. "They are only charged with one thing, and that one thing is making a false statement to the government."
The Los Angeles Times reported on June 10 that the FBI apparently gave the media a different, far more damaging version of an affidavit against the accused with lying to federal officials than the one that was finally given to a court in Sacramento last week.
The affidavit filed Thursday did not contain any of the sensation material from earlier in the week which said the son's "potential terrorist targets included hospitals and groceries, and contained names of key individuals and statements about the international origins of 'hundreds' of participants in alleged Al Qaeda terrorist training camps in Pakistan."
Attorneys for the two men now say they will challenge the government on this discrepancy, which they say as a deliberate move by the FBI to prejudice the case against their clients. Defense attorney Johnny Griffin III, who represents the father, Umer Hayat, accused the government of "releasing information it knew it could not authenticate." The FBI said the different versions were the result of "unfortunate oversight due to miscommunication."
Meanwhile, the FBI agents continued to fan across Lodi which suddenly became the spotlight of a high-profile terrorism probe, drawing sharp rebuke from some leaders of the Muslim community who say the FBI is spreading fear with aggressive tactics.
Lodi Mayor John Beckman and other city officials met with representatives of the Lodi Mosque seeking to ease mounting tensions. "Today, the challenge of balancing freedom and security has been brought to us on a national level," he said.
William Youmans, a spokesman for the Council on American-Islamic Relations, a leading Muslim civil rights organization, objected to how the FBI is following leads in Lodi. He said agents have agitated the community by questioning high-profile members and others at random. He also said some Muslims were forced to take polygraph tests.
Basim Elkarra, executive director of the council's Sacramento Valley chapter, said the FBI has harassed many people over the past few days in the Pakistani community.
Samina Faheem Sundas, Executive Director of American Muslim Voice, who was contacted by many TV, Radio and print media people to comment on the Lodi arrests, appealed to fellow Americans not to rush to make a judgment about their Muslim brothers and sisters. "If you read beyond the headlines, these people have been detained for lying to the FBI and minor immigration violations. At this point these are only allegations and under the law of our great land we must treat them as innocent until proven guilty," Samina added.
On the arrests of the two Imams, Youmans said this leaves everyone thinking if two well-respected people can be detained, anybody can be detained and the whole community feels under assault.
Saad Ahmad, the lawyer for the two imams, said the men were innocent of any wrongdoing, describing them as "law abiding" and "decent hard-working people." He said Mr. Khan and Mr. Ahmed were granted entry to the United States to work as imams but said law enforcement officials accused them of violating their visas because they "did not perform their duties as an imam." "I really believe they don't have anything on these guys," said Ahmad, an immigration lawyer.
Usama Ismail, a relative of Umer Hayat, said the accusations were "total lies." Ismail said the statements in the affidavit attributed to Hamid Hayat must have been coerced from him "after hours and hours of interrogation."
"He did not go to a terrorist training camp," said Mr. Ismail, who lives on the same block as the two men and whose mother is Umer Hayat's sister. "Even if they did say that, that's because the FBI made them say what they wanted them to say."
Ismail said the FBI began pursuing his cousin and uncle because of anonymous calls to the authorities made by enemies of his uncle. "They have something against Hamid's dad," Ismail said of the anonymous callers. "Because of that they kept calling the FBI and saying they are terrorists."
Mohammad Khan, another cousin of Hamid Hayat, said that the FBI sweep was all because of a stupid phone call someone made against the Hayat family. "Hamid told me someone called the FBI to make up a story because they have something against him", he added.
Mohammed Shoaib, president of the Lodi Muslim Mosque, said the actions of a few men, who have yet to be proven guilty, should not speak for the entire Muslim community. "If one person does something wrong, they (should) not be judged by the whole community of Muslims in the United States," he said. "I urge my brothers in the Muslim community that we should stand together ... and that our civil liberties should not be violated."
"The majority of the people I know love this country, and that's why we immigrated here," said Taj Khan, a member of the board trying to build a new Lodi Islamic center. "We chose to be here ... so we may love it more than some US citizens."
Reporting the arrest of Pakistanis, Washington Post said that one surprising allegation in the affidavit is the reference to the previously unidentified al Qaeda camp, which Umer Hayat identified as "Tamal." Such a camp would be close to Rawalpindi -- home to Pakistan's military and intelligence service -- and to Islamabad, Pakistan's capital.
However, the paper said that officials have cautioned that the FBI has not confirmed many aspects of Hayats' accounts including details about the camp.
-------------------------------------------------------------------------------------