Pak Consulate Visa Camp in Sacramento
By Ras H. Siddiqui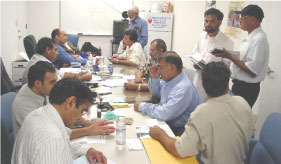 The Pakistan Consulate in Los Angeles held two "Visa Camps" in Northern California over the April 30 and May 1st weekend (Fremont and Sacramento). The purpose of this effort was to assist members of the Pakistani-origin community here in Northern California with their visa and other needs via direct access to Consulate officials. The alternative is the mail or a 400-mile journey to the Los Angeles area on a working day, quite an inconvenience for most.
Pakistan Link was able to visit the Sacramento venue where it found a great deal of activity. Pakistani community volunteers need to be commended for their efforts for not only assisting people with their paperwork before they submitted it to the Consulate officials but also in keeping spirits up by distributing snacks and soft drinks to many who stood in line or waited for their family members to get done.
It was interesting to note that at least four generations of Pakistani-Americans were present there. Kids of a few months to their elderly great grandparents all added a great deal of color to the venue. From the traditional shalwaar kameez to T-shirts and shorts and not to forget the contrasting head covering or pagris along with baseball caps. This was certainly a mini-Pakistan environment.
Consulate officials were very busy with their work and we did not wish to disturb them during their review of applications to get more details. But it certainly appeared to be a productive day for all concerned as this annual event now attracts people from Sacramento, Davis, Stockton, Lodi, Woodland, Yuba City, Chico, Live Oak and some from as far away places as Reno, Nevada.

-------------------------------------------------------------------------------------