2005 Visionary of the Year Award for Rauf Gajiani
A Pakistan Link Report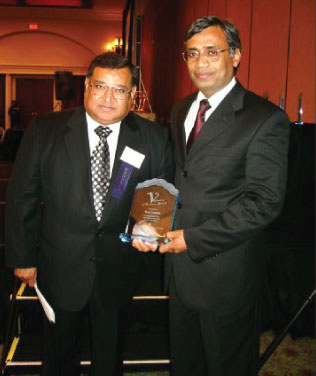 Rauf Gajiani receives the award from Consul General Noor Mohammad Jadmani
Huntington Beach, CA: Mr Rauf Gajiani, CEO, RZR Enterprises, received the 2005 Visionary of the Year Award, sponsored by the Coastline Community College, at a glittering ceremony at the Hyatt Regency on May 20, 2005.

Lauded as a "family man, a businessman, a community activist, a philanthropist," and, above all, a patron saint of several educational institutions in the US and Pakistan, Mr Gajiani was a picture of humbleness as the received the coveted and well-deserved award to the accompaniment of thunderous applause from Consul General Noor Mohammad Jadmani.

"Pakistan and the US have been friends in difficult times …They are hand in hand in combating the scourge of terrorism. We need individuals like Mr Gajiani to build bridges between the two countries," the Consul General observed.

The sentiment was shared by other speakers in a video-tribute to the RZR Enterprises CEO.

Trained as a pharmacist, Rauf Gajiani has long had a passion for developing commercial and residential real estate. He recently combined his passion with his career by forming RZR Enterprises, a real estate development company, in 2004.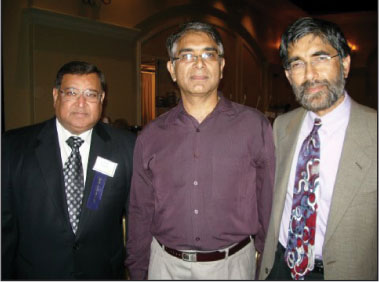 L to R: Rauf Gajiani, Wasi Qureshey and Safi Qureshey
Mr Gajiani's initial career was in the apparel industry, as CEO of Alstyle Apparel from 1976 to 2003. The company, which employed 7,000 in the United States, Canada and Mexico, generated in excess of $210 million annually.

After selling Alstyle in 2003, Mr Gajiani launched RZR Enterprises, a real estate development company which builds homes, apartment units and commercial buildings. The company's goal is to build quality commercial and residential structures in an expeditious and efficient manner.

Mr Gajiani is also a philanthropist, bringing people together to build a bridge between the Muslim community and Orange County's community-at-large. He has supported countless not-for-profit causes throughout Southern California, raising several million dollars for various organizations during the past 10 years.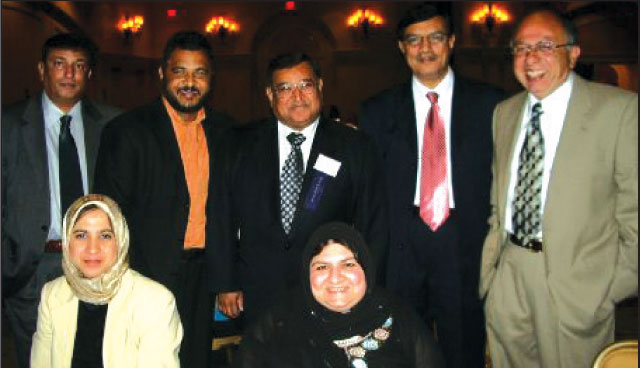 The award winner with family members and friends
This year's Visionary of the Year honorees, according to Elizabeth Bowlin, Co-Chair, 2005 Visionary of the Year Awards Gala, demonstrated a great deal of variety in their contributions to the community. Mary H. Barry is a leader in education. Rauf Gajiani is a successful real estate developer. Bob Hurley is founder and CEO of Hurley International - and a graduate of Golden West College. Karen Robinson has an impressive resume as both an attorney and judge. And Andrea Anne Shelly has made significant contributions towards the battle against Fragile X, the most common cause of autism.

In his brief remarks on the occasion, Mr Gajiani thanked "God for what He has bestowed on me." He congratulated fellow-awardees and expressed gratitude to Ms Mariam Qureishi , Dr Sadullah Khan and others who had lauded his services. He also thanked his wife and daughter for their support in his strivings.
-------------------------------------------------------------------------------------