Consulate Holds Community Meeting
By Naushad Sarwar
Consul General N.M. Jadmani

Dr. Hashmi

Hamid Malik
Torrance, CA: At the invitation of the Consul General of Pakistan members of the Pakistani-American community in the Los Angeles area assembled at the Momin Lodge in Torrance on Sunday, October 23.
They came in large numbers and visibly demonstrated their concern for the earthquake-struck fellow Pakistanis in the NWFP and Azad Kashmir. Each one of them had a scheme or proposals for coordinating relief measures in the LA area.
The meeting started at 5.30 pm and continued after the Iftar intermission.


Members of the Pakistani-American community in LA
Prominent among those who attended the meeting were: Consul General Noor Mohammad Jadmani, Vice Consul Ahmad Farooq, COPPA President Mr Hamid Malik, PL Publications President Mr Wasi Qureshey who also serves as Managing Editor of Pakistan Link, Mr Arif Merchant, Mr Tanwir Khan, Dr Hashmi, Captain Waheed, Banker Shafiq Khan, Mr Hussain Rokerya, Mr. Aziz Laasi, and Mr Salim Adaya.
Speaking on the occasion, Consul General Jadmani expressed his gratitude to the invitees. The community has "overwhelmed me" with its response to the earthquake crisis. The "Pakistan nation has withstood the test." Both at home and abroad, Pakistanis have spiritedly responded to the challenge. The Ummah has also been supportive of the relief efforts and 70 percent of the aid has come from its member countries, he stated.
The Consul General informed that the rescue phase was drawing to a close and the relief phase has already begun.
Captain Waheed with Aziz Laasi

Salim Adaya

Mr. and Mrs. Ashraf Ali

L to R: Aziz, a guest, Captain Waheed and Anjum Ejaz
He appeared gratified at the show of unity, both within and without. The political parties and the man in the street had joined hands to provide relief to the earthquake survivors, he observed. He also informed the gathering that such a scale of destruction has not been seen in the country before.
Consul General Jadmani observed that his "effort has been to mobilize funding" in Los Angeles. It was imperative, he said, that the community "reaches out to the corporate sector." In this regard he referred to the donation of $200,000 by Occidental Petroleum.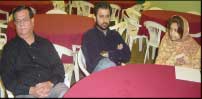 Arif Merchant and Mr. and Mrs. Zeeshanportunity
Captain Waheed (American Logistics Intermodal Inc.) and Mr. Aziz Laasi also expressed their gratitude to the community for its response to the quake catastrophe which had created greater devastation than Tsunami and Hurricane Katrina. They demanded continuous community support for the relief efforts.

Mr Hamid Malik, President COPAA, also spoke on the occasion and highlighted the role of his organization in the relief undertakings.
Consul General Jadmani also announced that the Consulate would hold a fundraiser for the earthquake victims at the LAX Hilton on November 13.

-------------------------------------------------------------------------------------