Adopt A Village Fundraiser in Santa Ana
By Salma Basravi
Ahmed Jafry (left) and Farshad Rastegar

Habib and Salma Basravi

Dr. Salman and Farzana Naqvi

L to R: Dr. Humayun Khan, Consul General N.M. Jadmani and Hamid Malik
Santa Ana, CA: The morning of October 8th, 2005 has marked history in the most painful note. While the rest of the world slept or went on with life, the earth shook with a magnitude of 7.8 in Pakistan claiming up to 100,000 (one hundred thousand) lives to date. Thousands were left homeless and helpless, and most have lost a loved one or two or their entire family has been wiped out. What a devastating scene that must have been. It surely sends a shiver through the body to even imagine a tragedy of this nature. Once where there were schools, hospitals, homes, and people - healthy, happy active people - now there is nothing! Only the smell of death and despair.
L to R: Dr. Imran Ali, Laila Karam Ally, Dr. Rabia
Khan, Dr. Salman Naqvi and Consul General N.M. Jadmaniand

L to R: Dr. Imran Ali, Laila Karam Ally, Dr. Rabia
Khan, Dr. Salman Naqvi and Consul General N.M. Jadmaniand

L to R: Ali Zaidi, Pervaiz Lodhie and guests
A team of four Pakistani doctors, Dr. Salman Naqvi, Dr. Rabia Khan, Dr. Imran Ali and Dr. Tehmina Khan left for their native land at a notice of 48 hours. The only thought they had -"help"- they left their families behind to selflessly offer themselves to serve those in desperate need. They set up hospital tents along with the help of Save the Children. First they set up a Triage, to diagnose and send patients in the appropriate direction. They facilitated gynecology, pediatrics, general dressing for wounds, and male and female wards. Fractures, amputation, and pneumonia were an ongoing everyday experience.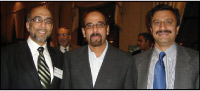 Habib Basravi, Ali Razvi and Azam Dadi
Zafar Abbas and Farshad Rastegar
The amputations were performed on heavy sedatives as general anesthesia
was not available. Needless to mention, multiple deaths of all ages became part of an everyday agenda.

During one of his several interviews with the press, Dr. Salman Naqvi, a pulmonary and critical care physician from Newport Beach, Ca said, "We have been blessed with so much. This is our opportunity to save lives" and I hope our communities join us in our efforts. And surely the communities did indeed! Upon his return, Dr. Salman Naqvi shared with his wife, Dr. Farzana Naqvi, the urgency of raising funds; a few calls to close friends resulted in one that concluded beyond their expectations.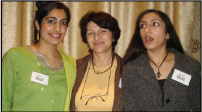 Relief International team
On the evening of November 6th, a fundraiser Adopt A Village was held at the Double Tree Hotel in Santa Ana and graced with the presence of the Consul General of Pakistan, Mr. Noor Muhammad Jadmani who also shared his view and emotions towards the whole tragedy. We were also supported by the presence of Relief International's Dr. Farshad Rastegar, the CEO and founder who cheered on "what could be done when we join hands together towards a common cause".
The whole event was sponsored and planned at ten days notice. Approximately 200 guests participated. There was a silent auction of paintings and art work. The evening was very informal and interactive; after all we were all grieving families and had to share with each other. Our heroes brought back memories in the form of stories and slide shows. There was also a live call that was made to Pakistan. The audience listened as the doctor spoke and then a victim of the tragedy spoke; all he asked was "help".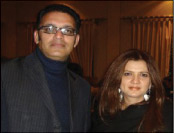 Fazal and Haya Farooqui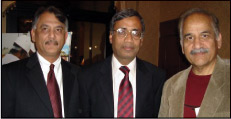 L to R: Shafiq Khan, N.M. Jadmani and a guest
What struck yet another cord that evening was a poem written and read by Laila Karamally, a social services major who also traveled to Pakistan to make a difference. The poem depicted feelings of human emotions in time of loss - a loss of such magnitude that the heart fills with excruciating pain.
What was overwhelming was the outpour of support and donations that came forth, for which we are ever so grateful. The evening ended with a total donation of $175,000 and folks this is just the beginning of a serious commitment to helping lives that are literally screaming and crying to us for help. A promise has been made, with God's blessings and unanimous participation this too shall come to pass.
Last but not least a note of thanks to the sponsoring families of this event, Dr. Salman and Dr. Farzana Naqvi,
Dr. Imran and Alia Ali, Rasheed and Dr. Rabia Khan, Tanvir and Naveen Hyder, Amin and Neelu Haq, Habib and Salma Basravi, Asim and Fizza Ashary, Khurrum and Natasha Shoro.
For further information, please log on to www.ri.org

-------------------------------------------------------------------------------------