American Muslims at Their Best Are Compassionate
By Tahir Ali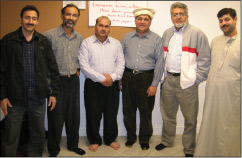 Members of Quake Relief Work Committtee of Worcester Islamic Center
There are five moments of great unity in the life of the American Muslim Community since 1990.
The first came in 2000 during the US presidential election, when America witnessed Muslim Americans acted in unison, voted in large numbers for one presidential candidate in that close race, and thus became universally recognized as the genuine swing vote that had altered the outcome of that election. That was a UNITY of political empowerment and strategic participation.
The second moment was after 9/11, when Muslim Americans came together to build bridges of understanding and amity between their homeland – the United States – and the Muslim world. That was a UNITY of hope, healing and reconciliation.
The third moment was the 2004 presidential election, when inspired by a nationwide consensus on the 'civil rights plus' agenda, the American Muslims became the most cohesive voting bloc in America as 93 percent of the American Muslims voted for the same presidential candidate and for the same set of issues. It even bridged the gaps between immigrant and indigenous Muslims. That was a UNITY of strategic calibration and consensus-based cooperation (It can also be characterized in another sense as a UNITY of Indignation and Retribution).
The fourth moment was collective American Muslim response during post-Katrina relief effort. While the Muslim world contributed $1.6 billions to Katrina relief fund – a fact by and large ignored by the mainstream media - American Muslims contributed yet another $10 millions for the same purpose. That was a UNITY of patriotism, compassion, and humanistic universalism.
And now since 10/8, the Muslim-Americans have come out in large numbers in support of the earthquake victims in Pakistan and surrounding regions and may end up raising more than a $100 million. This is a UNITY of faith, compassion, and affinity.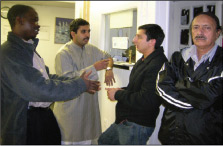 Members of Quake Relief Committee of Islamic Center in Framingham
This unity of faith, compassion, and affinity was acknowledged and applauded in a congratulatory remark made by Pakistan's Ambassador Jehangir Karamat when he said, "Working on its own, the [American-Muslim] community has been able to collect as much as $77 million for earthquake victims."
Here in Massachusetts, according to Dr. Abrar Syed, Director of the Human Development Foundation of North America (HDFNA), people have donated over a quarter million in cash and another million in kind, "I raised $6000 in just 60 seconds, and the donations keep coming in" Syed said. He is encouraging people to channel their donations through HDFNA "because we have over 100 volunteers, seven centers and people on the ground in quake affected regions in Pakistan."
This is more or less the same ebullience displayed nationwide. The Islamic centers are becoming the main focal point in converging such activities that range from collecting funds, medicines, blankets, tents and other needed materials.
Inspired by the example of Muslim countries who have contributed about 70% of the total international aid – more than twice the amount donated or promised by the US, Europe, Japan and China - to quake victims in Pakistan, American Muslim organizations were prompt in responding to this unfathomable tragedy. (Parenthetically, we must also acknowledge that Cuba has provided 200 medical doctors - the largest number supplied by any single country).
It is a great honor for the entire Muslim community that the Islamic Relief has been named by various US and international agencies as "the lead relief organization" for helping quake victims in Pakistan. The Edhi Foundation and the Hidaya Foundation are doing an equally stellar job. The Pakistan American Democratic Forum (PADF) is focusing on resource mapping and strategic resource development. Their work includes lobbying the US government for more helicopters, passage of HR 4073 that will allow undocumented Pakistanis to travel to Pakistan and still return under docket control, nationally-coordinated efforts to keep American media engaged and fellow American updated about the revival and rebuilding process in the quake devastated areas. The PADF is also working with American corporations and foundations to obtain pro bona or low-cost services and materials needed for reconstruction.
In his inaugural address in 2000, President Bush had said, "America at its best, is compassionate." Now we can proudly add, "American-Muslims at their best, are compassionate."

-------------------------------------------------------------------------------------