Interfaith Group Appeals for Earthquake Assistance
By Ras H. Siddiqui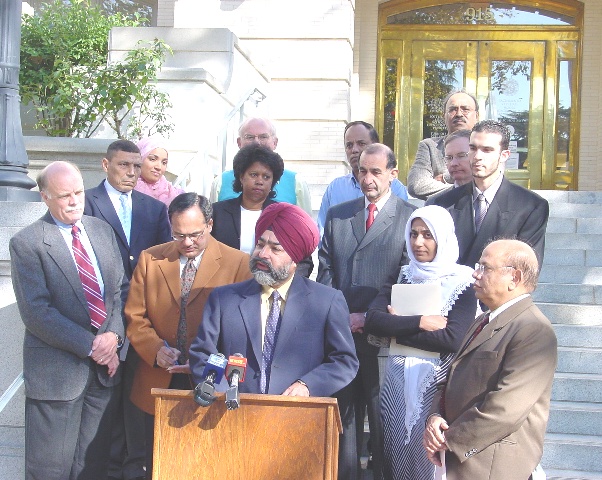 Interfaith Press Briefing at Sacramento City Hall Darshan Singh Speaking
Sacramento, CA: A group of people in the capital of California held a Press Conference on Monday, October 31, 2005 and issued a local and international appeal for the urgent help that is needed for the victims of the recent calamitous earthquake in Kashmir and Pakistan.
About 20 representatives of many faiths and countries of origin stood in front of the Sacramento City Hall to announce not only a fundraising event to be held the next day but also to appeal to all Californians and Americans to help the millions who have suddenly been rendered homeless in South Asia and are in grave danger of freezing to death as winter approaches.
Those who appealed at this venue were event coordinator Mr. Rashid Ahmad, Dexter McNamara of the Interfaith Service Bureau, Muslim community leader Dr. Irfan Haq, Sikh-American Darshan Singh Mundy, City Council member Lauren Hammond, Muslim-Pakistani activist Mrs. Durriya Syed and Iranian-American spokesperson Mohammad Mohanna flanked by a host of other local business and Arab-American community leaders including local CAIR President Hamza El-Nakhal and Executive Director Basim Elkarra.
In a moving presentation these speakers who represented a true "Faiths Coalition" of concerned citizens spoke to spread the word that in spite of "Donor Fatigue" that has set in due to the number of natural disasters that have occurred recently like Hurricane Katrina, over three million people in Kashmir and Pakistan are without shelter due to this earthquake and asked local Californians and Americans at large to help one more time.

-------------------------------------------------------------------------------------