Worldwide Vigil for Quake Victims Held on November 8
By Ras H. Siddiqui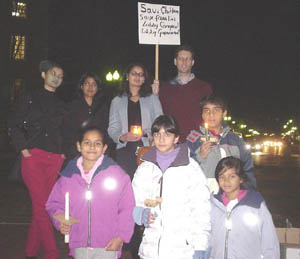 People in several dozen cities of the United States, Canada, Australia and Pakistan held a candlelight vigil on November 8, 2005 marking the one-month anniversary of the horrific earthquake that hit Kashmir and Northern Pakistan on October 8. From Toronto and Ottawa in the North to Sydney and Canberra in the South and from San Francisco through Boston and New York to Lahore, Pakistan, lights of hope were lit by small groups of dedicated individuals, sending out just one message to the world: "Please don't forget the millions left homeless by this calamity," they said, as winter approaches and the chances of freezing to death out in the open remain very high.
SAQUAKE.ORG (www.saquake.org) or South Asian Earthquake Relief coordinated these activities working jointly with groups like Association for the Development of Pakistan, Association of Pakistani Professionals (AOPP), Breakthrough TV, Developments in Literacy (DIL), Friends of South Asia (FOSA), the Human Development Foundation of North America, Ibtida, LRBT, the Organization of Pakistani Entrepreneurs of North America (OPEN), The Citizen's Foundation, COPAA, Sakhi and Youth Outreach to name a few.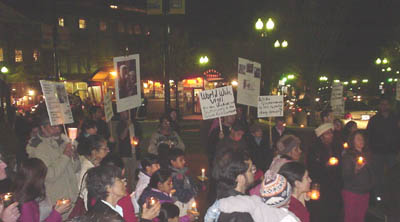 This short writing has been put together with the help of quite a number of our Pakistani and other community members across America (just too numerous to name here). All the photographs were emailed via the SAQUAKE-VIGIL Group on google.com and much of this information has been archived by Sabahat Ashraf on his WikiPakistan site. Bennet Ratcliff (bratcliff@groupsjr.com) and his correspondence helped in this attempt condense a geographically challenging day and last but not least full kudos to Paru Yusuf in California and Samar Sheheryar in NYC who as national contacts in the United States for this vigil did a really incredible job.
The pictures sent, tell us many stories. Just a few are being presented here, but they do portray a public show of caring for people "back home" that has no recent parallel.
But did it move people in America? This is one instance where President Bush has been far ahead of the rest of America in aid for Pakistan. The Democrats in this country are just beginning to take notice of this issue and the mainstream media although not completely stirred by the passion to help (thank God for the PBS Newshour) is still trying to make a case for helping people that it has been asked to vilify with great gusto in the past few years.

But one cannot be too judgmental and we will take whatever we can get for now. Individual friends have been generous but fellow Muslim-Americans appear to have taken the lead in helping Kashmiris and Pakistanis in their time of need. And if most Indians are still being hesitant, they are missing a huge opportunity to open many barriers which even the Line of Control in Kashmir does not cover.
In closing a few words of thanks (again) to all the individuals and organizations associated with this vigil. Let us keep this light lit to remind ourselves and others of the suffering of over three million people as long as we can, and let us ask the world to show its continued generosity even after this disaster fades from the short-term memory of the media moguls in affluent countries.
-------------------------------------------------------------------------------------