PPP San Jose Chapter Formed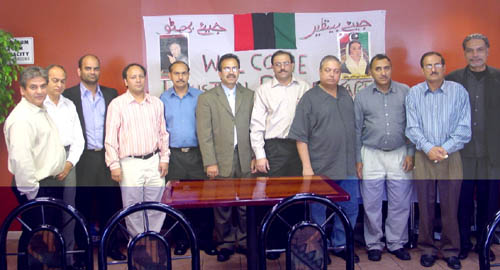 San Jose PPP Chapter and Friends
San Jose, CA: Pakistan People's Party San Jose, CA organized an event announcing the official creation of its chapter at a local Shan Restaurant. Mr. K.B. Bhutto President Pakistan Peoples Party California was the chief guest of the event.
Emcee Mr. Saleem Soomro invited Mr. Muhammad Safeer for Talwat-e- Quran Pak, after which Mr. Khalil Ahmad President of the Pakistan Peoples Party San Jose made a short speech announcing the new office bearers of the chapter which included Mr. Syed Abbas (Vice President), Ch:. Suhail (General Secretary), Danish Navy Wala ( Joint Secretary) and Ms. Ghazala Ahmed (President women wing).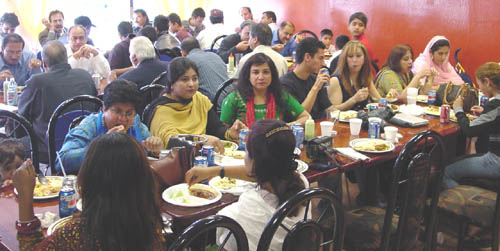 PPP Lunch
Ms. Najma Bhutto also made a speech and said the day is not far when Benazir Bhutto Sahiba will become Prime Minister of Pakistan again and that she was extremely happy that the PPP is expanding in California.
Mr. K.B. Bhutto added that he was happy to announce officially that Mr. Khalil Ahmed is the President of PPP San Jose, CA. and hoped that he would work hard to help the People's Party. K.B. also said that ZA Bhutto will always live in the hearts of the people of Pakistan because he did many things for the betterment of the people of Pakistan. For example Haj was never easy for poor people in Pakistan but it was ZA Bhutto who made the dream a reality. ZA Bhutto was also the father of Pakistan's nuclear program.
"We demand real democracy and free elections under a free Election Commission, the release of all political workers, the restoration of the 1973 constitution and. an end to the exile of Mohtarma Benazir Bhutto, " said K.B. . "Bring (her) back unconditionally," he added.


-------------------------------------------------------------------------------------