Consulate Raises $500,000 for Earthquake Victims
By Naushad Sarwar
N.M. Jadmani

N.M. Jadmani

Irfan Murtaza

Laila Karam

Mariam Rashid

Yousuf Tar
The dawn of October 8, 2005 will be remembered as a tragic one in the history of Pakistan as it unfolded chaos, death, and ruins on this volatile earth. So observed Aisha Ghauri on November 13 while emceeing a fundraiser for the quake victims at the LAX Hilton. The fundraiser was arranged by the Consulate General of Pakistan.



Members of the Pakistani-American community who extended wholehearted support to the fundraiser

The proceedings began with a recitation from the Holy Qur'an by Mohammed Khan asking mercy for this ephemeral Mother Earth. Mrs. Aisha Ghauri of Netsoltek emceed the event with a beaming Consul General Noor Muhammed Jadmani actively involved in the proceedings. More than 1000 elite of the city had responded to his call and had graced the occasion for a noble cause. "That morning came upon the masses and killed 78,000, toppled mud brick homes, buried residents under tons of rubble and left families without beloved fathers, mothers, children and family members affecting a generation on that part of land," Mrs. Aisha Ghuari bemoaned.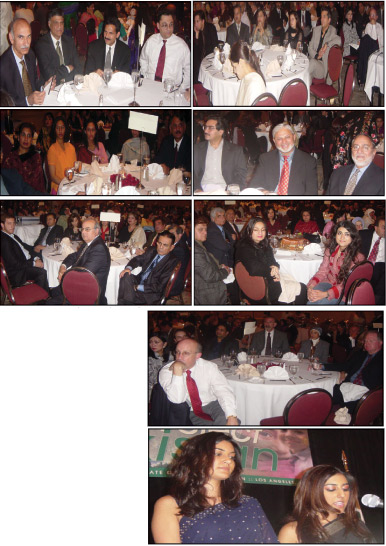 Members of the Pakistani-American community who extended wholehearted support to the fundraiser
Mr. N. M. Jadmani profusely expressed his gratitude to the many, many guests that Sunday evening stating that if he started naming supporters the count would take the whole evening. The catastrophe is a challenge and we must strive earnestly to overcome the odds and respond as a united nation, a closely bonded community, he observed. Mr. Jadmani also acknowledged Air Blue's contribution of $300,000 to the President's Relief Fund. "A task of this magnitude that affected 30,000 square kilometer injuring 78,000, with 3.5 million homeless" is a colossal one and we have a long way to go in raising 5.5 billion dollars in the next 6 to 10 years, he observed.
Consul General Jadmani also thanked Ms. Aisha Ghauri, Ms. Mariam Rashid and other volunteers for their untiring efforts in organizing the event.
Irfan Murtaza, a prominent poet of Los Angeles, read a poem to describe the plight of those who had perished in the quake and the survivors whose anguish and pain continue. His kalam left many in the audience teary eyed. Ms Mariam Rashid also expressed her thanks to the attendees for their presence and generous support. Ms. Laila Karamally, a social worker, who has been to Pakistan recently furnished first-hand information on the tragic happenings.
The pledges received that night aggregated $500,000. Money Gram contributed a hefty $20,000.
It was a night that crossed all barriers of race, religion, and geographical boundaries and featured local and Hollywood celebrities as well. No doubt the night saw the validation of a commitment on the part of the attendees to continue to support the earthquake victims.
-------------------------------------------------------------------------------------