West Coast Premiere of "It's My Country Too"
By Ras H. Siddiqui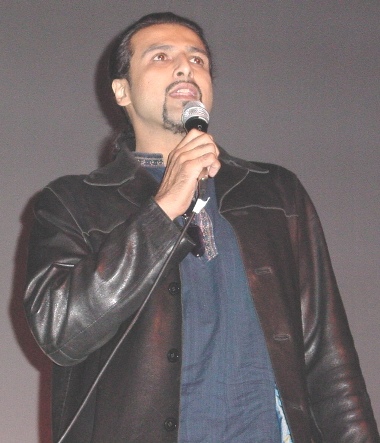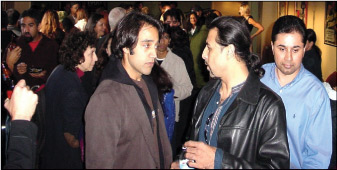 Salman at the post-screen reception
The West Coast premiere of "It's My Country Too" featuring Pakistani "Junooni" rock superstar Salman Ahmad was held at the historic Castro Theatre in San Francisco on Saturday, November 12, 2005. An attempt at documenting the Muslim-American experience of post-9/11, this movie showing, a part of the three day 3rdi South Asian Film Festival held in San Francisco was one of two films from a somewhat Pakistani perspective shown at this event (the other being "Khamosh Pani" or Silent Waters).

And in a rare appearance, especially since he was not playing a concert, Salman Ahmad himself made it to this premiere and held a post-screening question and answers session and attended a reception where he tried to share this movie-making experience with us. Amrita Gandhi, the Festival Assistant Director, was instrumental in getting Salman here. For that and all her efforts in rallying the local Pakistani-American community and for converting this showing into a Fundraiser for Earthquake Relief, she deserves a big hand.
That after 9/11, America is a changed country would be an understatement. Stand up comic Azhar Usman opens the film, which also highlights the work of the rest of the "Allah Made Me Funny" Comedy Tour, Preacher Moss and Azeem. But besides their penchant for humor, there is little else that is funny about this movie although some comments by members of the very rich "Muslim's For Bush" backing Gull Hasan family might be taken as humorous.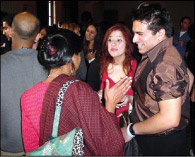 Ali Hasan chats with guests
In spite of its highs and lows, this movie does deserve critical acclaim. The topic that Director Cliford Bestall and Salman try to tackle here is an extremely difficult one. And it is this level of difficulty, trying to explain to the world what Muslim-Americans or Pakistanis in America have gone through since that dreadful day when America was attacked by people working for shadowy terrorist group called Al Qaeda, in 60 minutes that is overly ambitious. Overnight, Muslims in America were converted from proud citizens of the USA to suspects who want to do it possible harm. The government machinery here went understandably overboard.
People disappeared or were "picked up", some families headed for Canada and the rest either became very quiet or had to step up their struggle to fight for their rights. This film certainly generates much contemplation. It projects many facts, some of which will not be liked (you cannot make everybody agree). It is certainly not an attempt to appease. It covers some of Salman's own attempts to come to grips with this horrific tragedy which has impacted and is still heavily impacting Pakistanis and Muslims since America became suspicious of its Muslim population.
Salman takes a ride on a cab driven by a Pakistani to Ground Zero where people of many faiths (including Muslims) perished. He tries to answer a question in this film that he believes many Americans are asking Muslims in America today who do not fit their perceptions of people who practice their faith. "Who are you (really) underneath that moderate person?"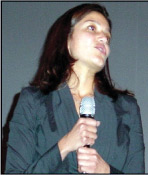 Amrita Gandhi
In the backdrop of the 2004 Presidential Elections in the US two Pakistani-American-Muslim women representing very different viewpoints are focused on in this movie. One is Mrs. Talat Hamdani who first lost her son in the WTC (one who lost his life trying to save others but was originally looked upon with suspicion till his body was finally found) and then her husband who died grieving for his son. Mrs. Hamdani has made the rights of Muslim Americans her personal cause and supports the Democratic candidate John Kerry. On the other hand are Mrs. Seeme Gull Hassan and her family who actively support President Bush (not a popular community position at the time) and still do. Her son Ali Hasan was at this movie opening in San Francisco and remains the major force in the "Muslims for America" movement. Both women are portrayed honestly and in a non-judgmental way in "Its My Country Too." Many in our community will not agree with Ali Hasan and his mother Seeme's views, but one has to give them credit for sticking to their guns.
Other people that figure prominently in this film include an Egyptian origin attorney in Detroit who is suing for justice for victims of America's excesses. Some graphic photos of the torture of prisoners at Iraq's infamous Abu Ghraib prison in this movie will earn it an "R" rating and thus it cannot be recommended for young viewers.
The point of any review is not to divulge the entire contents of a movie. Many Muslim citizens of America already agree very much with the title "Its My Country Too."
And all one can write is that the movie needs to be seen by many more people from both the Muslim and non-Muslim community in America. It has not been made to entertain.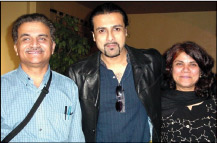 Salman with Ras and Farah Siddiqui
The fact that it does project the diversity of views that are present within Muslims in the United States who are trying to reclaim their place within the American Dream with a great deal of difficulty since 9/11.
Let us close here with two observations. Salman Ahmad is no ordinary Pakistani who has made America his home. He has picked up on many unusual endeavors in his life that many in Pakistan would not have pursued. First he gave up medicine for Rock Music. Then, along with the rest of the members of his band Junoon, Salman was promoting India-Pakistan peace long before it came into fashion. Next, he promoted AIDS awareness in Pakistan a subject that was taboo and became the UN Ambassador for this effort. And now as a Muslim New Yorker (the second time around) he has been a part of this film and wants to engage both Muslims and people of other faiths in America in a frank and open discussion in "Its My Country Too." And since the film opened with Azhar Usman and his comedy, let us close this report with him. "Go home, where you belong," someone shouted at Azhar. "I'm from Minnesota man. I AM HOME," he replied.

-------------------------------------------------------------------------------------