Pak-Americans Spring into Action to Help Quake Victims
By Hazem Kira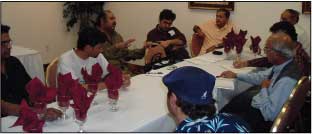 A view of the PADF meeting
Newark, CA: An emergency meeting called by the Pakistan American Democratic Forum (PADF), a US-wide grassroots organization, on October 10 was just one example of how Pakistani-Americans are springing back into action. Many new – first time - participants showed up. Those who could not attend in person due to Ramadan and other previous engagements kept calling by phone. The last call came a few minutes past midnight.
In view of the community's enthusiastic response, the PADF has set up two follow up meetings on Tuesday, Oct 11 at 5: 30PM and Sunday, Oct 16 at 12 noon. Both meetings will be held in Chandni Restaurant.
It was indeed impressive to see how quickly a shocked and grieved community still trying to picture the full and lasting impact of this disaster, and still waiting to get news about the loved ones, was able to shed its grief and get to work. The level of seriousness and dedication showed how much the community has matured in the last decade.
"We will not duplicate the work of any existing Pakistani or Pakistani-Americans organization", organizers of the PADF emergency meeting said. The PADF meeting started with an overall assessment of the situation in Pakistan. It was also stated that the PADF will not get involved with the collection or distribution of relief resources but it will facilitate this process to support bona fide Pakistani and Pakistani-American relief organizations.
Realizing that it is the biggest natural disaster in the history of Pakistan whereby "Kashmir has turned into a graveyard", and reflecting on the words of the Prime Minister of Azad Kashmir that "for the first two days we have been either digging ground to recover bodies or digging to bury them", all the activists vowed to remain involved with the relief efforts for at least a year.
The PADF Meeting ended with the adoption of a two-point agenda: Assembling a group of activists who are willing to commit themselves for at least one year to work for the relief effort in Pakistan, and keeping the Pakistani-American community involved over the long duration and not let them forget about the aftermath of this disaster.
After the adoption of the agenda, the participants proceeded to set up several committees, which included information development committee, resource development committee and logistics coordination committee. While the information development committee will research and qualify bona fide relief organizations, the resources development committee will be focusing on negotiating with pharmaceutical companies for obtaining medicine free of cost or at substantially reduced rates, and the logistics coordination committee will focus on connecting major US donors with Pakistani Government agencies and NGOs.
The resource development committee has already begun its work to find relatively inexpensive sources of tents, blankets, jackets, and other similar items.
Likewise, the Information Development Committee has started compiling a comprehensive list of all major US Corporations that donate matching funds to qualified charitable organizations. The PADF will attempt to get Pakistani charities like the Edhi foundation qualified for corporate matching funds.
Since the end of the meeting just 12 hours ago, the PADF has set up a new website - www.VoiceofPakistan.Net - dedicated exclusively to earthquake relief efforts, has initiated a new e-group - PADF_QUAKE_RELIEF@yahoogroups.com - for activists who seek to coordinate their relief efforts, and will soon install a hotline to help find necessary information for groups in Pakistan and the United States.
Activists who may want to work with any of the above PADF Relief Committees should call (510) 252 – 9858.


-------------------------------------------------------------------------------------