PADF Launches a Long-Term Relief Support Structure
By Hazem Kira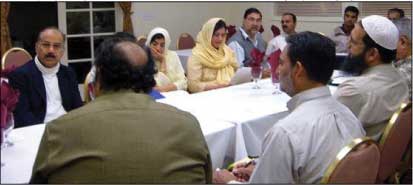 A view of the PADF meeting
Newark, CA: In its third meeting in less than ten days, the Pakistan-American Democratic Forum, a grassroots organization, initiated work under six committees to operationalize its long-term relief support network.
The PADF Chair Dr. Agha Saeed told a meeting on October 16 in Newark that "after 30 years of historiography, Arnold Tonybee, the famous twentieth century historian, wrote that for all this time he had perceived history erroneously. History, he came to conclude, does not evolve on the pattern of cause and effect but on the pattern of challenge and response. Only those nations survive that are able to meet the challenge of history.
"The present quake is a challenge for the entire Pakistani nation and it will take everyone, the government, the NGOs, the charity organizations and the political parties as well as diaspora communities to rebuild the quake-ravaged nation. A national disaster can only be remedied by national effort".
Based on the assumption that it will take five to ten years to remedy the damage done by the October 8 quake, the five PADF committees started their work on a number of interrelates issues, which are detailed below:
IT Committee: This committee, comprising of Mr. Sagir Ahmed, Mr. Abdul Rahman Rafiq, Mr. Pathan Khan, Mr. Syed Hamid, Mr. Irshad Rana, Mr. Zafar Mohsin and Mr. Khalid Khokhar, is charged with the task of instituting high-tech tools for data collection and management, web-based strategic mapping, and communication.

1. Resource Development Committee: Comprising of Ms. Umber Saadat, Mr Iqbal Ahmed, Mr. Ahmed Hashmi, Mr. Abid Malik and Mr Hazem Kira, this committee has the responsibility to develop new resource by negotiating with pharmaceutical (and other) companies for free or reduced-rate merchandize including but not limited to medicine, tents, blankets, jackets, etc. Moreover, this committee will also help qualify major Pakistani charities for getting matching funds from US corporations and foundations.

2. Logistics Coordination Committee: Comprised of Mr. Murshad Khan, Mr. Saqib Khan, Ms. Kamila Ahmed, and S. Abdul Aleem, this committee is responsible for building new relief networks by linking providers of free products with providers of free transportation and free distribution; also facilitates contacts between US-based NGOs and Pakistan-based NGOs.

3. Community and Media Outreach Committee: Comprised of Ms. Raana Faiz, Mr. Inam Chaudhry, Ms. Hina Chaudhry, Mr. Sattar Rydhan and Mr. M. Irfan, this committee takes all necessary steps to keep the community and the media informed and involved with the long-term relief effort. Also, researches and publicizes relief programs, methods and approaches that can generate and sustain long-term development at the grassroots level.
4. Strategic Planning Committee: Comprised of Dr. Ausafur Rahman, Mr. Jawed Umrani and Mr. Mishraq-ul-Quraish, this committee has been tasked to define and detail action agenda for the PADF Quake Relief Project.
Mission, Vision and Guiding Principles
The PADF Relief Project Mission statement stipulates the following objectives: Create a core group of Pakistani Americans who are willing to make a long-term commitment to help millions of quake-impacted children, women and men; sensitize the global relief community to pay special attention to the needs of the most vulnerable, particularly rural poor, women and children; negotiate with manufacturers of relevant materials to donate their products free of costs or at significantly reduced rates to the qualified charities; help Pakistan-based charities in getting qualified for matching funds by US corporations and foundations; create new relief networks by linking providers of free products with providers of free transportation and free distribution; research and publicize those emergency relief programs, methods and approaches that can generate and sustain long-term development at the grassroots level; and promote networking among relief organizations.
Its five guiding principles are long-term commitment, unity of purpose and division of labor, problem-solving orientation, channeling human ingenuity, and helping to create a genuine national effort. A national calamity can only be remedied through national effort involving every sector of the community, including the expatriates.
Recommendations
Members of the PADF Quake Relief Network have made the following recommendation for Pakistani-American community action:
1. Adopt a school. As reported in Dawn, more than 8, 000 schools were destroyed just in five districts of the NWFP. The PADF has called on Pakistani-American communities to adopt at least one school and take full reasonability for its construction and operation for one year.
2. Contribute generously and responsibly. Give it to those organizations that have a track record of honesty, efficiency, and low overhead cost. Keep in mind that not every charity has service delivery network in AJK or NWFP.
3. Help qualify major Pakistani/Muslim charities for matching funds by US corporations and foundations.
4. Ask Pakistan International Airlines (PIA) to airlift cargo free of charge for Islamic Relief, Edhi Foundation and Hidaya Foundation as well. Currently the PIA is providing free airlift only for goods earmarked for the President's Fund.
5. Help PADF in contacting major pharmaceutical companies for free or reduced cost medicine.
6. Adopt an orphaned child or provide financial help to a Pakistan-based family to adopt a child.
7. Set up a fund to provide artificial limbs for injured survivors.
8. Help prevent exploitation of children and sexploitation of women specially, abductions, kidnappings, rape and forced marriages.
9. Remain seized of the latest developments and help prevent looting, embezzlement, nepotism, favoritism, malfeasance, hoarding, and fraud.
10. Keep the community informed and involved.
For more information visit www.VoiceofPakistan.Net, e-mail info@voiceofpakistan.net or call (510) 252 – 9858.

-------------------------------------------------------------------------------------