Tahra Goraya Receives Nonprofit Executive Director of the Year Award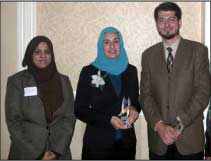 L to R: Sabiha Khan, Tahra Goraya and Hussain Ayloush
Pasadena, CA: State Senator Jack Scott, Assembly Majority Leader Dario Frommer and Assembly member Carol Liu presented Tahra Goraya with the Nonprofit Executive Director of the Year Award as part of their sixth annual Women In Business Award Luncheon on October 19 at the Pasadena Hilton. Goraya also serves as the president of the Southern California Chapter of Council on American-Islamic Relations (CAIR-LA).
Ms. Goraya, a Pakistani-American Muslim and Day One executive director for nearly five years, was one of twenty-five distinguished women in private enterprise, science and technology, arts and entertainment to receive the distinction for her contributions to the community.
Ms. Goraya oversees the operation of the 17-year-old Pasadena-based organization, whose mission is to provide an organizational structure by which Pasadena, Altadena and San Gabriel Valley will reduce the problems associated with alcohol, tobacco and other drugs among youth and families. Under her leadership, Day One's collaboration has become regionally and nationally recognized for its depth, breadth and comprehensive approaches for improving the quality of life for its constituents. Program areas include: education and awareness, alternative activities, capacity building trainings for parents and communities, and environmental and public policy advocacy.
Within the last several months, Goraya has been successful in securing funding from local foundations, Los Angeles County Health Services, and the Federal Government's Substance Abuse Mental Health Services Administration.
In addition to her involvement with Day One, Goraya is active in a number of social justice issues, civil rights advocacy, and women's health issues. She established the Minority Health Fair, Young Women's Conference, Young Men's Conference and African American HIV Conference in Bakersfield, where she previously resided. In Pasadena, she established the annual Youth Fest, a community-wide month-long celebration promoting positive and healthy activities every year before the beginning of the new school year.
"Day One is extremely proud of Goraya's recent and significant successes improving the health, well-being and lives of the youth in our community by putting into action her innovative programs and ideas," stated Day One Board Chair and Attorney Randy Renick.
"The CAIR-California team congratulates Tahra on her well-deserved award for her work to improve the lives of youth in our community," said Fouad Khatib, Chairman of CAIR-California.
Viewed as an expert in collaborative advocacy, Goraya has provided consultative and technical assistance services for state and local governments; faith and community-based organizations; school systems; corporations and other public and private sector entities.
Additionally, Recently, she was selected as a Women's Policy Institute Fellow by California Women's Foundation.
Day One is a seventeen year-old community-based nonprofit organization whose mission is to provide an organizational structure by which Pasadena and Altadena will reduce the problems associated with alcohol, tobacco, and other drug use. Day One convenes, develops, coordinates, and provides prevention services.
-------------------------------------------------------------------------------------